New Treasures: Ceaseless West
New Treasures: Ceaseless West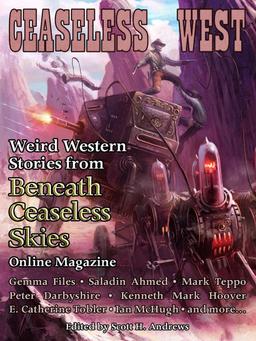 While I was pulling together my Wednesday post on Beneath Ceaseless Skies 171, I noticed that editor Scott H. Andrews had just released his latest BCS Anthology, Ceaseless West, a terrific-looking collection of weird western tales — which includes a short story by Black Gate's own Matthew David Surridge. I'm a big fan of weird westerns, and this one looks very promising indeed.
A fallen-angel gunslinger must defend a dusty town against hellspawn….

Living trains roam wild off their tracks….

A pious teetotaler widow faces a town's scorn and a dying boy's frantic spirit….

An eternal warrior marshal is drawn through time to face that which must be faced….

These and other awe-inspiring Weird Western stories await in Ceaseless West: Weird Western Stories from Beneath Ceaseless Skies Online Magazine, a new ebook anthology of eighteen Weird Western stories from Beneath Ceaseless Skies.

Ceaseless West features stories by Kenneth Mark Hoover, Peter Darbyshire, Mark Teppo, E. Catherine Tobler, Aurealis Award finalist and winner Ian McHugh, Shirley Jackson Award finalist Gemma Files, and Hugo Award finalist Saladin Ahmed.
Previous anthologies from BCS include five volumes of Best of Beneath Ceaseless Skies, and the steampunk collection Ceaseless Steam.
Here's the complete table of contents:
"A Feast for Dust," by Gemma Files
"The Angel Azrael Rode into the Town of Burnt Church on a Dead Horse," by Peter Darbyshire
"Mister Hadj's Sunset Ride," by Saladin Ahmed
"Hangman," by Erin Cashier
"Bandit and the Seventy Raccoon War," by Don Allmon
"The Good Deaths, Part II," by Angela Ambroz
"Between Two Treasons," by Michael J. DeLuca
"Splitskin," by E. Catherine Tobler
"The Sixth Day," by Sylvia Anna Hivén
"Enginesong," by Nathaniel Lee
"The Crooked Mile," by Dan Rabarts
"Walking Still," by C.T. Hutt
"The Heart of the Rail," by Mark Teppo
"The Judge's Right Hand," by J.S. Bangs
"Not the Worst of Sins," by Alan Baxter
"Songdogs," by Ian McHugh
"Haxan," by Kenneth Mark Hoover
"Pale," by Kathryn Alle
Ceaseless West was published on April 28 by Firkin Press. It is available at Weightless Books, and for Kindle, iBooks, B&N, and Kobo. Get more details at the BCS website.
See all of our recent New Treasures here.