Beneath Ceaseless Skies 171 Now Available
Beneath Ceaseless Skies 171 Now Available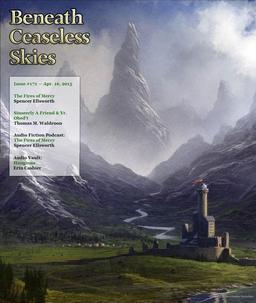 I've sort of lost count of all the magazines I'm tracking for Black Gate now. It's like two dozen or something. I dunno. It's a lot. A lot more than I can read, anyway.
But I wish I could read every issue of Beneath Ceaseless Skies. Scott H. Andrews' magazine of literary adventure fantasy seems the closest in spirit to the print edition of Black Gate, and I'm certain I'd really enjoy them. Issue 171 contains two new stories by Spencer Ellsworth and Thomas M. Waldroon, a reprint from Rachael Acks, a podcast, and more.
"The Fires of Mercy" by Spencer Ellsworth
The sandstorm had blanketed the world the night before. Sand hung still on the leaves of the palm trees; sand sat on a skim atop the water; sand pillowed against rocks. Grains swept the crevices of palm trees, shone like jewels in the sun.

"Sinseerly A Friend & Yr. Obed't" by Thomas M. Waldroon
Mr. Stutley Northup is not a magistrate. Why, he's not even a lawyer. But if people are free to come to him with their controversies, he is just as free to offer his opinion; and if they choose to act on it, well, that's their own lookout.

Audio Fiction Podcast: "The Fires of Mercy" by Spencer Ellsworth
The assassin, the mother, and the child fled into the desert.

From the Archives: "The Book of Autumn" by Rachael Acks
I made the truth something those duty old men couldn't ignore.
Read issue 171 online completely free here.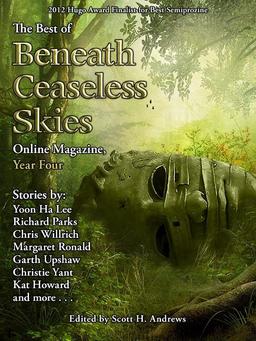 Beneath Ceaseless Skies is edited by Scott H. Andrews and published twice a month by Firkin Press. Issues are available completely free online; you can also get a free e-mail or RSS subscription.
Firkin Press also sells a Kindle/e-Reader subscription, which includes automatic delivery to your Kindle or other device. A 12-month subscription comes with 26 issues and costs only $13.99. Single issues are available on Kindle and at Weightless Books for 99 cents. Subscribe here.
The magazine supports itself though subscriptions, and also by selling anthologies, including the annual Best of BCS volumes and occasional themed books such as the steampunk anthology Ceaseless West. The anthologies each contain 15-18 stories and cost only $2.99-$3.99. Learn more at the magazine's website.
The cover art this issue is "Twisted Mountain Valley" by Christopher Balaskas.
See our April Fantasy Magazine Rack here, and all of our recent magazine coverage here.