Clones, Deep Space Ships, and Surviving the Apocalypse on a Submarine: The Pocket Richard Cowper
Clones, Deep Space Ships, and Surviving the Apocalypse on a Submarine: The Pocket Richard Cowper
Richard Cowper was a British SF and fantasy writer who published over a dozen novels and four short story collections between 1967 and 1986. Sadly, much of his output never made it across the Atlantic. Ballantine reprinted his first two novels in paperback, Breakthrough (1969) and Phoenix (1970), and DAW published perhaps his most famous novel, The Twilight of Briareus, in paperback in 1975. But those two ignored the rest of his work.
Fortunately, in the late 70s and early 80s Pocket Books brought six of his novels to the US, including the complete The White Bird of Kinship trilogy, and they were the sole publishers of his collection, Out There Where the Big Ships Go. It was the Pocket editions that first caught my eye on bookstore shelves in Ottawa — particularly the three gorgeous Don Maitz covers above. (You'll note the maple leaf emblem on the top left of the Canadian editions.)
[Click on any of the images in this article for bigger versions.]
In addition to his fantasy trilogy, Pocket published four standalone paperback books by Richard Cowper:
Clone (January 1979) — October 1972 in the UK
Out There Where the Big Ships Go (October 1980)
Time Out of Mind (January 1981) — July 1973 in the UK
Profundis (February 1981) — April 1979 in the UK
Here's the back cover scans.
Cowper received perhaps the greatest acclaim for the opening novel of The White Bird of Kinship trilogy, The Road to Corlay, published in the US by Pocket in September 1979. It was nominated for the British Fantasy, Nebula and Balrog awards, and placed 7th on Locus's annual list for Best Novel. The sequels followed a few years later:
The Road to Corlay (1978)
A Dream of Kinship (1981)
A Tapestry of Time (1982)
Publication dates are for the British first editions. We discussed The White Bird of Kinship trilogy here last year.
The first Pocket Book by Richard Cowper, Clone, was first published in the US by Avon in 1974. It appeared from Pocket in 1979 with a cover by an unknown artist.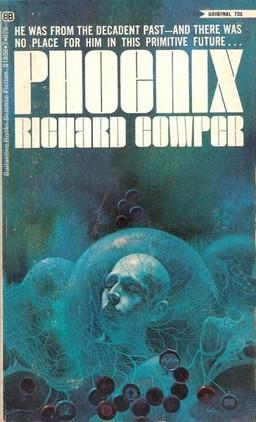 Richard Cowper was a pen name for John Middleton Murry, Jr. He died in 2002. His friend Christopher Priest claimed he died of a broken heart, after the death of his wife Ruth four weeks earlier.
His other novels include:
Breakthrough (1967) — Ballantine Books (1969)
Phoenix (1968) — Ballantine Books (1970)
Domino (1971) — UK only
Kuldesak (1972) — UK only
The Twilight of Briareus (1974) — DAW (1975)
Worlds Apart (1974) — UK only
Shades of Darkness (1986) — UK only
He also published three short story collections that have never appeared in the US or Canada:
The Custodians and Other Stories (1976)
The Web of the Magi and Other Stories (1980)
The Tithonian Factor and Other Stories (1984)
See all of our recent Vintage Treasures here.