Collecting Karl Edward Wagner
Collecting Karl Edward Wagner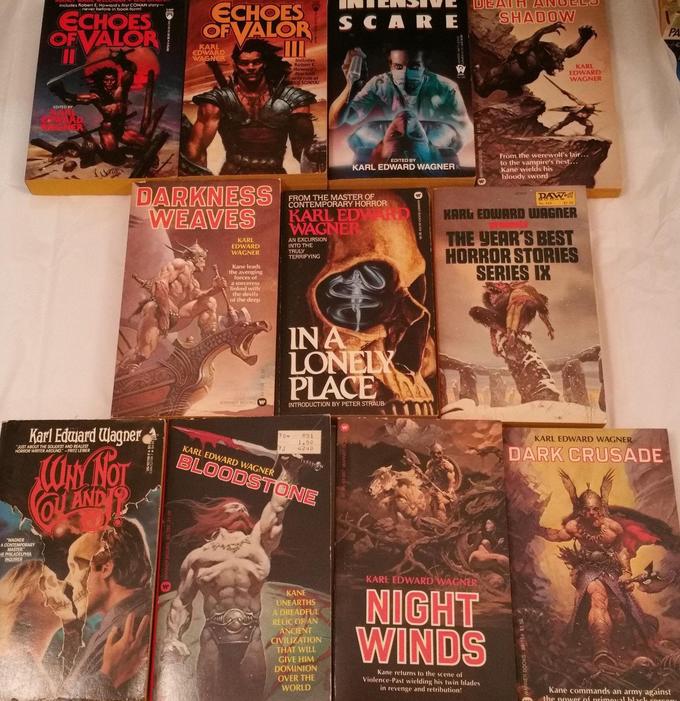 I've been enjoying gathering data for my informal survey of paperback prices for some of the most popular and collectible 20th Century science fiction and fantasy authors — mostly because it means shopping for vintage books on eBay. As I said in the last installment, I was a little surprised at the demand for Robert A. Heinlein, but at least I knew he'd be near the top of the list. He wasn't at the top, however. Setting aside Phil K. Dick, so far the most expensive author I've collected recently is Karl Edward Wagner, whose collections sell for around $6.40/book, roughly a 30% premium over Heinlein.
The 11 paperback books above sold on eBay on September 27 for $70.55, making Karl Edward Wagner the most expensive author in our survey so far, outside Phil Dick.
Wagner, like Dick, has grown in stature since his death, especially his Kane books. Originally published as paperback originals by Warner Books, in recent years the tales of Kane have been acclaimed as "the most exciting and intelligent sword & sorcery series ever written" (Centipede Books). They've been reprinted in several deluxe editions, starting with a two-volume collection from Night Shade:
Gods in Darkness: The Complete Novels of Kane (528 pages in hardcover, May 1, 2002, cover by Ken Kelly)
The Midnight Sun: The Complete Stories of Kane (450 pages in hardcover, September 15, 2003, cover by Ken Kelly)
Both Gods in Darkness and The Midnight Sun were reprinted by the Science Fiction Book Club, in April 2003 and February 2004, respectively.
More recently, Centipede Press announced a handsome five volume limited-edition hardcover set, shipping next month. Here's a look at Dark Crusade: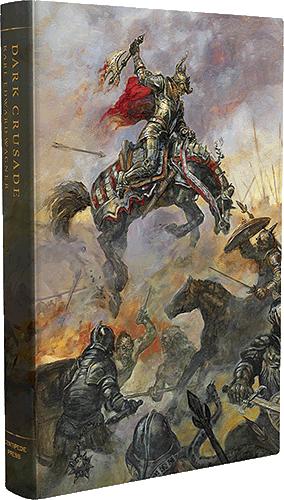 And here's the complete set: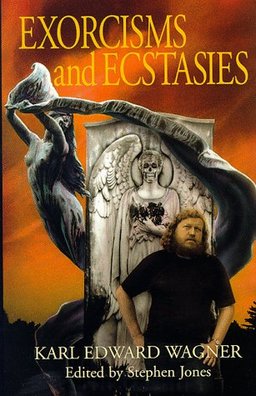 Read more at the Centipede Press website.
Still, it wasn't the Kane books that drove the paperback collection above to lofty auction heights. Most Wagner collectors already have the Kane books. Yes, the original paperback are pricey, but Warner kept them in print for many years (roughly from 1978-1985), and they're not really that hard to come by. They've also been reprinted many times.
I bid on the set of paperbacks above, and I didn't do it because of the Kane novels — although those copies were in good shape, much better than mine. I didn't do it because of the Echoes of Valor anthologies, as collectible as they are. I did it to get my hands on Wagner's first two short story collections:
In a Lonely Place (Warner Books, 265 pages, March 1983; cover by Barclay Shaw)
Why Not You and I? (Tor, 306 pages, September 1987; cover by J. K. Potter)
Unlike the Kane books, Wagner's highly sought-after short story collections have not been reprinted for nearly three decades. If you're a Wagner collector, be prepared to spend some time hunting for them, especially if you want them in good condition (as the ones in the set above are).
If you just want to read the stories, I highly recommend Fedogan & Bremer's excellent 1997 collection Exorcisms and Ecstasies (at right; click for bigger version), a massive 460+ page collection gathering much of Wagner's best short fiction, with a cover and interior artwork by J. K. Potter, and an introduction by editor Stephen Jones. (Note: it isn't cheap, either. Used copies start at Amazon. com at $84.50, and range up over $200.)
If you're a serious Wagner collector, you also can't ignore the enormous contribution he also made to the field as an editor, especially with the highly respected Berkley Medallion editions of Robert E. Howard's Conan.
These are some of the most collectible Conan paperbacks on the market.
They are:
The Hour of the Dragon (296 pages, August 1977, cover by Ken Kelly)
The People of the Black Circle (293 pages, September 1977, cover by Ken Kelly)
Red Nails (295 pages, October 1977, cover by Ken Kelly)
These were the first corrected editions, made without editorial interference from Conan's many posthumous collaborators over the years, and drawn from the text of the original Weird Tales.
As important as Wagner's contributions were to Howard scholarship, his most important contribution to the field as an editor was the monumental Year's Best Horror Stories, which Wagner edited for 15 volumes, from 1980-1994. The series was started by Richard Davis in 1973; Karl took over as editor with Volume VIII, taking the reins from Gerald W. Page, who edited volumes IV through VII.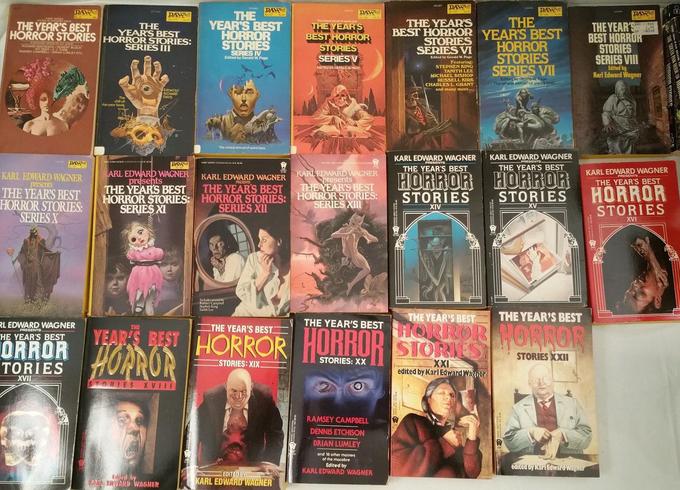 Like Wagner's fiction, The Year's Best Horror series is also highly collectible. The nearly complete set above, in marvelous condition, sold on eBay for $110.00, or $5.50/book. Individual copies sell for much higher.
Obviously, this isn't a very scientific analysis of the value of Wagner's paperback editions. It would be better if, like the massive Clarke, Asimov, Heinlein and Dick collections we compare it to above, we had a more sizable collection on offer.
Sadly, the eleven books in the top photo constitute the bulk of Wagner's fiction output. An alcoholic, he died in Chapel Hill, NC on October 14, 1994, at the age of 48.
He produced three other novels of mostly minor interest to collectors:
Legion From the Shadows (Zebra Books, April 1976), a Bran Mak Morn pastiche
The Road of Kings (Bantam Books, October 1979), a Conan pastiche
Killer (Baen, January 1985), co-written by David Drake
Our previous coverage of Karl Edward Wagner includes:
Bloody Battles, Espionage, Dark and Beautiful Prose, & Lovecraftian Horror: Karl Edward Wagner's Dark Crusade by Connor Gormley
Seductive Sorceress Queens, Decadent Civilizations, and Moon-lit Brawls: Bloodstone by Connor Gormley
Enjoying the Unique Character of Karl Edward Wagner's Dark Crusade by Brian Murphy
Fiction Excerpt: "The Dark Muse" by Karl Edward Wagner (from Black Gate 1)
Death Angel's Shadow by Fletcher Vredenburgh
Legion from the Shadows by Fletcher Vredenburgh
Night Winds by Fletcher Vredenburgh
"How Many Psychiatrists Does it Take to Change a Genre?" Karl Edward Wagner in Fantasy 55
The Weird Horror of Karl Edward Wagner, Part 1: In a Lonely Place by G. Winston Hyatt
The Weird Horror of Karl Edward Wagner, Part 2: Why Not You and I by G. Winston Hyatt
Echoes of Valor I
Echoes of Valor II
Echoes of Valor III
The Year's Best Horror Stories: Series XIII
Future Treasures: The Complete Kane
And our previous titles in the Collecting series include:
Collecting Robert A. Heinlein
Collecting Philip K. Dick
Collecting Arthur C. Clarke
Collecting Isaac Asimov
Collecting Lovecraft, Part I
Collecting Lovecraft, Part II
Collecting Lovecraft, Part III: The Arkham Hardcovers
The Collections of Tanith Lee
The Novels of Tanith Lee: The Wars of Vis
James Bond in Outer Space: The Croyd Spacetime Maneuvres Novels of Ian Wallace
Clones, Deep Space Ships, and Surviving the Apocalypse on a Submarine: The Pocket Richard Cowper
Below are a few close-ups of some of the paperback collections above, included for those, like me, who enjoy looking over vintage paperbacks. As always, you can click for bigger versions.
See all our recent Vintage Treasures here.