Legion from the Shadows by Karl Edward Wagner
Legion from the Shadows by Karl Edward Wagner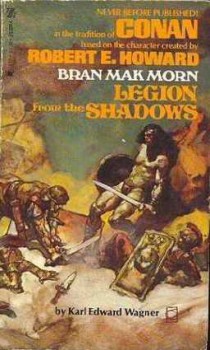 For those raised in this day of pure unadulterated Robert E. Howard texts, it may interest you to learn that once upon a time a flourishing industry of pastiche publication existed. There were only so many Howard stories to satisfy hordes of swords & sorcery fans, so the powers that were created more. Sprague de Camp and Lin Carter, the masterminds as it were, behind the pastiche industry were either greedy exploiters of Howard's legacy or passionate fans who saw the need for further Howardian adventures. As a fan myself at the time, I was quite happy to buy and read a lot of them. Most weren't better than alright but they scratched an itch.
De Camp (who fiddled mercilessly with Howard's own short stories) and Carter wrote some of the weakest pastiches. For all his involvement with Howard's fiction, de Camp never seemed to understand its nuance and why it worked. By education he was an engineer, and the need for things to be logical and systematic undermines his fiction. Carter, sadly, just didn't have the talent to mimic the writer whose work he loved so dearly.
Unknown Swedish author, Bjorn Nyberg wrote The Return of Conan (1957). Decades later famous authors such as Poul Anderson and Andrew Offut tried their hands at the game. Howard Andrew Jones wrote a good piece on the pasticheurs a while back. Eventually a critical mass of fans and academics rose up, rightly so, to decry the inferior copies — and really, most were — of Howard's creations.
There's one Conan pastiche novel I remember truly liking: The Road of Kings (1979) by Karl Edward Wagner. It was good; equal parts dark and exciting. You can read Charles Rutledge's review from a few years back here.
Wagner wrote another Howard pastiche, continuing the adventures not of Conan, but of the Pictish king, Bran Mak Morn. Called Legion from the Shadows (1976), it starts with the destruction of the Roman IX Legion in second century Caledonia under the blades of the savage Picts. My love of all things Wagner, my fond memory of The Road of Kings, and my review of The IX last week (a sci-fi take on the legion's disappearance), combined to make me grab LftS off the shelf.
I picked up this book with stars in my eyes for all the reasons I just mentioned. It seemed destined to be my next read and my next great find. It's by someone I like and it's got a terrific cover by Jeff Jones. There are lots (and lots!) of books I haven't yet read. Some of them are bound to be great. A few might even be true lost treasures. Legion from the Shadows is not one of those.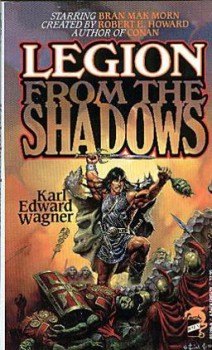 Wagner's novel is a direct sequel to Howard's own Bran Mak Morn story, "Worms of the Earth." If for some reason you haven't yet read it, you should. Published in 1932, it's one of the ur-texts of S&S. To avenge his tribesman, crucified at the behest of the sadistic Roman governor, Bran secures the aid of the titular Worms of the Earth, a monstrous race of degenerate subterranean semi-human creatures. It all ends in bloody death and horror, and Bran realizes some forces are too hideous to use even against one's most hated enemy.
Relying on dark forces to win your fights also comes with a price, as Bran learns in this book. He has awoken a power that has been slumbering and now it has its own plans to put into effect. It's made clear that willing or not, the Pictish king will honor his debt.
Buried in Wagner's 250 page novel is a decent shot of heroic fiction. Bran comes face to face with the descendants of the vanished IX Legion. There are battles in dank, pitch black places under the ground. Bran's sister Morgain is a great character and the chapters told from her perspective are more exciting and disturbing than those starring the king himself.
The author's talent as a horror writer shines through several times, creating creepy atmosphere and shivers for at least a page or two:
Pale faces crowded the hallway beyond the door to Morgain's chamber. Someone held a lamp high, peering open-mouthed within. Reeling away, a maidservant sputtered in sickness. Bran thrust them all aside and flung himself into his sister's room.

The endless scream came from the throat of Helta, Morgain's maidservant, although it took a second for Bran to recognize the fear-distorted face and the eyes that stared wide with madness. Her stark gaze centered on the shape that sprawled obscenely upon the fur robes of Morgain's couch.

Bran groaned through clenched teeth. Veins stood out from his blood-caked brow. Staring at the object on Morgain's bed, the king of Pictdom swayed dizzily, black rage roaring in his brain.

Nestled in the depression in the furs where Bran's sister had lain was a shape of horror beyond any human depravity. The young girl's skin had been meticulously flayed from her body — cunningly sewed together again. The lamplight made the skin translucent, so that Bran could see the hollow skin had been stuffed with hundreds — many hundreds — of human eyes.
That's one of the most horrific images I've encountered reading S&S in quite some time. If there was more of that, more of the desperate fights in the tunnels — if Bran was as compelling as Morgain — then Legion from the Shadows might have been a good book.
Instead, there are long stretches of exposition, backstory, history, and more exposition. Nearly whole chapters are given over to detailing the story of Howard's Picts, who occupy the entire span of his invented history, from the tales of King Kull of Valusia in 100,000 BC to the Bran stories in 200 AD. Similar excruciating attention is given to the Serpent Men, so that there is absolutely nothing left unsaid about these ancient foes of humanity.
Wagner does a decent job presenting Howard's fictive history. In it, pseudo-history meshes with our reality, and ancient races rise and fall, battling other races, degenerate, in-bred and utterly evil. It's interesting, and great background for the story, but it has no more plot than an encyclopedia article.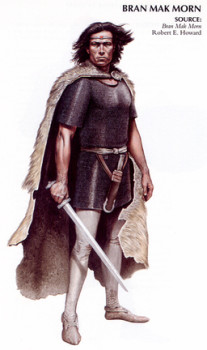 Then there's the lack of action. When it does come, it's delivered with Wagner's usual, bone-crunching, neck-snapping style, but there's not enough of it to give LftS any real momentum. A character with potential for excitement will show up and then fizzle out. Bran himself spends what feels like half the book in chains or a cage. When he gets to lead an army into battle, the battle doesn't even happen.
LftS never feels like a completely organic book. I think Wagner had a decent story idea in mixing together the aftermath of Bran's adventure in "Worms of the Earth" with the fate of the IX Legion. To pad it out to novel length he ladled on the sections of faux-history. But then he also added in pages filled with explanations and conversations bereft of action. It all seems fit together poorly, with the only goals being to get more "Howard" in front of the fans while making it long enough be considered a full-length book.
And there are other problems. Anachronisms in characters' thoughts and speech would jar me out of any sort of atmosphere that had finally managed to form. The worst is when Bran, wondering how another character can see so well in the dark, shrugs off his concerns thinking "(she) was obviously not one of those afflicted with nyctalopia." I doubt very much a 2nd century barbarian thought the 17th century medical term "nyctalopia."
There is no book I've reviewed at Black Gate that I'm sadder to be unable to recommend. I had no qualms about warning readers off Lin Carter's first two Thongor books. But Carter wasn't a skilled, original writer like Wagner. Wagner is one of the most important S&S writers ever. Better than anyone, he brought out the darkness in the genre. He was also an important voice for the presentation of unadulterated Robert E. Howard. He was my gateway to swords & sorcery. And none of that matters in Legion from the Shadows. So if you don't own it already, you don't need to pick up a copy. If you do own it, there's no great urgency to read it. You haven't missed anything.