Future Treasures: Dark Detectives: An Anthology of Supernatural Mysteries, edited by Stephen Jones
Future Treasures: Dark Detectives: An Anthology of Supernatural Mysteries, edited by Stephen Jones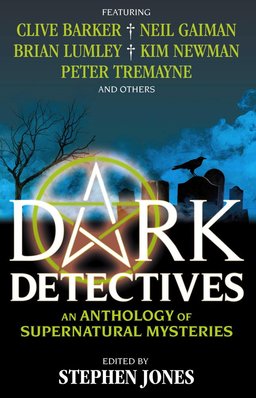 We have a tradition here at Black Gate of respecting supernatural detectives.
Let's face it, they don't get much respect anywhere else. But who else is going to defend the Earth from the forces of darkness? Usually without a salary, decent pension, or bennies of any kind. We're not sure why they do it, but we're glad they do.
Later this month Titan Books will publish Stephen Jones' anthology Dark Detectives: An Anthology of Supernatural Mysteries, which collects classic tales of occult detectives, including a John Thunstone tale by Manly Wade Wellman, a Titus Crow story by Brian Lumley, a Solar Pons novella by Basil Copper, and a Carnacki novelette by William Hope Hodgson — as well as brand new tales of intrepid investigators of the unknown by Kim Newman, Brian Mooney, Jay Russell, Peter and Tremayne.
Here's the description.
CRIMES OF TERROR AND DARKNESS

In the battle between good and evil, the supernatural investigators form the first line of defense against the unexplainable. Here are eighteen pulse-pounding tales featuring uncanny sleuths battling against the weird, written by Clive Barker, R. Chetwynd-Hayes, Basil Copper, Neil Gaiman, William Hope Hodgson, Brian Lumley, Brian Mooney, Kim Newman, Jay Russell, Peter Tremayne, and Manly Wade Wellman.

Featuring the entire ''Seven Stars" saga by Kim Newman, pitting the Diogenes Club against an occult object with the power to ultimately annihilate mankind!
The trade paperback is a reprint of Dark Detectives: Adventures of the Supernatural Sleuths, published in hardcover by Fedogan & Bremer in 2000, and now long out of print and quite expensive (when you can find it).
It was nominated for the World Fantasy Award for best anthology when it was first released, and made the Locus magazine poll for best anthology at #14.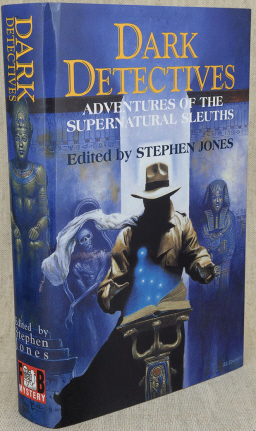 If you're a fan of supernatural sleuths (and who isn't?), we've covered several recent items of interest, including:
Weird Detectives edited by Paula Guran
The Son of Satan from Marvel Comics
The Dance of Death by Algernon Blackwood
The Casebook of Sexton Blake, edited by David Stuart Davies
The Black Veil & Other Tales of Supernatural Sleuths, edited by Mark Valentine
The Madness of True Detective
Sgt. Janus Returns by Jim Beard
The Yard by Alex Grecian
The Casebook of Carnacki The Ghost Finder by William Hope Hodgson
The Shapes of Midnight by Joseph Payne Brennan
The Complete John Thunstone by Manly Wade Wellman
The Silver John stories by Manly Wade Wellman
Not to mention the greatest occult investigator of all time, Kolchak the Night Stalker.
If you're serious about supernatural sleuths, I highly recommend you check out Josh Reynolds's encyclopedic survey of the genre, Nightmare Men, right here at Black Gate. He covers Seabury Quinn's famous Jules de Grandin, French physician and keeper of forbidden knowledge; August Derleth's blind Dr. Laban Shrewsbury; William Hope Hodgson's courageous Carnacki the Ghost Finer; Aylmer Vance, agent of the enigmatic Ghost Circle; Manly Wade Wellman's 'enemy of evil' John Thunstone; Brian Lumley's psychic sleuth Titus Crow, and many others.
For Dark Detectives, editor Stephen Jones does a fine job collecting a range of tales from hard-to-find sources, including paperback collections, magazines from the 80s, and even The Secret Files of Solar Pons, published by Pinnacle Books in 1979.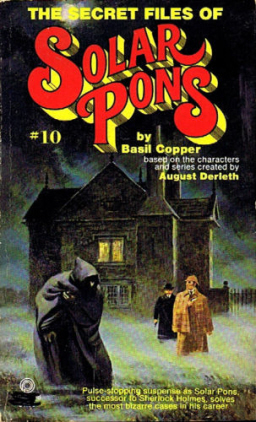 Here's the complete table of contents:
Introduction: The Serial Sleuths by Stephen Jones
"Bay Wolf"  poem by Neil Gaiman (Smoke and Mirrors: Short Fictions and Illusions, Nov 1998)
"De Marigny's Clock" by Brian Lumley (The Caller of the Black, 1971)
"Lost Souls" by Clive Barker (Cutting Edge, Oct 1986)
"Our Lady of Death" by Peter Tremayne
"Rouse Him Not" by Manly Wade Wellman (Kadath #5, 1982)
Seven Stars Prologue: In Egypt's Land, by Kim Newman
Seven Stars Episode One: The Mummy's Heart, by Kim Newman
Seven Stars Episode Two: The Magician and the Matinee Idol, by Kim Newman
Seven Stars Episode Three: The Trouble with Barrymore, by Kim Newman
Seven Stars Episode Four: The Biafran Bank Manager, by Kim Newman
Seven Stars Episode Five: Mimsy, by Kim Newman
Seven Stars Episode Six: The Dog Story, by Kim Newman
Seven Stars Episode Seven: The Duel of Seven Stars, by Kim Newman
"Someone Is Dead" by R. Chetwynd-Hayes (The Elemental and Other Stories, 1974)
"The Adventure of the Crawling Horror" by Basil Copper (The Secret Files of Solar Pons, Oct 1979)
"The Horse of the Invisible" by William Hope Hodgson (The Idler, April 1910)
"The Man Who Shot the Man Who Shot The Man Who Shot Liberty Valence" by Jay Russell
"Vultures Gather" by Brian Mooney
Dark Detectives: An Anthology of Supernatural Mysteries is edited by Stephen Jones and will be published by Titan Books on March 17, 2015. It is 480 pages, priced at $14.95 in trade paperback and $9.99 for the digital edition.
See all our reports on upcoming fantasy releases here.