Vintage Treasures: The Dance of Death by Algernon Blackwood
Vintage Treasures: The Dance of Death by Algernon Blackwood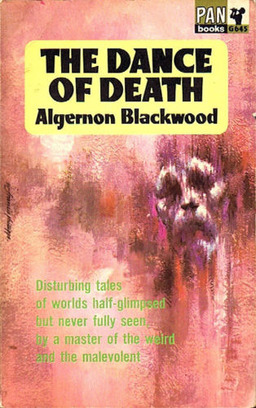 Algernon Blackwood is one of the acknowledged masters of the ghost story — and also one of its most prolific practitioners. He wrote a dozen novels and published some 34 short story collections, including John Silence (1908), Incredible Adventures (1914), Ancient Sorceries and Other Tales (1927); and Tales of the Uncanny and Supernatural (1949). He died in 1951.
In his review of Incredible Adventures, Ryan Harvey saluted Blackwood thusly:
Of all the practitioners of the classic "weird tale," which flourished in the early twentieth century before morphing into the more easily discerned genres of fantasy and horror, none entrances me more than Algernon Blackwood. Looking at the stable of the foundational authors of horror — luminaries like Poe, James, le Fanu, Machen, Lovecraft — it is Blackwood who has the strongest effect on me. Of all his lofty company, he is the one who seems to achieve the most numinous "weird" of all…

In my view, Blackwood achieved his finest work in his earlier collections The Listener and Other Stories (1907), John Silence — Physician Extraordinary (1908), and The Lost Valley and Other Stories (1910), where he combined his weird adventures with aspects of horror and fear. These earlier classics are supernatural horror, but are also superb works of mood.
Much of Blackwood's impressive catalog is now out of print, but not all of it. S. T. Joshi, who called his work "more consistently meritorious than any weird writer's except Dunsany's," and said Incredible Adventures "may be the premier weird collection of this or any other century," has edited two contemporary short story collections: The Complete John Silence Stories (1997), and Ancient Sorceries and Other Weird Stories (2002).
Of course, I'm most interested in the vintage paperback editions of Algernon Blackwood, and especially his 1963 Pan paperback The Dance of Death, which I recently acquired on eBay.
While I've been passing familiar with Blackwood for years, my interest was first rekindled by Matthew David Surridge's long article "The Scar-Crow Men, Faustus, and Wizards: Three Posts," in which he talked about several types of supernatural investigators, including the Wizard Detective:
The Wizard Detective is a distinctive type of the past century or two. They may be known as 'psychic detectives'. Algernon Blackwood's John Silence is the classic example of this type of wizard, a slightly-more-supernatural Sherlock Holmes who investigates odd cases involving matters beyond mortal ken. Randall Garrett's Lord Darcy would also fit the pattern; so would Harry Dresden. And I'd put that classic modern-day Wizard of the Road, John Constantine, squarely in this category, too.
John Silence popped up again in Jonathan L Howard's Black Gate article on his own occult investigator, Johannes Cabal, "Some Little Infamy":
[Cabal] was English to start with – purely because the vicarage was in England – but at some point he became German. I'm not sure why. Perhaps it was the national stereotype of efficiency bleeding into the mix, perhaps purely because I liked the idea of a German protagonist, I truly have no idea.
Somewhere along the line, the name "Johannes Cabal" appeared. I liked it for the simplicity of the forename followed by an enigmatic surname, in the mode of Blackwood's "John Silence."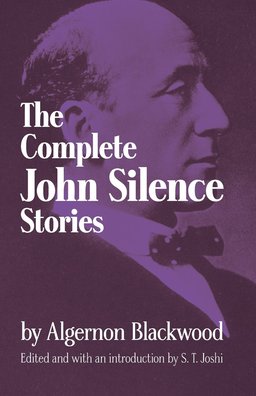 That was more than enough to pique my curiosity. It didn't hurt that only a few months later, in his lengthy series for Black Gate on The Nightmare Men, author Josh Reynolds devoted an entry to John Silence, "Physician Extraordinary"
The stories themselves are in the inimitable Blackwood style, seen at its most effective in "The Wendigo" and "The Willows", and display the author's interest in the occult. The horrors that Silence faces are nebulous things, at once more vast than the horizon and smaller than the inside of a cupboard. They range from nightmare assaults out of deep time to unrequited yearnings gone impossibly savage, originating in both human action as well as from events far outside of human understanding. Time and space are suggestions at best, and as in the works of Hodgson and Lovecraft, reality itself comes under assault from outside entities which seek to impose themselves on their victims.

Enter John Silence, MD.
Ryan Harvey visited Blackwood one more time, in a lengthy review of The Empty House and Other Ghost Stories (1906), in which he said:
Blackwood first emerged into supernatural fiction with The Empty House and Other Ghost Stories in 1906. Although the term "ghost story" would literally haunt Blackwood all of his career, much of his finest supernatural work has little to do with specters and the unquiet dead. The Empty House is the exception that proves the rule: at this early stage of fiction writing, Blackwood was interested in standard ghost tales, but showed signs that he wanted to go a different direction from the style of M. R. James that was popular at the time. The classics "The Wendigo" and the "Willows" were only another bend around the river.

The book features a continuing character named Jim Shorthouse. He features in four of the stories, but his behavior is inconsistent. Most of his appearances show an average young man who is also a magnet for weirdness…
The Dance of Death contains half a dozen stories written between 1907 and 1921. It seems like a fine sampling of Algernon's ghostly fiction, including one long John Silence novella, "A Psychical Invasion." And that gorgeous cover doesn't hurt.
Here's the blurb from the back of the book:
Six Strange Tales

— none of them like anything you have ever read before

All are pervaded by the chilling mystery of the unknown and the inexplicable

Each is stamped with the unique story-telling hallmark of its world-famous author
And here's the complete table of contents.
"The Dance of Death" (1907)
"A Psychical Invasion" (1908)
"The Old Man of Visions" (1907)
"The South Wind" (1912)
"The Touch of Pan" (1917)
"The Valley of the Beasts" (1921)
The Dance of Death was published in 1963 by Pan Books. It is 128 pages and there is no cover price. The cover artist is W. F. Phillipps. It was reprinted in a trade paperback edition in 2001 from House of Stratus. I bought the 1963 edition in excellent shape on eBay for $3.99 (plus shipping.)
See all of recent Vintage Treasures here.