Robert Silverberg on the First Year of Galaxy Science Fiction
Robert Silverberg on the First Year of Galaxy Science Fiction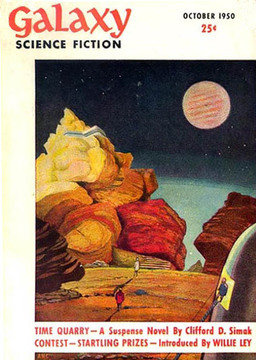 Galaxy magazine was founded in 1950; its legendary first editor was H.L. Gold. At the time Astounding Science Fiction, under John W. Campbell, was the leading SF magazine, publishing such writers as Isaac Asimov, Robert A. Heinlein, Clifford D. Simak, and H. Beam Piper. Within a single year, Gold wrestled the mantle of leadership away from Campbell, making Galaxy the top magazine in the industry. In his first two years Gold published some of the most memorable SF of the century, including Ray Bradbury's "The Fireman" (later expanded as Fahrenheit 451), Robert A. Heinlein's The Puppet Masters, and Alfred Bester's The Demolished Man.
Author Robert Silverberg (who credits the first issue of Galaxy with saving him from becoming a smoker) offers his own comments on the effect Galaxy had on the field, saying:
It is impossible to overestimate the impact that Galaxy had on us in its first twelve or fifteen issues. There had never been such a succession of brilliant stories in an s-f magazine, not even in the Campbell Astounding of 1941, which had plenty of future classics but also a high percentage of pulp filler.

That first year of Galaxy left us all gasping, and I still look at those early issues with reverence and awe. It was as if Campbell's whole stable had been holding in its best work, which Gold now was able to set free. Alas, by 1954 much of the magic was gone, and from 1955 on Galaxy was a good magazine indeed but no longer, well, astounding.
Rich Horton has been reviewing individual issues of Galaxy (and other vintage science fiction digest magazines) for us for the past few years. And Matthew Wuertz has taken on the ambitious project of reading and reviewing the Gold issues of Galaxy for Black Gate, starting with issue 1, dated October, 1950. His most recent review was the July 1952 issue, containing stories by John Wyndham and Richard Matheson, and the second installment of Frederik Pohl and C. M. Kornbluth's serial novel The Space Merchants.