How Galaxy Magazine Saved Robert Silverberg from a Life of Smoking
How Galaxy Magazine Saved Robert Silverberg from a Life of Smoking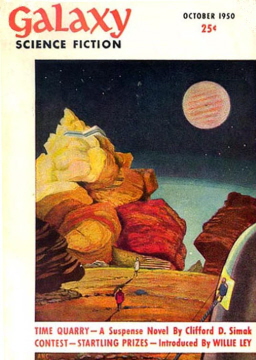 I've been neglecting Galaxy magazine in my recent Vintage Treasures articles. I've covered some of the great fiction in Analog, Asimov's Science Fiction, and Worlds of If, but the truth is that Galaxy was on its last legs by the time I started reading science fiction and fantasy in 1976, and it folded in 1979.
But I'm not wholly ignorant of the contribution Galaxy made to the field, especially under the editorship of H.L. Gold (1950 – 1961) and Frederik Pohl (1961 – 1969). Until 1950 the field was almost entirely dominated by John W. Campbell, editor of Astounding, who was legendary in his ability to spot talent, but also held a fairly narrow view of what kinds of SF and fantasy would sell. Gold was interested in tales of social and psychological upheaval, not just the hard science puzzle fiction in Astounding, and quickly proved that readers would buy stories with that bent — as well as satire, humor, and tales where mankind didn't always triumph in its march to the stars and inevitable conflict with alien races.
Mike Ashley, one of our field's finest historians, credits the success of Galaxy for the huge boom in science fiction and fantasy in the fifties, when the field grew from a handful of magazines to over two dozen, saying Galaxy "revolutionized the field overnight."
Author Robert Silverberg, however, has a more personal tale of how Galaxy changed his life. He writes:
It was the founding of Galaxy that saved me from a life of smoking. It was September, 1950, and I was a teenager with about forty cents in my pocket. A pack of cigarettes cost about a quarter then. So did the first issue of Galaxy, which had just come out. I went into a newsstand thinking I might buy some cigarettes (I had been smoking a few, not with any pleasure, but simply to make myself look older) and there was the shiny Vol One Number One Galaxy. I could afford one or the other, not both. I made my choice and lived happily ever after.
While I was too late to buy more than a handful of issues of Galaxy on the newsstand, I rectified that later in life, amassing a fair collection going back to that famous first issue in 1950. I've been enjoying them over the last few years, and will report in here with the very best stories I find.