Get in the Dungeon with Munchkin #1
Get in the Dungeon with Munchkin #1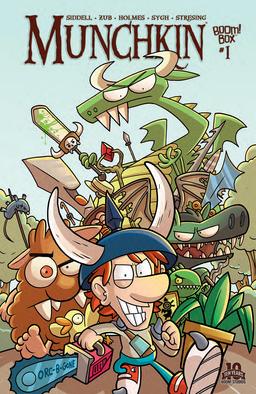 Earlier this year Boom! Box comics, publishers of Lumberjanes and Mouse Guard, released Munchkin #1, the first issue of a new ongoing series based on Munchkin.
What the heck is Munchkin, you ask?
Munchkin is one of the most popular fantasy games on the market. Designed by Steve Jackson (creator of Ogre, Melee, and Car Wars), it's a card game that pokes fun at role playing, and especially gamers who play to win at any cost. In his review last year, Bob Byrne called it "the funnest (Most fun? More fun than any other?) game I play." Since its release in 2001 Munchkin has become a true phenomenon, winning the 2001 Origins Award for Best Traditional Card Game, and accounting for more than 70% Steve Jackson Games sales for much of the past decade. It has been followed by dozens and dozens of expansions, accessories, and spinoffs, including Munchkin Quest, Star Munchkin, Super Munchkin, Munchkin Cthulhu, The Good, The Bad, And The Munchkin, and Munchkin Conan.
As you'd probably expect if you've played the game, the comic adaption is clever, highly irreverent, chaotic, frequently very silly, and occasionally laugh-out-loud funny. The art is universally excellent, and the scripts… well, the scripts are downright goofy. I expected a character-based narrative, something akin to the excellent Skullkickers, but what I got was closer to Bongo's Simpson comics — an anthology that goes for strictly laughs, rather than attempting to tell any kind of cohesive story.
There are four tales within: "What is a Munckin?", a 3-page introductory strip which gets the concept across pretty well; "Humans Got No Class," in which a wizard, dwarf and ranger deep in a dungeon attempt to figure out what a long-haired slacker is doing in their midst; "Ready for Anything," in which an experienced Munchkin shows a newbie the ropes (with predictable results), and a 1-page gag by John Kovalic. The humor is a little uneven, but fortunately you don't have to have played the game to appreciate most of it. I definitely look forward to future issues.
Munchkin #1 was written by Tom Siddell, Jim Zub, and John Kovalic, and illustrated by Mike Holmes, Rian Sygh, and John Kovalic. It was published by Boom! Box comics in January 2015. It is 24 pages, priced at $3.99; each issue contains a unique card usable in the game. The cover is by Ian McGinty. For more details, see the Boom! Box website. Check out all our recent comic coverage here.