Vintage Treasures: Sturgeon in Orbit by Theodore Sturgeon
Vintage Treasures: Sturgeon in Orbit by Theodore Sturgeon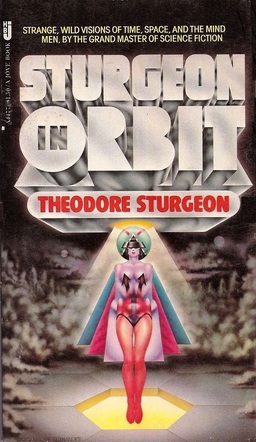 A few weeks ago, I wrote about my surprise in finding a Theodore Sturgeon collection I hadn't known existed: To Here and the Easel, a handsome Panther Books paperback from 1975 that never had a US edition.
That book re-ignited my interest in Theodore Sturgeon, whom I consider one of the finest short story writers to dabble in SF and fantasy in the 20th Century. And it reminded me that I have by no means exhausted the Sturgeon titles I already have in my collection.
So this week I pulled another one off my shelf — the 1978 paperback edition of Sturgeon in Orbit, which I've never read before. It collects a fine sample of Sturgeon's work from the early 1950s, the era of flying saucers, national paranoia, and a newborn fear of nuclear Armageddon. It features mysterious alien invaders, noble scientists facing terrifying choices, and stranger things.
The unusual cover, by Stanislaw Fernandes, was a departure for Sturgeon, whose books usually featured abstract space scenes. This one features… well, I'm not sure really. A runway model wearing three capes and a swami headdress, who looks like she's about to level up. I get it.
Whatever the case, it's a nice, slender volume that promises to be something I haven't enjoyed in a while — a very quick read. So far, it's been a lot of fun and I look forward to finishing it this weekend.
Here's the description from the back of the book.
From Inner Space to Infinity

From Secret corners of the human mind to the farthest reaches of the galaxy, Theodore Sturgeon ventures to the very limits of consciousness. He explores the soul and finds madness and beauty, horror and enchantment. He explores the universe and describes danger and heroism, romance and high adventure. His people are real, vivid and alive, from the weak and the poor to the bizarre and the super-powerful. His places are exotic and alien. In this volume Sturgeon is at his very best — as an observer of believable men and women caught in the strangeness of other worlds and the distant future.
Strange people in the worlds of Theodore Sturgeon…

The woman who kept mad, blind faith in the goodness of her lover — a man who was betraying the whole world to the forces of ultimate destruction.
The biochemist who desperately tried to control the drug he had invented — a chemical that turned love into a killer disease that would ravage the planet.
The creature from space that committed suicide out of affection for the human being whose mind he had invaded..

And others, uniquely memorable, fascinatingly unexpected.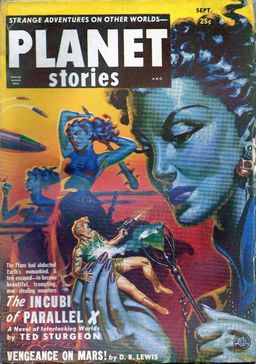 The stories in Sturgeon in Orbit originally appeared in five different pulp magazines and SF digests of the early 1950s: Planet Stories, Fantastic, Startling Stories, Fantastic Adventures, and Other Worlds Science Stories.
The 1952 novella "The Incubi of Parallel X," for example, was the cover story for the September 1951 issue of Planet Stories, where it was credited to "Ted Sturgeon" (click the image at right for a bigger version.) The cover was by Allen Anderson.
Here's the complete table of contents:
Introduction by Theodore Sturgeon
"Extrapolation" (Fantastic, April 1954)
"The Wages of Synergy" (Startling Stories, August 1953)
"Make Room for Me" (Fantastic Adventures, May 1951)
"The Heart" (Other Worlds Science Stories, May 1955)
"The Incubi of Parallel X" (Planet Stories, September 1951)
Our most recent coverage of Theodore Sturgeon includes:
A Touch of Strange (1958)
Not Without Sorcery (1961)
Sturgeon in Orbit (1964)
Starshine (1966)
Sturgeon is Alive and Well… (1971)
To Here and the Easel (1973)
The Stars Are the Styx (1979)
Sturgeon in Orbit was originally published in paperback in Feb 1964, by Pyramid Books. It was reprinted in paperback in Jan 1978 by HBJ, with a new cover by Stanislaw Fernandes. It is 159 pages, originaly priced at $1.50.
See all of our recent Vintage Treasures posts here.