Vintage Treasures: The Fox Woman by A. Merritt
Vintage Treasures: The Fox Woman by A. Merritt
A. Merritt is something of a cautionary tale for authors today.
He was the bestselling American fantasy writer for a generation. His career spanned three decades, from 1917 to the mid-1940s, and his novels — including The Moon Pool (1919), The Ship of Ishtar (1924), The Face in the Abyss (1931), and Creep, Shadow! (1934) — remained in print for more than seven decades after his death. Yet he is virtually forgotten today.
This isn't a case of an uncaring public ignoring a forgotten genius. Merritt certainly still has his fans, but his day is past. Personally, I find his novels largely unreadable. His short stories, however, are another matter.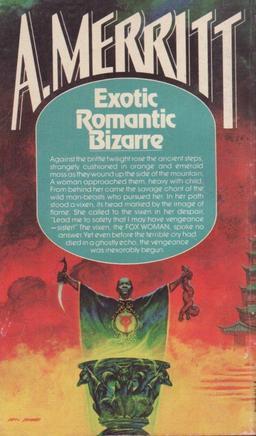 Merritt published only one short story collection: The Fox Woman and Other Stories (1949), published six years after his death. It contains nine fantasy tales that reveal a surprising diversity, including lost-world adventure, science fiction, and the title story, "The Fox Woman," a tale of revenge in 20th century China. It also includes "The People of the Pit," a brooding tale of adventure that still stands up today.
The Fox Woman appeared in paperback from Avon in 1949 (above left, cover artist unknown), and was reprinted in August 1977 with a cover by Ken Barr (above right). The back cover for the 1977 edition is at right (click for bigger version), and here's the text on the back of the 1949 edition:
Exotic, Romantic Fantasy

She was a voluptuous and sparkling creature – sometimes she seemed all woman, desirable, human – and sometimes she seemed a fox, sly, cunning, a being of wildness embodying the hidden secrets of nature.

You will read about this intriguing maiden in The Fox Woman, an A. Merritt masterpiece never before made available to the general public. This fine novelette is only one of the nine hard-to-find short stories and novelettes of this first and only collection of Merritt short fantasies.

You will thrill to the strange story of the man who fell in love with a supernaturally beautiful tree nymph and her enchanting sisters in The Women of the Wood.

You will share the passions of the man who snared a Chinese charmer Thru the Dragon Glass. You will be haunted by the tender romance of Three Lines of Old French.

You will find that The Fox Woman and Other Stories is a treasure-box for readers who like tales of exotic passions, colorful adventures, and brilliant fantasy.
The Fox Woman has been out of print since 1978. However, copies of the Avon paperback editions aren't hard to find, and can generally be acquired in good condition for $3- $12, or about what a new paperback costs today.
See all of our recent Vintage Treasures posts here.