The Public Life of Sherlock Holmes: TCM's Summer of Darkness
The Public Life of Sherlock Holmes: TCM's Summer of Darkness
Hard boiled and noir are often discussed together. And while a film or story could fit in both categories, they are two distinct genres. Hard boiled is typified by the stories of Dashiell Hammett and Raymond Chandler, and others from Black Mask and Dime Detective magazines.
Noir is usually (but not always) thought of in terms of film: black and white, shadowy movies with dark characters. Much hard boiled is noir, and vice versa. Far more expert folks have discussed the definitions of the two terms for decades.
One example, to me, are the works of Cornell Woolrich, whose "It Had to Be Murder" became the masterful suspense flick, Rear Window. Woolrich's stories are noir, but not hard boiled.
Many of Humphrey Bogart's films were hard boiled, including The Maltese Falcon (also noir), The Roaring Twenties and Bullets or Ballots. One of his later films, In a Lonely Place (based on the novel by Dorothy Hughes) is a noir classic but isn't hard boiled.
So, just know that many films (usually crime related) from the thirties through the fifties and into the sixties, were hard boiled, noir, or both.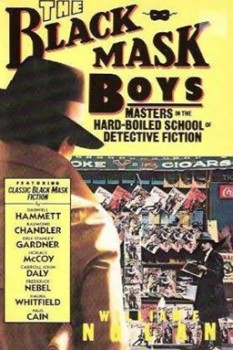 "So what, Bob?" (something said often by readers of The Public Life of Sherlock Holmes). I am a big hard boiled (and to a lesser extent, noir) fan. My bookshelves have plenty of tales by Hammett, Chandler, Erle Stanley Gardner (that Perry Mason guy who was a hardboiled pulp star), Jim Thompson, Paul Cain, James M. Cain, Frederic Nebel, Norbert Davis, Chester Himes, Raymond B. Cave, Wade Miller, Joe Gores, Carrol John Daly, Charles Williams, Gil Brewer, Steve Fisher, Day Keene, William Campbell Gault and John D. MacDonald (whom you read about here).
There are good modern day writers who have continued the tradition, such as Michael Stone (you read about him here, right?), Max Allen Collins, Lawrence Block, James Lee Burke and others.
To repeat, "So what, Bob?" Well, Turner Classic Movies shows hard boiled and noir movies regularly. Browsing the monthly schedule will frequently turn up something with Bogart or Edward G. Robinson or James Cagney. Or something nourish with Alan Ladd, Orson Welles or Ida Lupino.
This June and July, TCM has outdone itself in three ways. Beginning June 5, every Friday morning, for two full months, beginning around 6 AM, it's 24 hours of hardboiled and noir movies! It's mostly from the classic era, but a few 'newer' films are mixed in, such as the excellent LA Confidential.
I've seen over half of the films on the schedule and am familiar with about a quarter of the rest and this is a simply amazing collection of hard boiled and noir films for your free viewing pleasure. There's not gonna be any room on our DVR for my wife's shows this summer!
Just on June 5, I'd be interested in Stranger on the Third Floor (Peter Lorre), High Sierra and The Maltese Falcon (Bogart), Journey Into Fear (Joseph Cotton), Johnny Eager (Robert Taylor), Woman on the Run (Ann Sheridan), Dark Passage (Bogie again) and LA Confidential (great ensemble cast).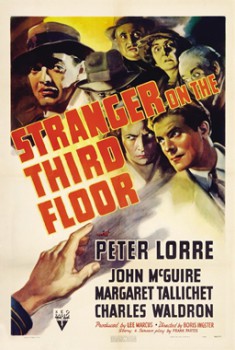 Tastes will vary. I don't do well with the overly dark, creepy films like Fritz Lang's M, or something with Bette Davis. But that doesn't mean they are films you shouldn't consider. And one of the treats in watching hardboiled and noir flicks is that you will come across some really good actors you might not have known about.
Maybe you haven't seen Robert Ryan, Robert Taylor or Sterling Hayden before. But they made some good noirs. Same with Dick Powell and Ida Lupino.
Go ahead and look at the schedule and read up on some of the films. You've got the opportunity this summer to see some fantastic hardboiled/noir movies.
But that's just the first part. Because TCM is doing this big, they're also offering a free, online class: Into the Darkness: Investigating Film Noir, taught by Dr. Ralph Edwards, who has a PhD from USC's School of Cinematic Arts and runs a noir podcast.
Completely free, this nine-week course will give you a thorough grounding in film noir. I mean, that's beyond cool!
AND your Friday noir guide will be Eddie Muller, who I consider to be the American King of Noir. Eddie has hosted noir nights on TCM before and wrote The Distance, which is my favorite hardboiled novel of the twenty-first century.
So, Eddie Muller, an incredible movie slate and a free, online course taught by an expert. TCM's Summer of Darkness is a treasure chest for us hardboiled/noir fans.
I'm going to highlight just a couple of movies for each day in June. Trust me: there are several more worth watching.
June 5
High Sierra/The Maltese Falcon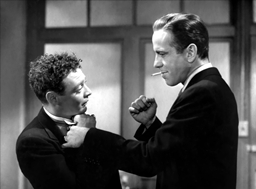 If you read this post, you know I'm a Bogie fan. George Raft turned down High Sierra in 1941. At that time, Humphrey Bogart had made 37 films in the prior 11 years but was still a supporting actor. He ended up as Roy Earle, the gangster with a heart, earning rave reviews.
John Huston wrote the screenplay for High Sierra. Later in 1941, Warners tossed him a bone and let him direct a film. He chose to remake Dashiell Hammett's The Maltese Falcon. Again, George Raft turned down the part and Bogart landed it. Still considered the finest private eye movie of all time, Bogie was on the rise to superstardom. These two films in 1941 put him on the path to Casablanca.
Stranger on the Third Floor
Peter Lorre is a reporter whose testimony convicts a man, but he has doubts after the fact. This is a noir gem that not too many folks have seen, but is an excellent watch.
June 12 (wow: what a day)
Laura (Gene Tierney's finest role) and Mildred Pierce (the third of James M. Cain's great noir novels) are bona fide noir classics and the disturbing Gun Crazy makes most experts' lists as a lesser known classic.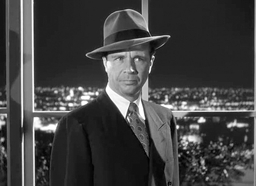 Murder My Sweet
Dick Powell (you know, that Richard Diamond guy) was a handsome song and dance man when given the (unexpected) chance to play Raymond Chandler's Philip Marlowe opposite noir queen Gladys George. He hit a grand slam, reinventing himself for Hollywood. My favorite Chandler film.
 The Glass Key
An excellent novel by Hammett became a fine film with Alan Ladd and Veronica Lake (the first of three noir pairings). William Bendix is great as the mob boss' muscle. One of my all time favorite gangster films, Miller's Crossing, draws heavily on The Glass Key.
June 19
Gilda and The Big Sleep are not to be missed.
Nocturne
George Raft torpedoed his own career while pushing Bogart up the Warners' ladder (that's going to be the subject of a future post). Nocturne is my favorite Raft film. He's a police detective investigating a composer's suicide. A nice soundtrack and some outstanding atmospheric shots make this a noir to watch.
Get Carter
I happen to like the Sylvester Stallone remake of this. But the original starring Michael Caine is one of the best crime films of the seventies.
June 26
The Mask of Dimitrios
This is based on a book by Eric Ambler. Thriller writer Ambler was once a Hollywood favorite but is largely forgotten today. This is one of several Sydney Greenstreet/Peter Lorre pairings made after their success together in The Maltese Falcon. A little gem.
 The Stranger
A small town schoolteacher suspects her new husband (Orson Welles) may be a nazi war criminal. Gangster star Edward G. Robinson is the federal agent on the case. If you like suspense, this is the one for you.
There's some great stuff on the next Friday, but I'm running out of space for this week.
If you've got any questions about the films on the schedule or hard boiled and noir authors, leave them in the comments section. There are a lot better experts than me around, but I've read a lot of hard boiled over the past twenty-five years and may be able to shed a little light.
---
You can read Bob Byrne's 'The Public Life of Sherlock Holmes' column here at Black Gate every Monday morning.
He founded www.SolarPons.com, the only website dedicated to the 'Sherlock Holmes of Praed Street' and blogs about Holmes and other mystery matters at Almost Holmes.