Uncanny Magazine Issue 4 Now on Sale
Uncanny Magazine Issue 4 Now on Sale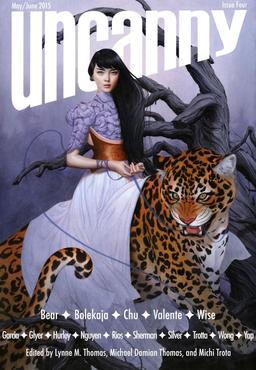 With only four issues under its belt, Uncanny Magazine is already becoming a significant presence in the field. It has gorgeous production, great covers, some terrific contents — and it's published four issues since October. The new issue keeps the success story going, with an eye-catching cover by Tran Nguyen, and original fiction from Catherynne M. Valente, Elizabeth Bear, Lisa Bolekaja, John Chu, and A.C. Wise, and a reprint from Delia Sherman.
Nonfiction this issue includes "It's the Big One," a nice historical recap of the Hugos by File 770's Mike Glyer, with an on-point summary of the 2015 Hugo drama:
Never before in its history has its future been in greater doubt… there is no precedent for the absolutely public and devastatingly successful effort of two slates to control the 2015 Hugos, Brad Torgersen's "Sad Puppies 3" and Vox Day's parallel "Rabid Puppies" campaigns which filled 59 of 85 slots on the final ballot with their choices (and would have had more, but five declined their nominations and the committee ruled two others ineligible.)…

Only by tapping into anger over the culture wars has someone succeeded in motivating the requisite number of fans to buy supporting memberships at $40 a pop and take control of the Hugo ballot.

Among fans who are critical of the outcome there has been widespread talk of voting "No Award" ahead of nominees from the slate (again). There is also a great deal of technical discussion of rules changes designed to limit the influence of voting slates without creating any barriers to new voters.
Read the entire article here.
Additional content this issue includes nonfiction from Julia Rios, Kameron Hurley, Christopher J Garcia, and Steven H Silver, poems by Alyssa Wong, Ali Trotta, and Isabel Yap, interviews with John Chu and Delia Sherman, and two podcasts:
Episode 4A: Editors' Introduction, Catherynne M. Valente's "Planet Lion" (as read by Heath Miller), Alyssa Wong's "For the Gardener's Daughter" (as read by Amal El–Mohtar), and an interview with Catherynne M. Valente conducted by Deborah Stanish.

Episode 4B: Editors' Introduction, Elizabeth Bear's "In Libres" (as read by C.S.E. Cooney), Isabel Yap's "Apologies for breaking the glass slipper" (as read by Amal El–Mohtar), and interviews.
Here's the complete fiction contents:
"Restore the Heart into Love" by John Chu
"The Practical Witch's Guide to Acquiring Real Estate" by A.C. Wise
"Planet Lion" by Catherynne M. Valente
"In Libres" by Elizabeth Bear (available June 2)
"Young Woman in a Garden" by Delia Sherman, from Xanadu 2, January 1994 (available June 2)
"Three Voices" by Lisa Bolekaja (available June 2)
All of the content is now available for purchase as an eBook (PDF, EPUB, MOBI). The free online content will be released in 2 stages — half in May, and half on June 2.
We last covered Uncanny Magazine with Issue #3. Read issue #4 here.
Uncanny Magazine is edited by Lynne M. Thomas, Michael Damian Thomas, and Michi Trota, and published bi-monthly. The issue is priced at $3.99, and is available as an eBook (PDF, EPUB, MOBI). eBook Subscriptions are available at Weightless Books.
See our mid-May Fantasy Magazine Rack here, and all of our recent Magazine coverage here.