Sad Puppies and Super Puppies: The 2015 Hugo Train Wreck
Sad Puppies and Super Puppies: The 2015 Hugo Train Wreck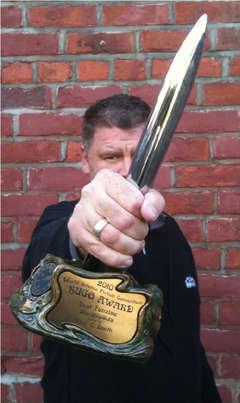 As both Matthew David Surridge and I wrote about earlier this week, there's been considerable controversy swirling around the just-announced ballot for the 2015 Hugo Awards, the most prestigious fan-based award in science fiction and fantasy. Matthew and I are involved in this controversy because we were both included, without our knowledge or consent, in a slate of bloc votes (the "Sad Puppies 3" and "Rabid Puppies") that resulted in us being put on the ballot.
Matthew declined his nomination. Since Black Gate's nomination was for the entire site, a fan-based effort that involves over 40 participants, I decided not to decline on behalf of those individuals. But (no surprise) I had plenty to say about it, in my article "Black Gate Nominated for a Hugo Award in a Terrible Ballot."
I don't think it's an exaggeration to say this topic has riveted the entire industry. The two BG articles I link to above have been read over 32,000 times in less than three days… and Matthew and Black Gate were nominated for fan awards, the part of the ballot that, to be blunt, most people really don't give a damn about.
There are just shy of 200 comments on those two posts, so the conversation is already getting a little unwieldy (and I find I have to keep repeating myself, because let's face it, who can be bothered to read 200 comments before asking a simple question?) So I figured it made sense to do a quick re-cap, especially for those readers who surfed over here on their lunch hour, and have roughly the time it takes to eat a tuna fish sandwich to get caught up.
The crux of the matter is this.
A group of passionate, generally conservative readers have become increasingly concerned that conservative authors and the work they love — especially old-fashioned, adventure-oriented science fiction and fantasy — have been unjustly shunted aside by fiction that advances a left-wing agenda, or is written by authors favored by liberals. These readers don't see this as evidence of a changing readership… instead they see an active, secret agenda by a minority of liberal-minded professionals and fans to covertly subvert the voting process.
[For our foreign or non-political readers who are already confused, or who don't quite get the distinction between "right wing" and "left wing" science fiction or follow this peculiarly American ideological division, I understand. As a Canadian, I was mystified for years too. Hang in there, you're almost through the hard bit.]
This simmering anger came to a boil last year when the Sad Puppies slate, created by Larry Correia, lost out to a very diverse slate of women and people of color, which was seen by some as further evidence that deserving candidates had no chance against the liberal agenda. (I also want to make special notice of the fact that Rachel Swirsky's "If You Were a Dinosaur, My Love," made the ballot — and boy, the Sad Puppies, as a bloc, really hate that story.)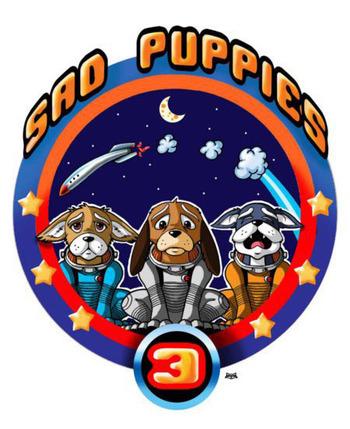 So a larger initiative was launched this year, spearheaded by Brad Torgerson, ably assisted by Vox Day. Those two created the Sad Puppies 3 and Rabid Puppies slates, which had enormous success, claiming over 71% of the Hugo ballot. As Mike Glyer at File 770 notes, out of the 85 slots on the Hugo ballot, a total of 61 came from Sad Puppies 3 and Rabid Puppies. In particular, every single slot in the short fiction categories came from those blocs — a clean sweep.
Exactly how did they do this?
It wasn't actually all that hard. Here's a look at the exact number of nominations for each of the top five candidates for the 2013 Hugos in the most popular category, Best Novel (you can find all the details at LoneStarCon 3 here).
Best Novel (1113 ballots)

193 – Redshirts by John Scalzi (17.34%)
138 – Blackout by Mira Grant (12.40%)
135 – 2312 by Kim Stanley Robinson (12.13%)
133 – Captain Vorpatril's Alliance by Lois McMaster Bujold (11.95%)
118 – Throne of the Crescent Moon by Saladin Ahmed (10.60%)
So as you can see, all it would take is 200 votes, all for the same slate of candidates, to completely sweep the nominations. That's exactly what the Puppies did.
Now, a few quick points of note here. Larry Correia is a proud conservative, and the slates he created — Sad Puppies 1 and 2 — were heavily conservative. This year Brad's slate is more diverse, politically and otherwise. For example Annie Bellet, whose "Goodnight Stars" (from The Apocalypse Triptych) was on the Sad Puppies 3 ballot, is a bisexual socialist (her thoughts on being included are here). The unifying thread seems to be a belief that these works are all shut out of the possibly for a Hugo by a contingent of fandom that Larry calls Social Justice Warriors (SJWs).
Second, the people who vote for the Hugos are not the same people as those who nominate. A lot more vote for the awards than submit nominating ballots. Last year, for example, there were 1,923 nominating ballots, and nearly twice that many total voters for the actual Hugos (3,587). Only members of the 2015 Worldcon can vote on the final ballot.
The consequences of the SP/RP ballot are pretty much what you'd expect. Fans were surprised, and banded together, trying to understand what happened. There's been no concerted outreach that I could see from the Puppies, and in the absence of a narrative, fans quickly misunderstood their intentions. In many cases, in fact, fans found their intentions irrelevant, simply viewing this as assault on the integrity of the Hugos.
The response has been blistering. I won't link to most of it, but here's a representative sample from the last few days:
As the Puppies have pointed out, there are routinely accusations of bloc voting in the Hugos. But none of those accusations have seriously damaged the long-term public reputation of the awards. However, the SP/RP slate, because of its scale and because it was done in an open manner, has the potential to tar the reputation of the Hugos as an award wholly susceptible to special interests and campaign voting, and damage its reputation on a scale not seen before.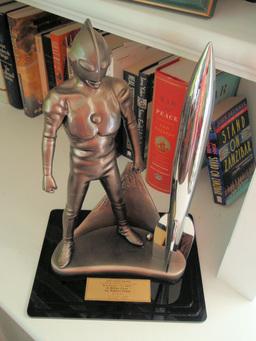 I think it's been clear to most of us watching the proceedings that Hugo voters will react to the SP/RP slate as an unprecedented, large scale threat to the integrity of the awards, and react decisively to squash it. I see an electorate of principled voters who are poorly educated on what the Puppies are trying to accomplish, who see only a small group of individuals trying to tamper with the awards, and who will react in a perfectly understandable way to negate the outcome of that tampering. They may be vaguely aware that there is a semi-political agenda behind the effort, but they're not really interested in the motives. They see the Hugos under attack, and react accordingly.
How will they react? The strategy has already become pretty clear in the past few days: with a large-scale campaign to vote "No Award" for every category where the Puppies have locked out other nominees. (A "No Award" vote is just what it sounds like, a vote to give no Hugo in a particular category.)
I see a lot of skepticism about this approach from the Puppies. To their credit, they see merit in the short fiction slate they've put forward, and in the long run, they expect merit to win out.
That's not going to happen. In effect, this is sort of like judo — using the Sad Puppies own tactics against them. The Puppies swept the short fiction ballot because, while the other 1,600 nomination ballots were dividing their vote, 200-300 Puppies voted as a bloc for their candidates.
You can expect the exact same thing to happen in reverse in the actual vote for the award. Suppose the Puppies manage to convince three-quarters of the electorate to vote on the merits of their candidates (a tall order, given the current rancor against them, but they seem to think they can do it, and let's give them the benefit of the doubt.) Assume there are around 4,000 total voters, 3,000 aligned with the Puppies, and 1,000 eager to vote "No Award."
The 3,000 voters aligned with the Puppies will split their votes among each of the five candidates. If you have a look at the voting patterns in that LoneStarCon 3 link above (here is is again), you'll see that the winning novella garnered about 29% of the vote; and the winning novel, about 25%. Say there's one clear favorite among the Puppies in each category, and that favorite manages to win 30% of the vote. That's 900 votes.
That's not enough to overcome the 1,000 vote bloc for "No Award." A strong, determined minority can out-muscle a much larger electorate if they unite with one voice — as the Sad Puppies have already shown us.
Now, there's still a way the Puppies could walk away with a full slate of Hugo awards, as should be obvious to anyone who's followed the above. This is a smart bunch. If, as we approach Worldcon and the Hugo vote, the Puppies smell disaster in the wind (disaster meaning there's as much as 1/4 of the Hugo electorate they don't control, threatening to vote "No Award,") they can opt for another option — the "Super Puppy" slate.
The Super Puppy slate would sacrifice all the candidates except one in every category. All the Puppies, and their supporters, would harness their votes to a single candidate in each category.
In that manner, they could assemble enough votes to possibly overcome a "No Award" lockout. I predict it would be very close, but I think it could be possible.
Note that I don't think this is a good idea. In fact, I think it's a terrible idea.
Of course, I thought the entire Sad Puppies/Rabid Puppies approach was a terrible idea. But nobody asked me.