April/May 2015 Asimov's Science Fiction Now on Sale
April/May 2015 Asimov's Science Fiction Now on Sale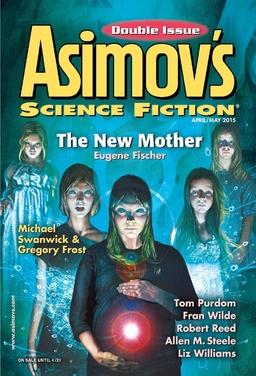 I'm delighted to be talking about Asimov's SF as part of Black Gate's new initiative to expand our coverage of fantasy and SF magazines. Asimov's has been a favorite of mine since the first year it was published, in 1977. (If you're interested in learning what's so special about the magazine, I wrote a lengthy 3-part history, looking at it decade by decade, back when I was editing SF Site in 1998).
It took us this long to start covering it because Asimov's is primarily a science fiction magazine. But the current editor, Sheila Williams — like her predecessor, Gardner Dozois — has shown an appreciation for good fantasy, and there's plenty of evidence of that in the current issue. The big April/May double issue weighs in at a generous 192 pages, and contains fiction from Allen M. Steele, Tom Purdom, Michael Swanwick & Gregory Frost, Liz Williams, Robert Reed, and many others.
A fine example of that openness to fantasy is Michael Swanwick & Gregory Frost's "Lock Up Your Chickens and Daughters — H'ard and Andy Are Come to Town!" Here's Bob Blough's review at Tangent Online:
This is a light-hearted romp about two slightly magical con-men who go to great lengths to prove that a dust giant is causing the drought in some alternate version of the American Dust Bowl during the 1930s. Unfortunately they wake up something much more real than the con they plan to pull. As a lagniappe, if you know your short fiction you can tell who these two men are by what they talk about. It's a fun if innocuous ride.
Read Bob's complete review here, and the first half of Swanwick & Gregory Frost's tale online here.
[Click on the image at right for a bigger version.]
One of the reasons I like these big double issues (and Asimov's publishes two a year) is that they tend to allow longer stories, and April/May has two big novellas: "The New Mother" by Eugene Fischer (excerpt here) and "The Children of Gal" by Allen M. Steele.
Here's the complete table of contents.
NOVELLAS
"The New Mother" by Eugene Fischer
"The Children of Gal" by Allen M. Steele
NOVELETTES
"Day Job" by Tom Purdom
"Lock Up Your Chickens and Daughters — H'ard and Andy Are Come to Town!" by Michael Swanwick & Gregory Frost
"The Gun Between the Veryush and the Cloud Mothers" by Anna Tambour
SHORT STORIES
"Paul and his Son" by Joe M. McDermott
"The Marriage of the Sea" by Liz Williams
"What I Intend" by Robert Reed
"Willing Flesh" by Jay O'Connell
"How to Walk Through Historic Graveyards in the Post-Digital Age" by Fran Wilde
"The Sentry" by Frank Smith
POETRY
"Birth of an Astrophysicist" by Bruce Boston
"Layover" by Wendy Rathbone
"Grain of Truth" by Robert Frazier
"Schrödinger's Door" by Richard Bruns
"Basement Refrigerator" by Joshua Gage
DEPARTMENTS
Editorial: Philadelphia Stories by Sheila Williams
Reflections: Praising or Banning by Robert Silverberg
Next Issue
On Books by Norman Spinrad
The SF Conventional Calendar by Erwin S. Strauss
Asimov's Science Fiction is edited by Sheila Williams and published by Dell Magazines. The cover price is $7.99 for 192 pages; a one-year subscription is $34.97 (US) or $49.97 (International). It is also available in a variety of digital formats. The cover this issue is by Gary Freeman, for "The New Mother." Check out the complete TOC, story excerpts, and additional free content at the website.
We last covered Asimov's SF here with the March 2015 issue.
See all of our recent fantasy magazine coverage here.