New Treasures: A Confederacy of Horrors by James Robert Smith
New Treasures: A Confederacy of Horrors by James Robert Smith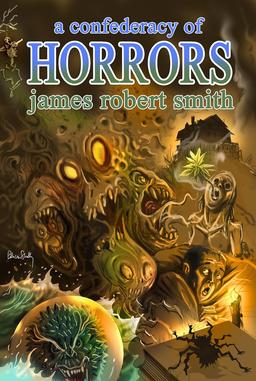 When I returned from the World Fantasy Convention in November, I wrote a series of articles about what it was like to wander one of the finest Dealer's Room in the country. One of those highlighted the marvelous Hippocampus Press, publishers of Simon Strantzas's Burnt Black Suns, Clint Smith's Ghouljaw and Other Stories, John Langan's The Wide, Carnivorous Sky and Other Monstrous Geographies, and many other fine titles. However, one of their most intriguing books wasn't released until after the convention: James Robert Smith's A Confederacy of Horrors. Smith is the author of The Flock, The Living End, and The New Ecology of Death, and his debut collection, released in January, features creatures from the depths of space, vampires, occult horrors, and stranger things.
In recent years, James Robert Smith has emerged as a distinctive new voice in contemporary weird fiction. Melding a smoothly flowing prose style, powerful horrific conceptions, and a keen sense of character and locale, Smith has written dozens of stories that expand the boundaries of the weird tale and take it into new and dynamic directions.

This first collection of his short fiction displays the many virtues of his work. Several of his tales are set in the South, a region he knows well through long residence. Whether it be the alienated youths in "Toke Ghost," the ruthless plutocrat of "Moving," or the comic terror of "The Reliable Vacuum Company," Smith depicts a South where the lush, kudzu-choked landscape breeds horrors both earthly and unearthly.

Monsters from the depths of space are the focus of "On the First Day," while rats of a more than usual malignancy are featured in "Dope." "Translator" tells of mysteries emerging out of World War II, while in "Love and Magick" a man battles occult creatures with magic of his own. The ecological horrors of "Symptom" are matched by the existential horror of "Wet." The end of the world appears imminent in "One of Those Days," and a vampire of an unusual sort stalks through the pages of "Just a Gigolo."

With this collection, James Robert Smith presents a rich and diverse smorgasbord of weirdness and terror that will delight his many devotees and bring new ones into his fold.
A Confederacy of Horrors was published by Hippocampus Press on January 15, 2015. It is 236 pages, priced at $20 in trade paperback, and $6 for the digital version. The cover is by Pete von Sholly.