Wolfmen in the Wild West: A Review of What Rough Beast by James A. Moore and Charles R. Rutledge
Wolfmen in the Wild West: A Review of What Rough Beast by James A. Moore and Charles R. Rutledge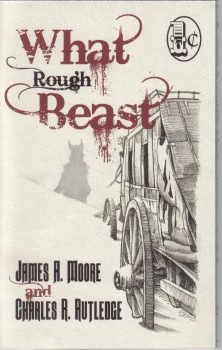 What Rough Beast
James A. Moore and Charles R. Rutledge
Illustrations by Keith Minnion
White Noise Press
Signed and numbered hand-crafted Chapbook, 28 p., $17.00 ($15.00 plus $2.00 shipping)
Chapbooks have been around for a long time. For those who may be unfamiliar with them, they are short books usually consisting of a single story, although short collections are also common. They tend to focus on a particular work, or in the case of several stories, a particular writer.
The quality of chapbooks can vary. Before technology made it possible to produce professional level products, it was not uncommon to see chapbooks that were simply photocopies stapled together. These days, though, chapbooks can be works of art. Like the one we're going to look at today. More on that in a bit.
Until recently, White Noise Press was not a publisher with which I was familiar. I was, however, familiar with the work of Moore and Rutledge, both collaboratively (here) as well as individually (here and here). These authors have a knowledge and love of the genre, and it shows in their work. Guys who are fans of Karl Edward Wagner and Manly Wade Wellman are all right in my book.
So when Charles contacted me not long ago inquiring if I would like a review copy of What Rough Beast, I thought about it for a while (1 while = 0.5 nanoseconds), then said yes.
The story is a weird western. It opens with Deputy Tom Morton watching for an overdue stage. His wife Hanna is on it, a snow storm is in progress, there have been wolf attacks in the area, and night is falling. Not a good combination. The sheriff is leading a posse on a hunt for bank robbers. He's taken most of the reliable men with him.
Morton wants to lead a party to check on the stage, but he gets very little support. His only companions are an aging shopkeeper and a stranger in the saloon who goes by the single name of Kharnn. Kharnn is a giant of a man.
As they are leaving two more strangers enter the saloon. The first is a gentleman names Johnathan Crowley. He and Kharnn not only know each other, but they have a history. From hints dropped, they appear to have a long history.
The man with Crowley is named Slate. He's extremely pale, and he gives Morton a major case of the creeps. The two newcomers immediately agree to join the search party. They're in town for a reason, and that reason might involve the missing stage coach.
I'm not letting any secrets slip when I say that the stage is in trouble, none of the three strangers are what they seem, and the creatures that have been attacking aren't exactly wolves. With these story elements, you can probably tell that What Rough Beast is a story you can sink your teeth into.
Moore and Rutledge handle the pacing and character development with ease. They also handle the conflict and violence well. There's a balance in this kind of story between what is shown and what is implied. What that balance should be exactly will vary from one reader to the next. I thought the balance was perfect. Quite a bit of blood will be spilled, but the authors never over do it and descend into slaughter porn. Their monsters aren't simply killing machines. In fact the head of the pack has a completely understandable motivation, one that I never would have thought of but makes perfect sense.
They also give you enough hints about Kharnn and Crowley to make you want to know more. Like just how old are these guys? What is the revenge Kharnn took that Crowley mentions? And just who is Slate and what exactly is his relationship to Crowley? Like I said, I want to see more of these characters.
Now, let's discuss the production values of this chapbook. As much as I love the convenience and space-saving advantages of ebooks, I also am one of those people who believes that the art of a book isn't limited to the words on the page but can extend to the packaging itself.
White Noise Press produces hand crafted chapbooks. There are at least four different types of paper and three Old West style fonts used in this book. The paper with the text is a heavy white paper on which the typesetting is sharp and clear. Keith Minnion's artwork is an excellent fit for the story. The chapbook is produced to look like an old penny dreadful from the 1800s, right down to the rough outer edge on the back cover.  (The rough edge doesn't show up in the scan.  I tried using a photo but ran into problems with image size and clarity.)
The price might be a bit steep for a casual reader, but for people who like books in which the packaging adds to the story, this one is a good buy in terms of both story and packaging.
I would like to thank the authors and Keith Minnion for providing the review copy of What Rough Beast.