Oz Welcomes You to the Inner Sanctum…
Oz Welcomes You to the Inner Sanctum…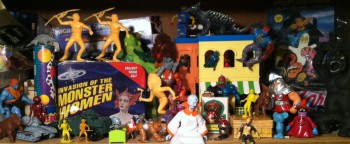 While my appearance on these pages has been rather sporadic of late, regular readers of Black Gate will have noted the debut of a new BG blogger, Gabe Dybing, who has been doing some filling in for my weekly slot. I had intended to give him a formal introduction at the start of the new year, but instead we just had him jump right in, and he hit the ground running with a series of reflections on Leiberian Sword & Sorcery. Now that you all know him and an introduction at this point would be superfluous, let me instead announce that he is moving from pinch hitter to starting line-up beginning this Wednesday. Welcome to the roster, Gabe!
Meantime, I have been busy setting up my Inner Sanctum (also sometimes referred to as The Dungeon, since it is in my basement). Gabe has been visiting my rural abode about once a month lately, so he has seen it go from a musty room full of unpacked boxes to a slightly less musty museum and workspace housing my collection of vintage toys, games, books, and comics. It's not exactly the Ackermansion — but it could pass for a room in the Ackermansion!
Some folks have expressed curiosity about what my collection looks like, and while these pictures represent only a fraction of it, I thought I'd share a few here (click on pics for larger versions — you'll need to in order to spot all the toys and pop-cult ephemera), as well as slipping in a shameless plug for the business side of this venture.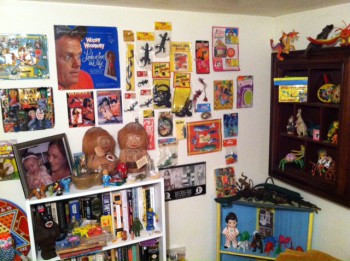 A collector has to support his hobby, oftentimes by selling parts of his collection (also to pay for things like food and stuff), so this past month I officially opened my own eBay storefront, joyously branded Raiders of the Lost Toy Box. (You can visit it HERE).
If you check out my eBay presence, do be sure to visit my Collection "A Gen X Childhood": it's an ever-expanding compilation of some of my favorite toys growing up in the late '70s and early '80s (most of them, as you might easily infer, involved monsters, robots, dinosaurs, and aliens). For many of you of the same generation, it will be a fun trip in the nostalgia ship. (Oh, and John: I'll be posting some vintage lots of sci-fi and fantasy paperbacks over the next week or two, so I know you'll want to keep any eye out for those!)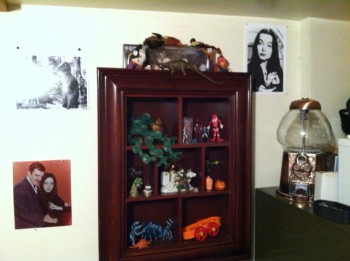 Now that Gabe is moving to his own new timeslot, I'll be back here just about every Monday, writing to you from the Inner Sanctum surrounded by all these marvelous things. I have quite a backlog of books I've finished and films I've watched that I'd like to review, so we'll just have to see what pushes its way to the head of the pack.
And thanks again, Gabe, for tagging me out long enough for me to get some of these boxes unpacked. Now tag me back in — I'm ready to rumble!
Questions for Discussion
Ozment uses two different sports metaphors in this short piece. What are the sports, and what is wrong with him?
What the heck is the Ackermansion, and (if you know the answer to that) what would you not give to spend a night there?
Why are Gen Xers so cool? Follow-up question: What is wrong with these Millennials (or, if you prefer, Gen Yers)?
What is the one sci-fi- or fantasy-themed toy you remember most fondly? Do you still have it, and how much would you sell it to me for?
What was the point of She-Ra keeping her identity secret, since she and her alter ego Princess Adora shared the same social network of friends and loved ones? The bad guys would target those same people regardless which persona they were trying to threaten.