Black Gate on the list for the 2018 REH Foundation Awards
Black Gate on the list for the 2018 REH Foundation Awards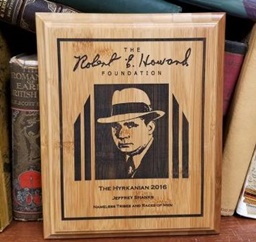 If you were to take a poll at Black Gate World Headquarters, asking for the staff's favorite author, I'd put my money on Robert E. Howard coming in at the top spot. 'Conan' appeared in a Black Gate headline over a decade ago (thank you, Charles Rutledge!). Ryan Harvey, John Fultz, Bill Ward, William Patrick Maynard, Brian Murphy, Howard Andrew Jones, Barbra Barrett and more have written about Howard and his works under the Black Gate banner.
And the respect and love of Howard's work has only increased over the past few years. All with the standard Black Gate quality. For the third year in a row, there is a solid Black Gate presence on the Robert E. Howard Foundation Preliminary Awards List. Our nominees for 2018:
The Cimmerian—Outstanding Achievement, Essay (Online)
(Essays must have made their first public published appearance in the previous calendar year and be substantive scholarly essays on the life and/or work of REH. Short blog posts, speeches, reviews, trip reports, and other minor works do not count.)
BOB BYRNE – "Robert E. Howard Wrote a Police Procedural? With Conan?? Crom!!!"

JAMES McGLOTHLIN – "A Tale of Two Robert E. Howard Biographies"

M. HAROLD PAGE – "Why Isn't Conan a Mary Sue?"
The Venarium — Emerging Scholar
(The following candidates have recently begun making significant contributions to Howard scholarship through publications and/or presentations over the past few years. Previous winners are not eligible)
BOB BYRNE – Contributed essay for Black Gate

JAMES McGLOTHLIN – Contributed essay for Black Gate

M. HAROLD PAGE – Contributed essay for Black Gate
The Stygian—Outstanding Achievement, Website or Periodical
(Eligible candidates are limited to print or digital magazines, journals, blogs, or internet sites with substantive material that is primarily devoted to scholarship on the life and works of Robert E. Howard. Websites must have been updated with new content at least once in the previous calendar year. Print periodicals must have had an issue published in the previous calendar year. Non-static social media like Facebook and Twitter would not be eligible.)
BLACK GATE (John O'Neill)
Click here to see the 2016 and 2017 Black Gate nominees for this prestigious award.
Personally, I'm humbled to be nominated again. There is some outstanding Howard scholarship going on out there: I think better than the comparable works being written about Sherlock Holmes (that's actually my speciality).
Whether any of the Black Gate contingent wins, or even makes it to the final ballot, I can say for all of the crew that we are honored to be nominated for the Preliminary list this year. And Black Gate will be working hard to be back again when the 2019 nominees are rolled out!
In fact, I'll share a scoop with you: We're working on a new series for later this year, featuring an all star list of contributors reminiscent of the excellent writers we had for our Discovering Robert E. Howard series. I think it's going to be a fascinating series with quality entries. Well, probably except for mine… The memory of Robert E. Howard is alive and flourishing at Black Gate. By Crom!
---
Bob Byrne's 'The Public Life of Sherlock Holmes' column ran every Monday morning at Black Gate  from March 2014 through March 2017 (still making an occasional return appearance!). He also organized Black Gate's award-nominated 'Discovering Robert E. Howard' series.
He is a member of the Praed Street Irregulars, founded www.SolarPons.com (the only website dedicated to the 'Sherlock Holmes of Praed Street') and blogs about Holmes and other mystery matters at Almost Holmes.
He has contributed stories to The MX Book of New Sherlock Holmes Stories – Parts III, IV,  V and VI.
And his editor needs to remind him again that he's at Black Gate to write about mystery matters, not Robert E. Howard!