Black Gate on the List for the 2017 REH Foundation Awards
Black Gate on the List for the 2017 REH Foundation Awards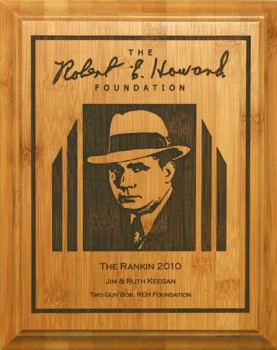 Well, the Preliminary List. There may well not be a more respected organization in Robert E. Howard circles than that of the REH Foundation. Black Gate and a few of its bloggers were on the final 2016 Awards ballot. Last week, the Foundation released the preliminary list for the 2017 Awards. It will be winnowed down to a final ballot soon.
Typing 'Robert E. Howard' or 'Conan' in the BG search engine (or just clicking on the Conan Category at left) will definitely establish that we love Howard and his works here at Black Gate. And several Black Gaters, including the site itself, are in the running for the 2017 final ballot. I'll also point out that many of the nominees contributed to our 'Discovering Robert E. Howard' series: some of the best Howard scholars came to Black Gate to share their thoughts. The Black Gate contingent:
The Cimmerian—Outstanding Achievement, Essay (Online)
(Essays must have made their first public published appearance in the previous calendar year and be substantive scholarly essays on the life and/or work of REH. Short blog posts, speeches, reviews, trip reports, and other minor works do not count.)
ADAMS, FRED – "Esau Cairn – A Man Outside His Epoch" – Black Gate
BYRNE, BOB – "Steve Harrison: REH's Private Detective" – REH: Two Gun Raconteur Blog
JONES, HOWARD ANDREW – "The Ne're-do-well Hero of "Gates of Empire" – REH: Two Gun Raconteur Blog
MAYNARD, WILLIAM PATRICK – "Steve Harrison Reconsidered" – REH: Two Gun Raconteur Blog
The Venarium — Emerging Scholar
(The following candidates have recently begun making significant contributions to Howard scholarship through publications and/or presentations over the past few years. Previous winners are not eligible)
BYRNE, BOB – Contributed to TGR Blog and organized "Discovering REH" series for Black Gate
(I am beyond flabbergasted! As I said last year, the series' nomination is a testament to the excellent essays and authors — not me as editor)
The Stygian — Outstanding Achievement, Website
(Eligible candidates are limited to internet sites with substantive static content and material that is primarily devoted to scholarship on the life and works of Robert E. Howard. Websites must have been updated with new content at least once in the previous calendar year. Non-static social media like Facebook and Twitter would not be eligible.)
Black Gate (John O'Neill)
Howard Andrew Jones Blog (Howard Andrew Jones)
The Black River — Special Achievement
(The following eligible candidates have produced or contributed something special that doesn't fit into any other category: scholarly presentations, biographical discoveries, etc.)
JONES, HOWARD ANDREW and BILL WARD – For their "Re-Reading Conan" series at www.howardandrewjones.com
Whether or not the Black Gate group ends up winning any awards, making the preliminary list is a testament to the quality of what some talented folks are contributing around here. It's THE site for fantasy.
---
Bob Byrne's 'The Public Life of Sherlock Holmes' column ran every Monday morning at Black Gate from March 10, 2014 through March 20, 2017.
He founded www.SolarPons.com, the only website dedicated to the 'Sherlock Holmes of Praed Street' and blogs about Holmes and other mystery matters at Almost Holmes.
He has contributed stories to The MX Book of New Sherlock Holmes Stories – Parts III, IV and V (and the upcoming VI).
And he really, really likes Robert E. Howard's works…