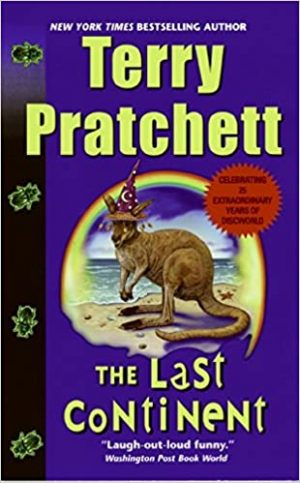 It's always a good time to talk about Terry Pratchett! He was, simply, brilliant. Pratchett, who passed away in 2015 from Alzheimer's, wrote the terrific fantasy series, Discworld. He gets my vote as one of the great satirists of our time. And he used classical fantasy tropes to do it! Did I mention, 'brilliant'?
I re-read (and listen to) Pratchett books throughout the year. I got in the mood again recently, and did a mini-binge. Discworld is fantasy world, with the entertainingly horrible city of Ankh-Morpork at its center. Parody, homage, satire – they are fantastic books. Pratchett pokes fun at our world (especially, society) though these books. If you Google search, 'Terry Pratchett quotes.' you will get some absolutely terrific ones. Most are from his books, but real-life ones can be pretty hilarious, too. The man was just incredibly funny. Add in being very observant, and a good writer, and you have the ingredients of a great author.
JINGO
It started when I decided to listen to a Pratchett audio book during the work day last week. I've read the series a couple times, and I can miss a bit here and there as I work. Jingo is one of the City Watch books. There are several 'sub-series' in the Discworld series, involving central characters. My favorite is the one with Sam Vimes and the City Watch. They are essentially very entertaining police procedurals, in a fantasy world. They're a blast.