Talking Terry Pratchett
Talking Terry Pratchett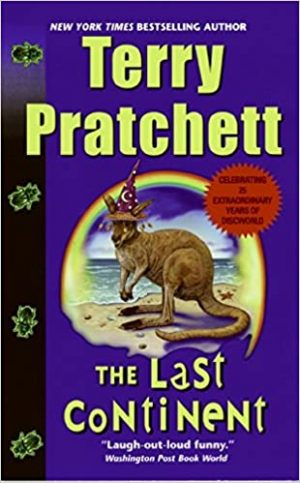 It's always a good time to talk about Terry Pratchett! He was, simply, brilliant. Pratchett, who passed away in 2015 from Alzheimer's, wrote the terrific fantasy series, Discworld. He gets my vote as one of the great satirists of our time. And he used classical fantasy tropes to do it! Did I mention, 'brilliant'?
I re-read (and listen to) Pratchett books throughout the year. I got in the mood again recently, and did a mini-binge. Discworld is fantasy world, with the entertainingly horrible city of Ankh-Morpork at its center. Parody, homage, satire – they are fantastic books. Pratchett pokes fun at our world (especially, society) though these books. If you Google search, 'Terry Pratchett quotes.' you will get some absolutely terrific ones. Most are from his books, but real-life ones can be pretty hilarious, too. The man was just incredibly funny. Add in being very observant, and a good writer, and you have the ingredients of a great author.
JINGO
It started when I decided to listen to a Pratchett audio book during the work day last week. I've read the series a couple times, and I can miss a bit here and there as I work. Jingo is one of the City Watch books. There are several 'sub-series' in the Discworld series, involving central characters. My favorite is the one with Sam Vimes and the City Watch. They are essentially very entertaining police procedurals, in a fantasy world. They're a blast.
A small island rises out of the sea, and is claimed by rivals Ankh-Morpork and Al Khali. Great Britain, of course, was a great imperial empire, with far-flung possessions. Jingoism (go look it up if you don't know what it means…) played a large role in its history; Often driving foreign policy. And Pratchett absolutely skewers it; along with war, racism, leadership, and various and sundry other subjects. I've always liked this book, and it was fun to revisit it for the first time since 2005.
THE LAST CONTINENT
I finished listening to Jingo, and immediately began the audio book for The Last Continent. This is a Rincewind book. Rincewind the inept wizard was the main character in the very first two Discworld novels. He and his fellow wizards at Unseen University are really the foundation stone of the series. I like the Rincewind books about as much as I do The City Watch.
This book makes fun of time travel and the more 'hard science fiction' of it, as well as pokes fun at Australia. On a scale of 1-10, I think over two-thirds of the books in this series rate between 7 and 10 for me. This is another one I really enjoy.
ERIC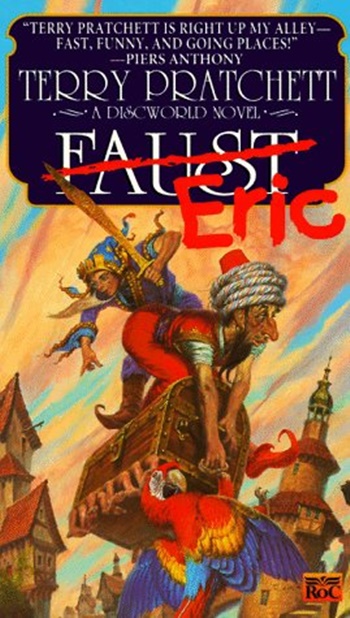 I had been re-reading a bit of Dashiell Hammett (including the wonderful novel, The Glass Key), but listening to Pratchett made me want to re-read one of his. Audio books let me enjoy books during my commute, and during the work day when I'm actually, you know, working! But I always prefer to sit down with an actual book when I can.
Eric is not one of my favorites. I think I had only re-read it once (I revisited all but one or two back in 2005). Like the other early books, it's significantly shorter than later ones (the same is true of Lawrence Block's terrific Matthew Scudder series. Look at the paperbacks next to each other. They grow). And, it's a Rincewind book. So, I decided to pick that one from the shelf.
Eric is a parody of the classic story from German folklore, Faust. Side note: Faust is the play that the acting troupe performs in Tombstone (just about my favorite Western). This being Pratchett, Dr. Faustus is actually a pimply teen who fantasizes about sexy succubi, being ruler of the world, having the most beautiful woman, and even being a eunuch (so he can guard a harem. He doesn't quite have all the relevant information).
And instead of summoning the devil (or one of many devils in a fantasy world), he gets Rincewind. Who he thinks is a demon. As opposed to a wizard who can't cast spells. Not surprisingly, things don't go as Eric planned.
They end up time traveling, including to Discworld's version of The Trojan War. That bit is great commentary on war. There's also a trip to a version of the Aztec Empire, with their bloodthirsty god, Quetzalcoatl. Fun parody. Meanwhile, the king of demons is trying to get his plans for Eric back on track.
Rincewind is the anti-Gandalf. He spends most of his time running. And as he says, it's not important where you are running from, it's about where you are running to. Which usually involves AWAY from the source of the need to run in the first place.
As with Faust, the three wishes don't quite come true in the way that Eric wants. He finds this world's Helen of Troy; and she's a frumpy mother of ten now. It's been a long war, and a girl gets lonely…
The original edition (which I don't have) included illustrations from Josh Kirby. Kirby is the Sidney Paget of Discworld. If you don't know who Paget is, you need to read this essay. It's the ninth novel, and fourth one with Rincewind. It's got a lot of amusing stuff, but just isn't one of my favorites.
RADIO PLAYS
I used an Audible credit for a collection of BBC radio plays. You may be aware, the BBC had made some wonderful radio plays out of books. I've listened to many of my favorite authors adapted, including Arthur Conan Doyle, J.R.R. Tolkien, and Douglas Adams.
This collection has seven of Pratchett's books:
Mort – The fourth novel, and the first Death book. Not one of my favorites. This play is narrated by Anton Lesser. Lesser is terrific as Superintendent Bright in the fantastic, Endeavour. Death is played by Geoffrey Whitehead, who donned the deerstalker in Sheldon Reynolds' second Sherlock Holmes series. And his manservant, Albert, is Philip Jackson. Jackson is THE definitive Inspector Japp, in David Suchet's brilliant Poirot TV series.
Wyrd Sisters – Granny Weatherwax is the main character in The Witches sub-series, which is probably the most popular of them all. I'm okay with the Witches, but I don't re-read these as often. This is the second Witches book, and it's Pratchett's take on MacBeth. Needless to say, it's fun. Definitely worth listening to.
Guards! Guards! – The first City Watch book, starring Sam Vimes. I'm a big fan of this one, and the ensuing City Watch books. They rival Tony Hillerman's Navajo Tribal Police books (which I wrote about in depth here at Black Gate) for my favorite police procedural. I love these books, and this play. I'm currently on this one.
Eric – Well, I just re-read it, so I can compare the radio adaptation.
Small Gods – A stand-alone book, and another one I really like. There are a gazillion gods in Discworld, and they compete to move up the deity ladder. And when their believers dwindle, they fade away. Looking forward to listening to this one.
Night Watch – The sixth City Watch book. Things have changed quite a bit since the first in the series. This one involves time travel, and he encounters his younger self. A definite twist on the prior ones. I still like it, as it's Vimes.
There's also a bonus – Only You Can Save Mankind, from Pratchett's Johnny Maxwell series. I don't know anything about these books, but I'll listen.
THE COLOR OF MAGIC – MINISERIES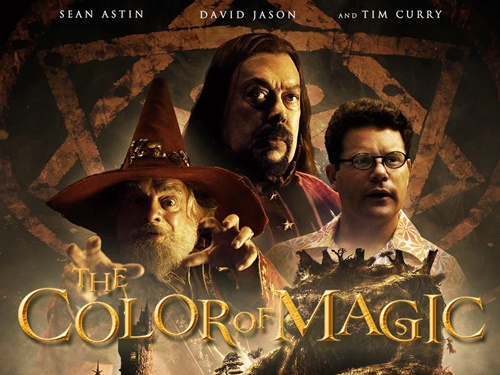 And, one more media to cover! I wrote about the Going Postal miniseries, costarring the aforementioned David Suchet. And a while ago, Mark Rigney reviewed the British miniseries for The Color of Magic, which was the very first Discworld book. He wasn't thrilled with the story.
It actually incorporates the second book as well – The Light Fantastic – and I re-watched it last weekend. And I loved it! I think it's easily the 'most Pratchett' adaptation I've seen so far. The same folks had made Hogfather a few years prior. I'm kinda hit and miss on that book, and feel the same way about the movie. It's a two-parter, two hours long. It streams on Prime/IMDB tv, and is broken down in three parts – with commercials.
Sean Astin is terrific as Twoflower, Discworld's first tourist, from the Counterweight Continent. He's a clueless, look on the bright side of life, wanderer. And his guide is Rincewind, who is the exact opposite. They have many dangerous adventures. Tim Curry (one of my favorite actors – you should see his episode of Psych, where he plays a Simon Cowell character. He's TERRIFIC!) is a wizard who wants to assassinate his way to the Arch-Chancellor job.
David Jason is D.I. Frost in the long-running British series, A Touch of Frost. He had played Albert in Hogfather, and he's a good Rincewind. You really have to read, or see, Rincewind, to fully understand his personality. I think that Jason has it down. Death is wonderfully voiced by Christopher Lee.
Visually, it's certainly not up to the standards of today – The Lord of the Rings totally changed the game. It wasn't even stellar for the time (2008), but it works. This show is about the misadventures around Rincewind. As are the stories.
It's full of the spirit of Pratchett. I really liked it.
THE LAST HERO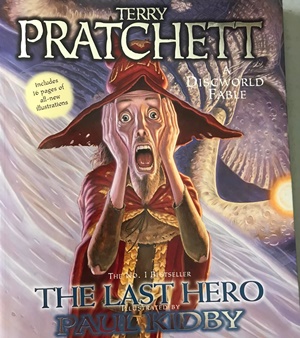 This is a lavishly illustrated novella, starring Cohen the Barbarian (love him). It's essentially Pratchett's take on the Prometheus myth. I'm probably going to re-read this next. It can be a single-sitting read, and Terry Kirby's illustrations are fantastic.
Previous Black Gate essays about Pratchett:
The City Watch (Bob Byrne)
Cohen the Barbarian (Bob Byrne)
Going Postal (Bob Byrne)
The Colour of Magic (Fletcher Vredenburgh)
This Hades Business (Steven H Silver)
Troll Bridge (Tina Jens)
Terry Pratchett: RIP  (John O'Neill)
Steeleye Span and Terry Pratchett (Mark Rigney)
Hogfather (Mark Rigney)
The Color of Magic (Mark Rigney)
---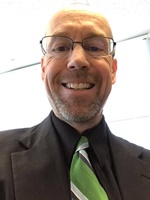 Bob Byrne's 'A (Black) Gat in the Hand' made its Black Gate debut in the summer of 2018 and will be back yet again in 2022.
His 'The Public Life of Sherlock Holmes' column ran every Monday morning at Black Gate from March, 2014 through March, 2017. And he irregularly posts on Rex Stout's gargantuan detective in 'Nero Wolfe's Brownstone.' He is a member of the Praed Street Irregulars, founded www.SolarPons.com (the only website dedicated to the 'Sherlock Holmes of Praed Street') and blogs about Holmes and other mystery matters at Almost Holmes.
He organized Black Gate's award-nominated 'Discovering Robert E. Howard' series, as well as the award-winning 'Hither Came Conan' series.
He has contributed stories to The MX Book of New Sherlock Holmes Stories – Parts III, IV, V, VI and XXI.
He has written introductions for Steeger Books, and appeared in several magazines, including Black Mask, Sherlock Holmes Mystery Magazine, The Strand Magazine, and Sherlock Magazine.