The Public Life of Sherlock Holmes: Sidney Paget Draws the Great Detective
The Public Life of Sherlock Holmes: Sidney Paget Draws the Great Detective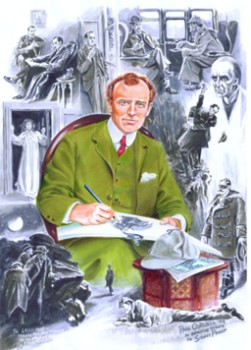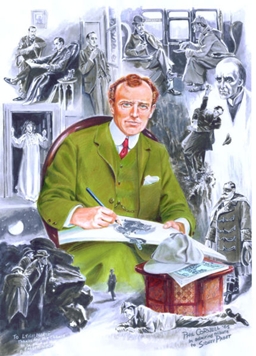 Last month, I mentioned that it was illustrator Sidney Paget who first adorned the head of Sherlock Holmes with a deerstalker. Along with Frederic Dorr Steele, Paget is certainly one of the two most significant illustrators of the great detective.
Baker Street Essays is one of my two, free, online newsletters. The most recent issue (#5, February 2014) contained my essay, "The Illustrated Holmes."
Strongly influenced by Walter Klinefelter's excellent (though black and white) book, Portrait of a Profile, I believe it to be the best look at the history of illustrators of the Canon you'll find on the internet (it's not exactly a crowded field!).
Today's post, with a bit of fiddling, contains the Paget portion of that essay. Did you know Sidney was chosen by mistake? The Strand Magazine meant to hire his brother, Walter, who ended up modeling for Holmes! And Doyle thought that Paget made Holmes too handsome!
A few illustrators, including the author's own father, Charles Altamont Doyle, had provided drawings of Holmes for the first two stories, the novellas A Study in Scarlet and The Sign of Four, without making much of an impression.
And as we know, those two books didn't do very well. It was the short story format that Doyle applied to Holmes for The Strand Magazine that turned the world's first private consulting detective into an enduring literary and pop culture icon. And there we meet the first (and arguably foremost) Holmes illustrator…
Enter Sidney Paget
As the illustrator for all twelve short stories in The Adventures of Sherlock Holmes, Sidney Paget brought a consistency to the portrayal of Holmes. Like any artist making a series of drawings over time, the Holmes of Sidney Paget changed from story to story.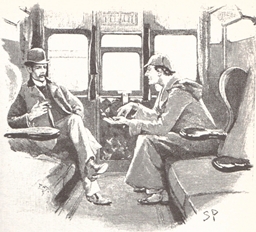 But they were similar, and this was an important step forward in the evolution of the image. William Gillette's famous stage play was still almost a decade away. Fans of Holmes had only the drawings in the stories to base their pictures of him on.
Because the stories were so hugely popular in The Strand (as opposed to the two earlier novellas), it was Paget's image of Holmes that people were seeing. A strange set of circumstances and happenings resulted in Sidney Paget's name enduring for over a century. One wonders if the result would have been the same had his younger brother Walter actually landed the job that he was commissioned for?
How important is an artist, you may ask? I can point out one very clear example that shows the dramatic impact a drawing can have on us. It was Sidney Paget who gave Holmes the deerstalker. The earlier drawings had Holmes bare-headed or with a derby. In "The Boscombe Valley Mystery," he gives Holmes a deerstalker.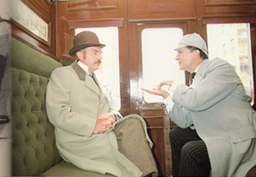 A few stories later, in "The Silver Blaze," a famous railway picture shows Holmes in deerstalker and cape, with Watson wearing his bowler. Doyle did not have Holmes in a deerstalker. Paget sometimes wore one and decided to use it for some of his drawings. We are thankful that he did. Think of Sherlock Holmes: you put a deerstalker on his head, didn't you? That's due entirely to Sidney Paget.
Sidney Paget did 356 drawings for 37 short stories and one novel (The Hound of the Baskervilles). He also added a portrait of Holmes that never appeared with a story, but may be the best-known drawing of him. Unfortunately, he died in 1908 and no other British artist would approach his mastery as "the" Holmes illustrator.
Paget captured the Holmes of gas-lit London like no other Holmes artist. The popular Jeremy Brett television series studied his drawings and copied some of them almost exactly. Fifties television Holmes Alan Wheatley said "I tried to take the make-up and so on from the early drawings by Sidney Paget." Sidney Paget's influence on the enduring image of Sherlock Holmes cannot be underestimated.
O Brother, Which Art Thou?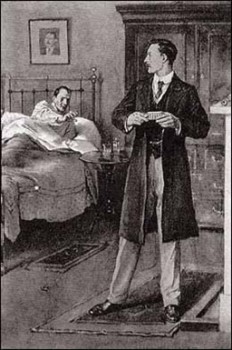 Walter Paget was a successful artist, with editions of Robert Louis Stevenson's Robin Crusoe and Treasure Island among his credits. But Strand publisher George Newnes mistakenly commissioned Walter's older brother, Sidney, to draw for Doyle's stories. It turned out to be one of the best mistakes in the history of literature.
One wonders how the brothers discussed this mistake, and if there was ever any thought of Walter taking over the assignment. Sidney drew for the first six stories of The Adventures. They were so successful that Newnes ordered six more from Doyle, and he retained Paget. Interestingly enough, Walter would play as second role in the history of Holmes in pictures.
In 1913, after his brother had died, Walter himself would get the assignment originally intended for him and would provide the drawings for "The Dying Detective." I think Walter drew some pretty good pictures.
And, Sidney often used his sibling as a model for his own drawings. His younger brother was generally reckoned to have handsome features, and it is his visage that Sidney copied for Mister Holmes.
Sir Arthur actually thought that the Paget brothers combined to make Sherlock Holmes too handsome. Walter both modeled for and drew Sherlock Holmes, but it is his younger brother Sidney whom we remember.
Too Good Looking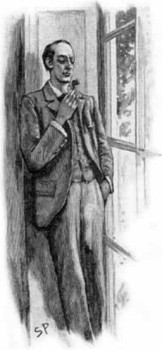 Let's take a look at Doyle's description of his creation. The following is the first real description of Holmes, given to us by the inestimable Dr. Watson in A Study in Scarlet:
'His very person and appearance were such as to strike the attention of the most casual observer. In height he was rather over six feet, and so excessively lean that he seemed to be considerably taller. His eyes were sharp and piercing…and his thin hawk-line nose gave his whole expression an air of smartness and decision. His chin, too, had the prominence and squareness which mark the man of decision.'
"Dashing" is not exactly a word that jumps to mind, eh? To Doyle, Sherlock Holmes was not a handsome man. He was tall, very skinny, with sharp eyes, a beaky nose and a square chin. That doesn't sound like a matinee idol to me. Holmes was a rather unhandsome, extremely intelligent man.
Sidney Paget changed this image, making Holmes a more attractive figure. By using his younger brother Walter, he was improving Holmes' picture while paying a compliment to Walter, perhaps in atonement for getting the job meant for him.
---
You can read Bob Byrne's 'The Public Life of Sherlock Holmes' column here at Black Gate every Monday morning.
He founded www.SolarPons.com, the only website dedicated to the 'Sherlock Holmes of Praed Street' and blogs about Holmes and other mystery matters at Almost Holmes.
The Illustrated Holmes covers artists of The Canon from D.H. Friston to G. Patrick Nelson.