Terry Pratchett, April 28, 1948 – March 12, 2015
Terry Pratchett, April 28, 1948 – March 12, 2015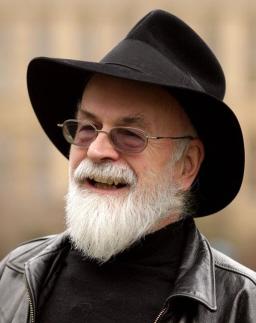 Sir Terry Pratchett, the besteselling author of more than 40 Discworld novels who was knighted by Queen Elizabeth for services to British literature in 2009, died today at his home in Britain.
Pratchett published his first novel, The Carpet People, in 1971. The Colour of Magic, the first novel in the famous Discworld series, appeared in 1983. Discworld was an international phenomenon, making him the UK's best-selling author in the 1990s. By the year 2000 he'd been knocked off that lofty pedestal by JK Rowling, but he remains the second most-read writer in the UK.
Pratchett sold over 85 million books in 37 languages. The 2011 Discworld release Snuff became the third-fastest-selling hardback adult novel on record in the UK, selling 55,000 copies in the first three days. He was very prolific, averaging about two novels a year.
Pratchett was appointed Officer of the Order of the British Empire (OBE) in 1998, and was knighted by Queen Elizabeth II for services to literature in 2009. In 2010 he received the World Fantasy Award for Life Achievement.
In December 2007, Pratchett announced he was suffering from early-onset Alzheimer's disease. Against all odds he continued writing, completing five additional novels in the Discworld series, including the forthcoming The Shepherd's Crown, scheduled to be released in August. All told, Sir Terry published more than 70 books in a career than spanned more than four decades.
His death was announced on his Twitter account on Thursday morning. He died on March 12 at the age of 66.