The Public Life of Sherlock Holmes: Terry Pratchett's 'City Watch'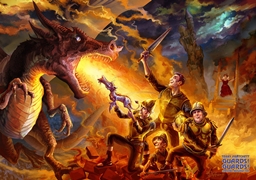 As readers of this column are certainly aware, I'm quite the fan of detective and private eye novels. Beyond just the guy that the whole thing is name after. As I mentioned in last week's post on Isaac Asimov's Caves of Steel, I've made several posts about the genre.
Related yet distinct is the police procedural (though some stories, like the aforementioned Caves, fit in both genres). As you can guess from the name, these focus on police officers, rather than private operatives. They are all over television, such as Castle, CSI (insert name here), Hill Street Blues, and brand new shows like Battle Creek. From Dragnet and The Streets of San Francisco to Hawaii Five O (which lasted 12 seasons before coming back in its current incarnation).
The literary police procedural, while popular, has a lower profile than its television version and is definitely overshadowed by the private eye story.
Evan Hunter (better known as Ed McBain), who I consider THE master of the mystery short story, wrote more tales of New York's 87th Precinct than I can count: and I can count to one, two, three, many (that's a Terry Pratchett joke). Probably my favorite straight police procedurals are Tony Hillerman's novels about The Navajo Tribal Police. The subject of a future post, they are superb police mysteries, set in the Indian reservation lands of the Four Corners.