Literary Wonder & Adventure Podcast Presents: J.R.R. Tolkien, Master of Modern Mythology: A Conversation with Author Scott Oden
Literary Wonder & Adventure Podcast Presents: J.R.R. Tolkien, Master of Modern Mythology: A Conversation with Author Scott Oden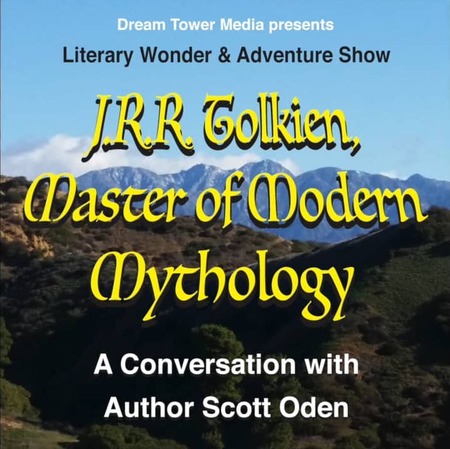 I really enjoyed the last audio show from Dream Tower Media, a lively conversation with Black Gate blogger Ryan Harvey on Edgar Rice Burroughs and his enduring works. So I was very pleased to see Robert Zoltan and his co-host Edgar the Raven return last month with a brand new episode of their Literary Wonder & Adventure Podcast, a conversation with author Scott Oden (Memnon, The Lion of Cairo) that delves deep into the history and writing of J.R.R. Tolkien.
Once again, calling this a podcast doesn't do it justice, as it's really a professionally-produced radio show set in the dimension-hopping Dream Tower (with a talking raven). It opens with a trip to Middle Earth, a visit from a lost Nazgûl, and mis-dialing Sauron on a palantir. But the show eventually settles into a fascinating discussion on the life and work of Tolkien, with some lengthy asides to delve into Robert's theories on the origins of the creative drive (and the evils of world-building).
Scott makes a terrific subject, sharing his story of hammering out three chapters of a Conan novel before turning to history as a source. And his tale of how writing — producing his first novel, Men of Bronze, with a razor-blade sitting next to him — literally saved his life, is riveting stuff. His new novel, A Gathering of Ravens, is coming from Thomas Dunne Books in June.
Check out J.R.R. Tolkien, Master of Modern Mythology: A Conversation with Author Scott Oden, and all the episodes of the Literary Wonder & Adventure Podcast, here.