Literary Wonder & Adventure Podcast Presents: Robert E. Howard, Master of Sword & Sorcery: A Conversation with Author Howard Andrew Jones
Literary Wonder & Adventure Podcast Presents: Robert E. Howard, Master of Sword & Sorcery: A Conversation with Author Howard Andrew Jones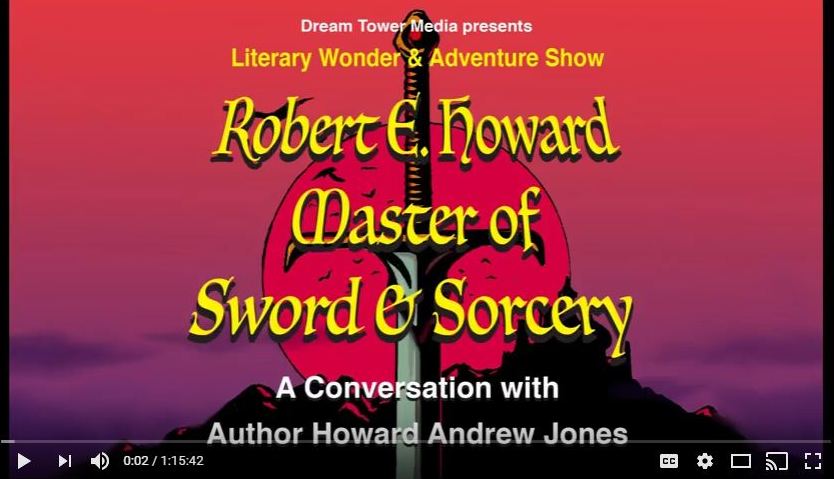 I have thoroughly enjoyed the last two audio shows from Robert Zoltan's Dream Tower Media, a lively conversation with Black Gate blogger Ryan Harvey on Edgar Rice Burroughs, and a fascinating discussion with Scott Oden on the history and writing of J.R.R. Tolkien. So I was very excited to see that for Episode #4 the subject was the distinguished Howard Andrew Jones, author of the beloved Dabir & Asim Arabian fantasy tales, and the future bestseller For the Killing of Kings, out next year from St. Martin's Press. The topic this time was none other than Robert E. Howard, the legendary creator of Conan, and perhaps the greatest Sword & Sorcery author of all time.
As usual, calling this a podcast doesn't do it justice, as it's really a professionally-produced radio show set in the dimension-hopping Dream Tower (with a talking raven). I've had plenty of lengthy discussions with Howard — who is the Managing Editor of Black Gate — over the years, and here he's at the peak of his form, entertaining and highly informative. The podcast opens with a animated discussion of life in small town Texas, Robert E. Howard's substantial gifts as a storyteller, and why he added whipping scenes to so many pulp tales. It looks at REH's enduring creations — including Conan, Solomon Kane, and Dark Agnes — before exploring our fascination with ruins, Fafhrd and the Gray Mouser, and the influence of gaming on modern fantasy.
My only criticism is the host's tendency to wander off topic, and repeatedly cut off his guests to talk about himself. Robert Zoltan is a fascinating guy, and I enjoy his opinions, but that doesn't mean that a 1-hour podcast on Robert E. Howard is the right place for a 3 minute monologue on Van Gogh, or a 7-minute monologue on narcissism and how hard it is to make a living as a musician. Future podcasts should focus more on his guests, or maybe just do away with the pretense of an interview entirely. That might set better expectations with listeners.
Check out Literary Wonder & Adventure Podcast Presents: Robert E. Howard, Master of Sword & Sorcery: A Conversation with Author Howard Andrew Jones, and all the episodes of the Literary Wonder & Adventure Podcast, here.