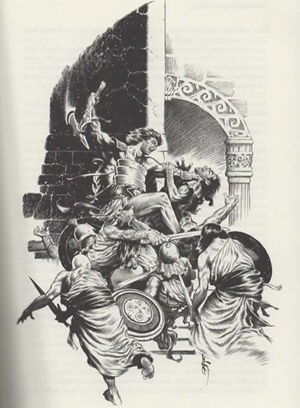 Our Hither Came Conan series gets well and truly underway this week with Bobby Derie presenting the case for "The Phoenix on the Sword." Grab your loin cloth and tulwar (or zhaibar knife, if you prefer…)  and tread upon some jeweled thrones!
"Know, oh prince…"
The Texas pulpster sat at his typewriter, pounding away at the keys, talking the story out loud as he typed. The long novella of King Kull, "By This Axe I Rule!" written some years earlier remained unsold, rejected by Argosy and Adventure. Already the Texan was working over the history in his mind, weaving together bits of fact and legend of the "Age undreamed of."
Thinking back to just months ago when he had been down south, in a dusty little border town of the Rio Grande valley, and a character had come into his mind…a raw conception with an old Celtic name, and…
"Hither came Conan, the Cimmerian, black-haired, sullen-eyed, sword in hand, a thief, a reaver, a slayer, with gigantic melancholies and gigantic mirth, to tread the jeweled thrones of the Earth under his sandalled feet."
The opening to "The Phoenix on the Sword" is the greatest incipit in pulp fiction, an invocation to the muse of artificial mythology, a sketch of a world and a character all at once. It ran as the banner across the Marvel Conan comics for decades, and an abbreviated version opened the 1982 film which introduced the Cimmerian to a whole new audience. It almost didn't happen.
"But "The Phoenix on the Sword" has points of real excellence. I hope you will see your way clear to touch it up and resubmit it. It is the first two chapters that do not click. The story opens rather uninterestingly, it seems to me, and the reader has difficulty in orienting himself. The first chapter ends well, and the second chapter begins superbly; but after King Conan's personality is well established, the chapter sags from too much writing."
—Farnsworth Wright to Robert E. Howard, 10 Mar 1932
---