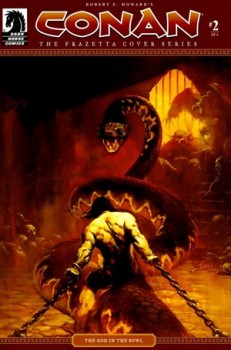 Welcome back to the latest installment of Hither Came Conan, where a leading Robert E. Howard expert examines one of the original Conan stories each week, highlighting what's best in it. Today, it's Howard biographer Mark Finn looking at one of the first stories, "The God in the Bowl." And here we go!
The God Has a Long Neck
"The God in the Bowl" is part of the holy trinity of Conan stories. No, not "Tower of the Elephant," "Red Nails," and "Beyond the Black River" (though they are undoubtedly worthy of the appellation). I'm talking about the Original Trinity, the Big Three, the initial stories that Robert E. Howard wrote and submitted to Farnsworth Wright at Weird Tales back in 1932.
I consider these stories to be Ground Zero for the essence of Conan the Cimmerian as he was originally introduced. In "Phoenix on the Sword," we meet Conan the King, an established old campaigner, with a whole lifetime of stories under his furrowed brow, struggling with his new role as a king. This was borne out of Howard's desire to write fiction in the guise of history; tales of adventure and sweeping consequences, without having to fact-check and sideline his narrative vision. Using his unpublished Kull story, "By this Axe, I Rule!" as a jumping off point, Howard clearly had an idea of what he wanted to do.
But he had to sell it to the market that was buying, and since Oriental Stories, the magazine he'd been selling his historical adventures to, had shuttered its submission window, he turned to his old standby, Weird Tales. "The Unique Magazine" under the editorial direction of Farnsworth Wright enjoyed a kind of nebulous distinction as a kind of catch-all for any kind of story, so long as it was weird. This included anything with a spicy suggestion, such as ice maidens wearing gossamer robes and taunting a battle-exhausted youth. "The Frost Giant's Daughter" was made for Wright, who would recognize its classical mythic underpinnings, but would also not mind the implied slap-and-tickle of the naked girl laughing at young Conan.
---