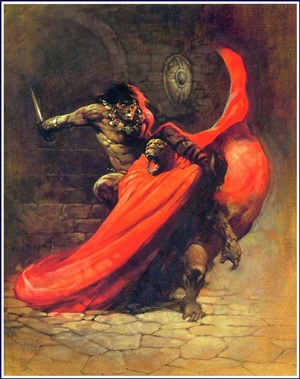 EDITOR (ME, BOB)  SCREW UP – Our own Gabe Dybing brought to my attention that I forgot to run his post. He is correct! Entirely an oversight on my part. It will run next Monday morning, and I'll update this 'final' listing afterwards. My fault. Sorry about that.
And so, Hither Came Conan comes to an end. Every Monday morning, from January 7th through today, July 14th, Black Gate brought you story insights from some of the most knowledgeable Robert E.  Howard writers around. And me. We covered all twenty-one completed Conan tales written by Howard: and even tossed in "Wolves Beyond the Border" for good measure!
In case you forgot, each story was randomly assigned to one essayist.  The most common comment I heard was some variation of "Thank goodness I didn't get "Vale of Lost Women." Unfortunately for Dave Hardy, he didn't get to say that…
But while it's natural that some stories are better than others, what I think this series showed, is that even a 'bad' story, contained some worthwhile elements. Whether it was a character, or an exciting scene, or some of his excellent prose, there's always something worth reading in a Howard story. Or in this case, a Conan tale. Because, while he did write some stories that weren't particularly good ("The Mirrors of Tuzun Thune" almost makes my eyes bleed) Robert E. Howard was an excellent writer.
I am a fan of William Bernhardt's The Red Sneaker Writers Book Series. Bernhardt, author of the excellent Ben Kincaid legal thriller series, has written some terrific books to help writers. And one of them is Thinking Theme. Several writers mentioned Howard's frequent depiction of the conflict between barbarism and civilization. That theme is a powerful engine for the Conan series. Decaying civilizations, and honor and justice, were also themes Howard used Conan to comment on. "Beyond the Black River," "The Scarlet Citadel," "Rogues in the House": Howard's strong belief in theme formed foundations for his tales.
---