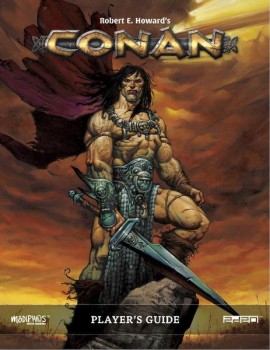 [I've talked about Modiphius' RPG, Conan: Adventures in an Age Undreamed Of. Fellow Black Gater Gabe Dybing and I (with some help from Martin Page) were excited to attempt a series of posts, chronicling our online campaign, but, as is often the case, real life got in the way. Here's the first post, which talks about the game
Even though we didn't get beyond the first encounter, I've remained a fan of the Conan RPG and have read much of the material (I was a Kickstarter backer). Jason Durall, who wrote an excellent entry on "Xuthal of the Dusk" for Hither Came Conan, is the Line Editor for the game (he is also Line Editor for the venerable Runequest). He was kind enough to do a Q&A for Black Gate. Read on!]
Mongoose certainly produced a LOT of content for the two editions of its 3rd Edition Conan RPG line. What impelled Modiphius to bring out a new Conan RPG? And at this particular time?
Modiphius was already partnering with Cabinet Entertainment with Mutant Chronicles 3rd Edition and other properties, and when the opportunity for Conan was discussed, it was an obvious choice. To distinguish this new version, very early we made the decision that it should incorporate only REH context and new material derived from that, and be produced with deep involvement from leading REH scholars from the beginning. As for timing, it seemed right for a definitive Conan game.
(Editor – While I enjoy many of the pastiches, by various authors – some of which I discussed here – I admire their decision to work from Howard's source material)
And it was a great bonus for the kickstarter that backers got PDFs of ALL the Mongoose Conan line. How did that come about?
Cabinet owns the rights to all part work done with the Conan IP, so they had the rights to the Mongoose catalog. We had many Kickstarters who were fans of that game, and it seemed a nice benefit to provide.
---