Ten Things I Think I Think: October 2023
Ten Things I Think I Think: October 2023
A (Black) Gat in the Hand takes a week off for a somewhat Robert E. Howard-centric installment of Ten Things I Think I Think. Books, television, movies, and even a computer RPG are in the mix today.
1) Jules De Grandin is a new favorite
Being a Robert E. Howard guy, I am familiar with Weird Tales – home to much of his best work, including Conan, Kull, historical fiction, and Solomon Kane, among much more. But not being into horror, I don't really read anyone else from 'The Unique Magazine.'
But I recently bought the audiobook for The Horror on the Links. It is Volume One of The Complete Tales of Jules De Grandin. A few stories have been a bit much for me in the macabre category, but Seabury Quinn's doctor-former Surete policeman is an Occult Detective version of Hercule Poirot. I am absolutely loving the mix. I'm nearing the end of this collection, and I'll be listening to Volume Two next.
De Grandin is a French transplant to fictional Harrisonville, New Jersey. His Watson is Dr. Trowbridge, and they investigate both cases that have natural, as well as supernatural, solutions. Each audiobook is about 25 hours long, which is a lot of entertainment. Paul Woodson does a great de Grandin. There are over 90  stories – including one serialized novel. As a Poirot fan, I'm totally in on these. I've been kicking around the idea of a de Grandin/Nero Wolfe crossover.
2) "The Horror from the Mound" is Quite a Story
Sticking with horror, I was hoping to have an essay ready today for Robert E. Howard's "The Horror from the Mound." It's a (then) contemporary Weird Western which also appeared in Weird Tales. I'd read it before, and with one foot in 'today' and one firmly in the mid 1600s, may be my favorite REH horror story. Still working on the essay.
3) Cormac Mac Art is under-appreciated REH
Cormac Mac Art was an Irish pirate and renegade who sailed the seas with the crew of the Viking Wulfhere, in the time of King Arthur. From what I gather, Howard wrote two Cormac stories. There were also two unfinished stories found in his papers, and Richard Tierney completed them. All four are in my Ace paperback, Tigers of the Sea, with one having a supernatural bent, and a tie-in to REH;s Kull. David Drake also wrote a Cormac story.
Andrew Offutt wrote four Cormac novels; plus two more with Keith Taylor. I re-read the four Howard stories, and am now reading one of the Offutt/Taylor novels. I quite like the Cormac stories. Reminds me a little of another REH character – Turlogh O'Brien.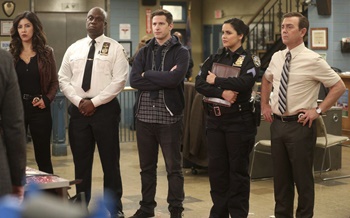 4) Brooklyn Nine-Nine is Fun!
This cop comedy ran for 153 episodes from 2013 to 2021. With a strong cast (including Stephanie Beatriz, who I just watched in the gorily entertaining Twisted Metal), it's silly, but a level above 'dumb funny.' The third-season Christmas episode, which recreates Jake's favorite movie, Die Hard, in a department store, is clever, silly, and a ton of fun. It streams on Peacock, and its' my 'easy' watch. I can just put it on and watch for a break.
5) Solasta is a good D&D RPG
I'm playing Solasta, and it's a pretty good iteration of D&D (5th Edition). You get to create a party of four characters, and pick up NPCs temporarily, along the way. Good game play, graphics are solid. It seems to come across as a poor man's Baldur's Gate 3 (it was in development at the same time), but it's more than that. It pops up on Steam sale for about $11, and it's well worth it. Most fun I've had with an RPG since Baldur's Gate 1. As an aside, the first Neverwinter Nights remains my all-time favorite RPG, and my Gaming Group even played in a Persistent World together during COVID. It's still a viable game.
6) DC Superhero Movies are OK
I skipped the entire DC movie thing – largely because I didn't have HBO. Now that they're on Prime, I'm catching up. Wonder Woman was an A-. Batman vs. Superman was so bad I quit on it: D+. Justice League (theatrical release) was good: B. I enjoyed Aquaman. Definitely a better Momoa movie than Conan was: B+. And I liked the more recent Black Adam: B+.
I'll continue catching up. Brendan Hines' Superian in The Tick (love that series) certainly seems to have been a take on Henry Cavill's Superman. And I was happy to see Ewan Bremnar in Wonder Woman. Charlie was the pilot, Declan, in my favorite The Rock Movie, The Rundown.
7) Ahsoka was pretty good. But…

Rosario Dawson (also in The Rundown) is perfect as Ahsoka. Lucas really nailed casting in getting her, and Katee Sackhoff, as Bo-Katan. I liked the series, but as a huge Star Wars Rebels fan, I found Sabine to be a disappointment. They recrafted the character first to be a poor imitation of James Dean, though they moved off of that quickly. But she transformed into an incompetent boob. She was as useful to have around as Nigel Bruce's Dr. Watson. They managed to make her failures and bad choices work out – sort of. But the cool Sabine of Rebels was replaced by a rather useless wannabe Padawan. We'll see how season two goes.
8) "Wild Water" is a great Western story
Back to Robert E. Howard. "Wild Water" was a contemporary Western story by Howard. I remember watching Michael Douglas in Falling Down, a great little movie. And the dismay as I went from rooting for him to wanting him to be stopped. "Wild Water" could definitely have been an influence on that movie. One of my favorite REH Westerns. It wasn't published until 1975, nearly four decades after his suicide. Many very good stories found their way into print after he died. It's unfortunate that they didn't sell, generating him much-needed money. Thanks to Glenn Lord for being such a wonderful caretaker of Howard's works. Howard had Lord. Lovecraft had Derleth. Tolkien had his son, Christopher. Sadly, Arthur Conan Doyle only had his two deadbeat sons.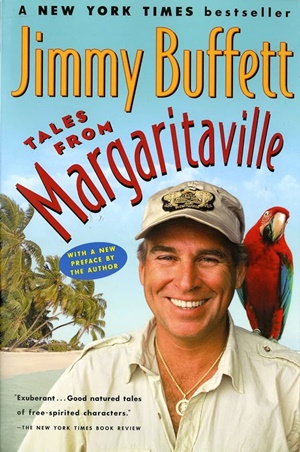 9) Jimmy Buffett was amazing
I attended almost two dozen Buffett shows in my younger days. I didn't drink, but it didn't matter. A Buffett show was a state of mind, and a place to be happy. Not always easy in this world. His song, Chanson Pour Les Petit Enfants, is a wonderful children's fairy tale. Jolly Mon Sing is another magical tale which became a children's book.
Buffett's musical style changed over the course of his career, and I like almost all of his stuff. He will be missed for a long time, but his music will live on.
Tales From Margaritaville was an enjoyable collection of short stories, tied to songs on his Off to see the Lizard album. I enjoyed it. He followed up not too long after with a novel, Where is Joe Merchant. I thought it was 'meh' and never re-read it. That Off to see the Lizard is as good a tropical-feeling album as he recorded.
10) I'm working on a poem
Well, I don't think that, I know that. Years ago, I took the Solar Pons Christmas story, "The Adventure of the Unique Dickensians." and retold it as a poem. Following the pattern that Robert E Howard used for "The One Black Stain," I am reworking "Rattle of Bones." That short story is my favorite Solomon Kane tale. I'm taking my time, but I'm enjoying this project.
Back to A (Black) Gat in the Hand, next week. Just wanted to do a Ten Things today.
10+) The Dwellers Under the Tombs is Good
Bonus Thing!!
I continued reading REH's horror stuff over the Friday the 13th weekend. I read all the Conrad and Kirowan stories. They were a pair of Occult investigators and were tied-in to Lovecraft's Cthulhu mythos. Three stories appeared in Weird Tales, along with a fourth within a year of REH's death. Another saw print in the sixties, and the final one in the seventies. There is also a fragment, which was completed by C.J. Henderson. I have not read the latter.
I found the stories to be a mixed bag.  A couple I'll likely never bother with again. But after a boring beginning (Howard espousing his theories on anthropology doesn't do anything for me), "The Dwellers Under the Tombs" really grabbed me. Easily my favorite story from the series. Lots of tension, annoying 'client,' the plot works, supernatural edge: good story. The long explanation via a letter always seems like a cheap narrative mechanism to me. But it's got a long pedigree and will probably never go away. It serves a function. I quite liked this one, overall.
"The Thing on the Roof" felt a little thin, but I liked the plot, and just beats out "The Haunter of the Ring" for my second place.
---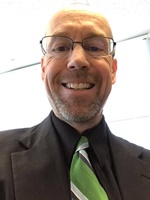 Bob Byrne's 'A (Black) Gat in the Hand' made its Black Gate debut in 2018 and has returned every summer since.

His 'The Public Life of Sherlock Holmes' column ran every Monday morning at Black Gate from March, 2014 through March, 2017. And he irregularly posts on Rex Stout's gargantuan detective in 'Nero Wolfe's Brownstone.' He is a member of the Praed Street Irregulars, founded www.SolarPons.com (the only website dedicated to the 'Sherlock Holmes of Praed Street') and blogs about Holmes and other mystery matters at Almost Holmes.
He organized Black Gate's award-nominated 'Discovering Robert E. Howard' series, as well as the award-winning 'Hither Came Conan' series. Which is now part of THE DEFINITIVE guide to Conan. He also organized 2023's 'Talking Tolkien.'

He has contributed stories to The MX Book of New Sherlock Holmes Stories – Parts III, IV, V, VI, XXI, and XXXIII.

He has written introductions for Steeger Books, and appeared in several magazines, including Black Mask, Sherlock Holmes Mystery Magazine, The Strand Magazine, and Sherlock Magazine.