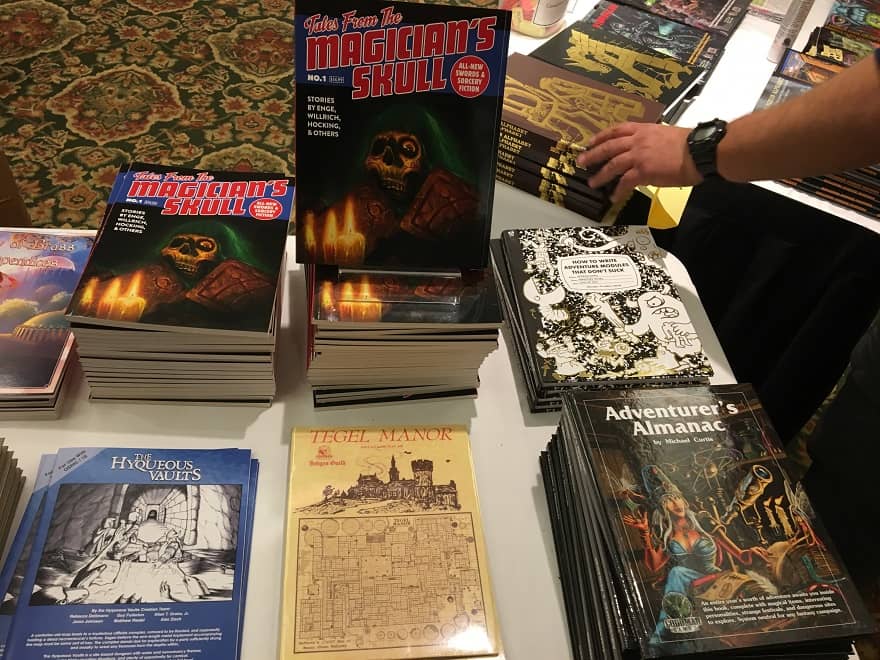 New releases at the Goodman Games table, including the magnificent Tales From the Magician's Skull
In Part I of my Gary Con 2018 report, posted here yesterday, I talked about one of the great pleasures of walking the Exhibit Hall: meeting the creative masterminds behind the most dynamic companies in old-school RPGs, like Goodman Games, North Wind Adventures, Troll Lord Games, Black Blade Publishing, Frog God, Kobold Games, and many others. Today I want to talk about the other great pleasure of a truly rich Exhibit Hall. Namely, all those marvelous gaming treasures.
I do a pretty good job staying on top of the newest releases in the adventure gaming industry. More than that, I have a staff of top-notch game writers — like Andrew Zimmerman Jones, Bob Byrne, M. Harold Page, Howard Jones, Fletcher Vredenburgh, and Gabe Dybing, just to name a few — who constantly keep me informed. And yet virtually every step through the Exhibit Hall was filled with surprises. Anyone who's ever visited the Exhibit Hall of a major gaming con or science fiction convention knows what I'm talking about. That sense of having stepped into a virtual Cave of Wonders, packed with a dozen lifetimes worth of magical discoveries.
You can't recreate something that overwhelming with a simple blog post. But what the hell. I'm going to give it a shot anyway. To do that, I'm going to focus on the experience of walking around a single booth at Gary Con. In this case, the largest and most well-stocked one at the show, the joint Black Blade/Goodman Games tables at the entrance to the Hall. The sixteen photos below attempt to capture a few of my delightful discoveries — as well as give you a taste of the countless tantalizing items I had to hurry past in my efforts to be a gaming journalist. Prepare yourself.
---