Goth Chick News: The FAN EXPO Chicago Was Epic
Goth Chick News: The FAN EXPO Chicago Was Epic

For the past 13 years, Black Gate photog Chris Z and I have been regulars at the Wizard World Chicago Comic Con, one of the largest conventions we cover each year. However, in August 2021 Wizard World announced they would be selling the convention events business to FAN EXPO HQ, making them the largest comic convention organization across the globe according to Newsarama. Schedule conflicts conspired against us in 2022, but this year we were excited to learn FAN EXPO HQ was extending us press passes so we could finally check out what had changed since the event was sold.
Before I tell you about the awesomeness of this four-day convention, causing widespread FOMO, I'll let you know that FAN EXPO will be coming to thirteen cities in the US and Canada over the next year, before making its way back to Chicago next August; meaning if you're in the US there's likely an upcoming event near you. You can find all those details here.
Now let's wade in.
[Click the images for fan-sized versions.]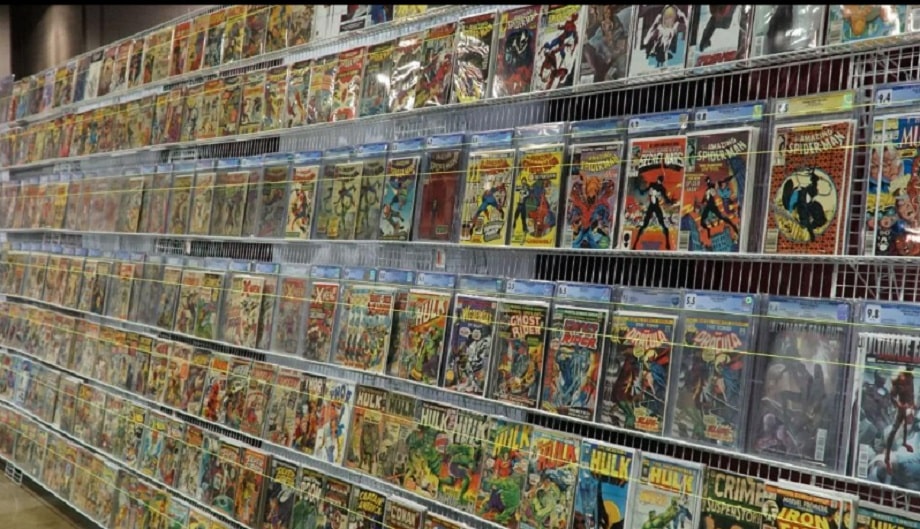 First and foremost, FAN EXPO, like its prior iteration, is a comic convention. This means if you are a fan of comics from the earliest vintage to the newest storylines, this is your place. The 2023 Chicago event played host to roughly 360 vendors and we estimated that more than half of them were purveyors of comics. Additionally, there were roughly 470 artists occupying the hall space called "Artists Alley," many of whom were contributors to comics or create comic-themed artwork. FAN EXPO also attracted the largest number of celebrity guests we've ever seen at a convention like this, and 62 of the over 100 guests were comic writers. In other words, this is definitely the con for the comic enthusiast.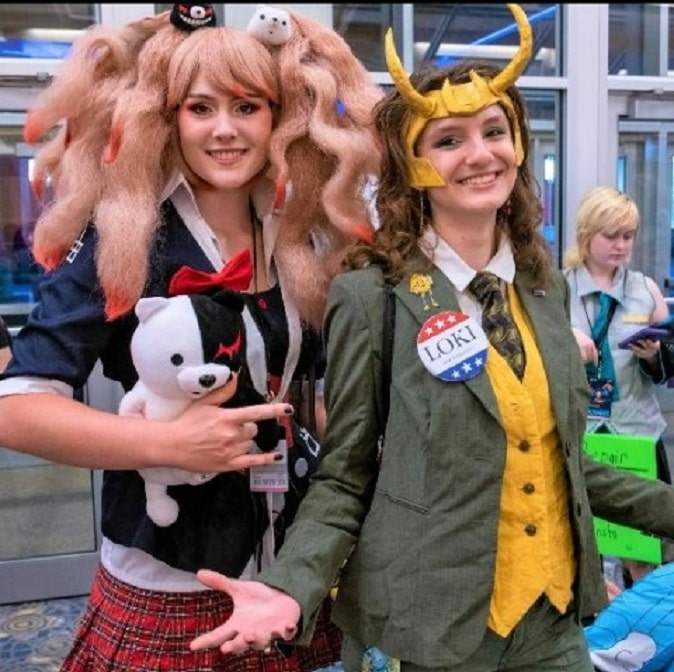 So, what were the other half of the vendors up to? We saw cosplay accessories, board games, D&D accoutrements, tee-shirts and books, just to name the larger categories. With a show floor that consumed over 300,000 square feet, I'm only going to be able to tell you about the few people we met. But there really was an incredible number of ways for you to be separated from your cash, and here are the ones who either did or nearly parted us from ours.

Shrunk 3D and a sample of their work
Shrunk3D: Displaying the coolest use of 3D printing that we've seen in ages, Shrunk3D can arrive at your workplace or special event in an adorable vintage camper trailer. You step inside the mobile studio and strike a pose for the capture of 190 individual high-rez pictures. You then review your images and choose your Shrunk3D replica size. The Shrunk3D software converts all 190 images into one high-resolution 3D image which is sent to the offsite Shrunk3D printer. Roughly a month later, your "mini-me" replicas show up on your doorstep. You can create individual statues or have multiple people/animals in one print, ranging in size from 4" to 9". The use-cases are nearly endless, and the quality was impressive. We loved the idea of using these as cake toppers.

Haunted House: A Love Story and creator Winston Gambro
No Happy Endings in Rapture & Haunted House, A Love Story – by Winston Gambro: Back in 2007 I spent an inordinate amount of time playing Bioshock on the computer. So, I was very happy to meet illustrator and designer Winston Gambro to learn about his comic No Happy Endings in Rapture, set in the Bioshock world. I thought B&W graphics did a wonderful job capturing the feel of "Rapture," the underwater city which is the main setting for the game. His latest outing called Haunted House, A Love Story caught my attention not only for the title, but for the fabulous illustrations. This is the first installment of six, so there is a lot of horror goodness to come from Gambro. These and all Gambro's titles are available on his website.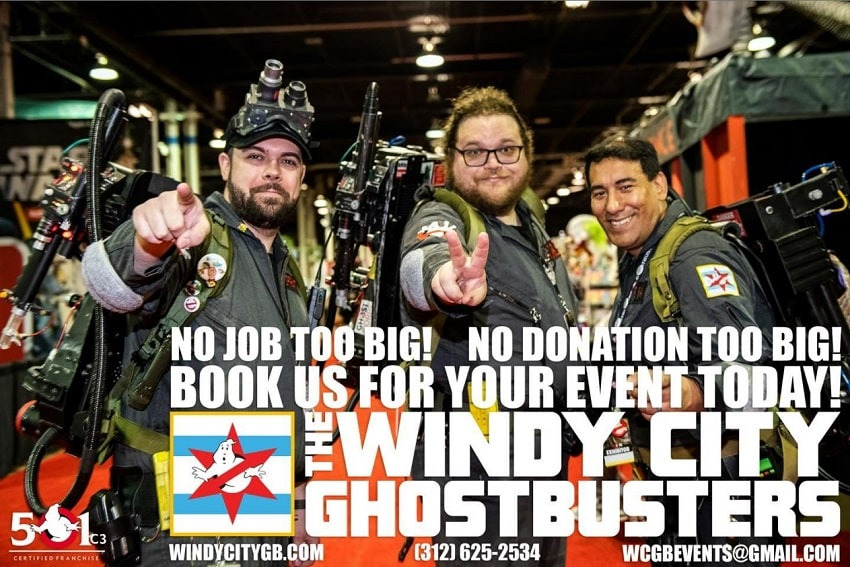 Windy City Ghost Busters: True, this is for Chicagoans only, but its such an awesome idea I had to tell you about it anyway. WCGB are the most elaborate group of GhostBuster cosplayers we have ever met and when you call them for your Chicagoland paranormal elimination, they show up with all the movie-prop-quality costumes and gear, and in a custom GB vehicle. They are also a 501c3 certified charity organization, meaning the all-volunteer GhostBusters team donate 100% of their proceeds to local charitable groups. I'm thinking of having them show up at my house some Saturday evening with sirens and lights blaring, just to make the neighbors wonder…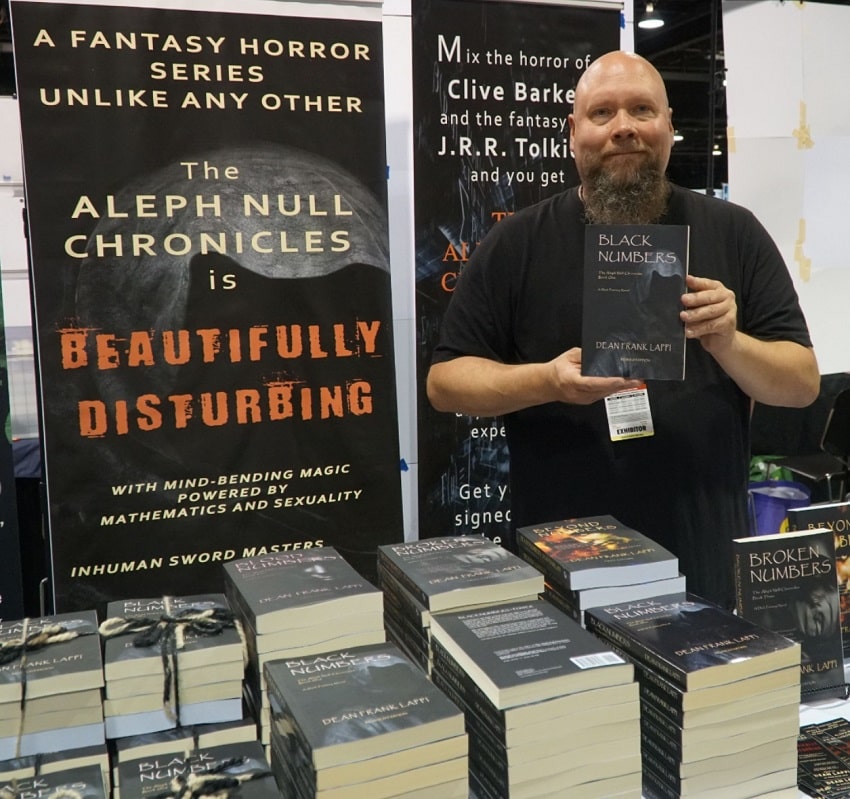 The Aleph Null Chronicles by Dean Lappi: We are always on the hunt for new authors to love and Dean Lappi caught our attention. His works Black Numbers and Broken Numbers, books 1 and 2 in his Aleph Null Chronicles, are a dark fantasy series that blends sexuality, science, and horror into the traditional fantasy genre (sign me up). According to Amazon:
In a land where true magic is based on the rare ability to use advanced mathematics to affect the physical world, those who can control such powers are part of a secret organization known as the Oblate. Over the millennia, they have directed the Korpor, a violent creature, to roam the land and search for the Aleph Null, the one prophesied to control the mysterious Black Numbers, a power beyond anything ever seen in the land. Sid's genius-level mastery of mathematics puts him on a collision course with the Korpor and the Oblate, and he soon finds himself on the run from powerful and mysterious forces intent on controlling him and his powers. His journey propels him to the center of an ancient struggle that he cannot understand and wants no part of. But he is not alone, for the friendships that he forges along the way help him to navigate the dark and chaotic road he must travel. Can Sid overcome the seductive darkness known as Black Numbers?
I haven't dug into this one yet, but it's on my e-reader. I'll let you know more after I finish.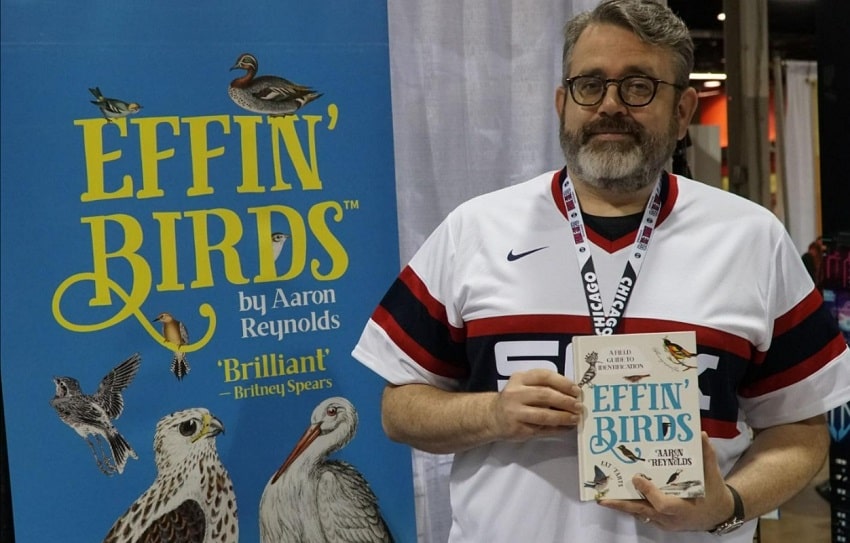 Effin' Birds by Aaron Reynolds: I saved this one for last because Chris Z and I stood around at Reynolds' booth for a good ten minutes flipping through this book, bent over laughing before deciding we both needed to buy a copy. Effin' Birds is a beautifully illustrated hardcover, organized like a field guide for bird lovers. As stated on the inside cover, Effin' Birds "will help you identify more than 200 birds, but more important, for the first time in history, it will also help you understand what these birds are thinking and feeling." For example, the gorgeous Light-Bellied Defeatist can be identified by its "furrowed brow and high blood pressure." Its habitat is listed as "wherever it has nested, its not good enough," and its call has been translated to mean "For F***'s Sake."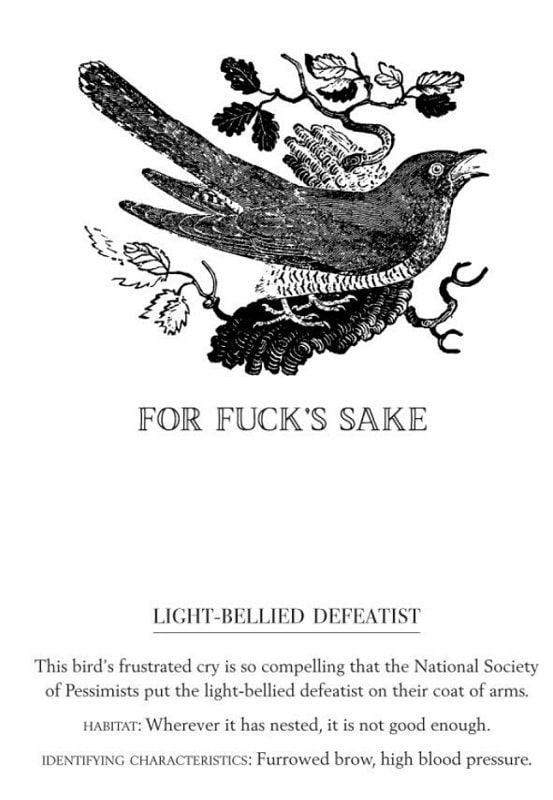 A sample from Effin' Birds
Essentially there are four-letter words on every page, which makes it absolutely hysterical for people with a grade-school sense of humor like Chris Z and me. Reynolds has a variety of other products to go along with his book including greeting cards, playing cards, coffee mugs and tee-shirts, all with an equally "fowl" mouthed comedy and available at his website. The book and several of his products are also available on Amazon.
Reynolds is our kind of people.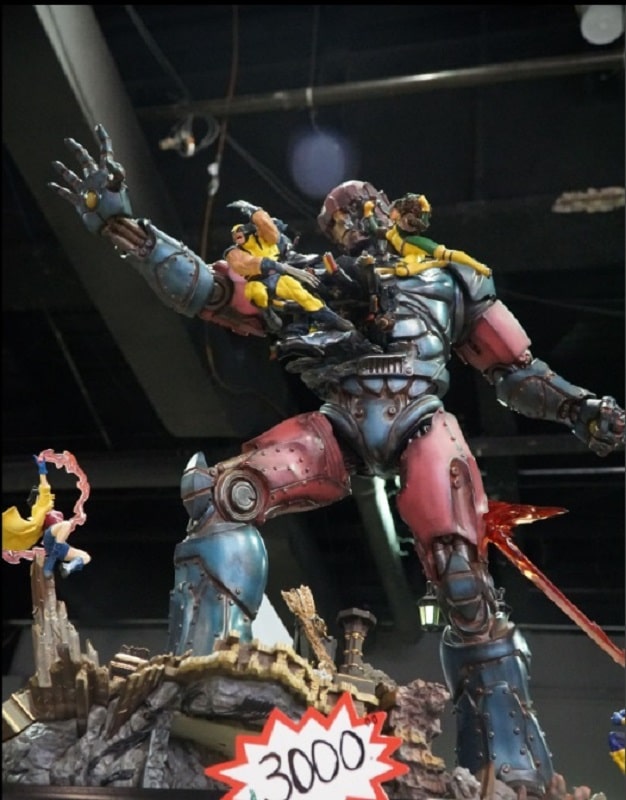 As I mentioned, there were over 100 celebrity guests from movies, TV, anime, voice actors and of course comics, and FAN EXPO HQ definitely had a very organized set up for the press as it pertained to requesting interviews. Normally I'm chasing publicists myself if I want to speak to someone but this time around all interview requests went through FAN EXPO HQ's media department. On the downside, Black Gate magazine likely wasn't large enough to score the interviews I requested. Many of the celebrities declined all interviews such as the cast of National Lampoon's Vacation and the cast of Back to the Future, but it was cool to get a look at all of them. Missing out on Christina Ricci was understandable since she ended up cancelling her appearance. However I did have semi-high hopes for Keifer Sutherland and Harvey Guillén; Keifer because there was no hotter vampire than when he starred in The Lost Boys (1987) and Harvey due to my current obsession with the FX series What We Do in the Shadows.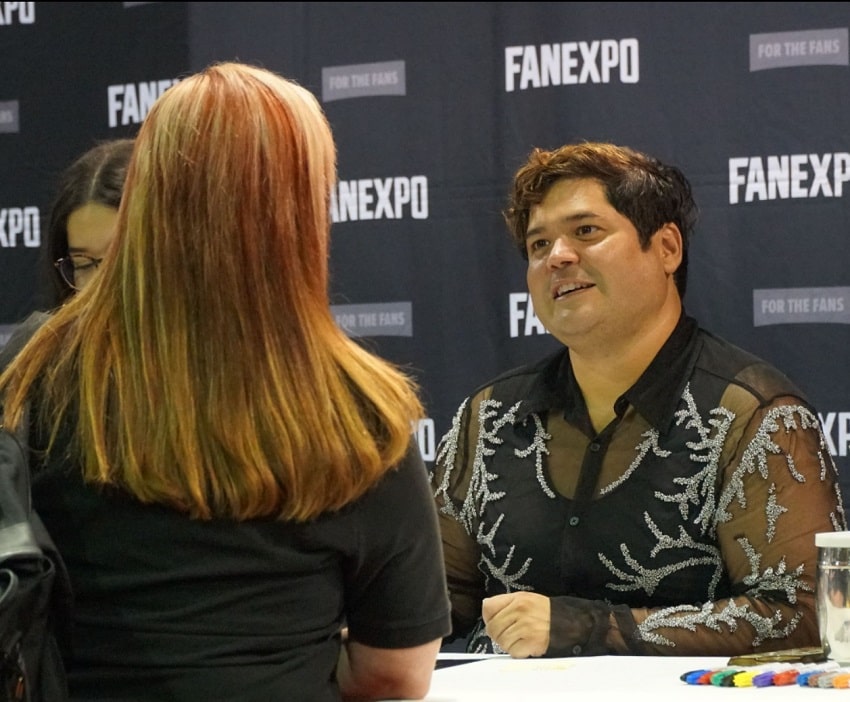 Fangirling over Harvey Guillén
We didn't get called for either one. Though Keifer's appearance didn't coincide with the hours Chris Z and I spent walking around, I did break down and pay for an autograph and a chat with Harvey. Chris Z captured my fangirling and Harvey was really sweet. But due to the very strict press rules we signed when we were granted our passes and the ongoing SAG strike, saying anything to him but the most mundane "nice to meet you" was verboten, so I couldn't even sneak in a couple of questions. Also, Chris Z's super-zoom lens was a no-go, which is why there are no photos of the celebrities we peeped. The Harvey one was okay because I paid.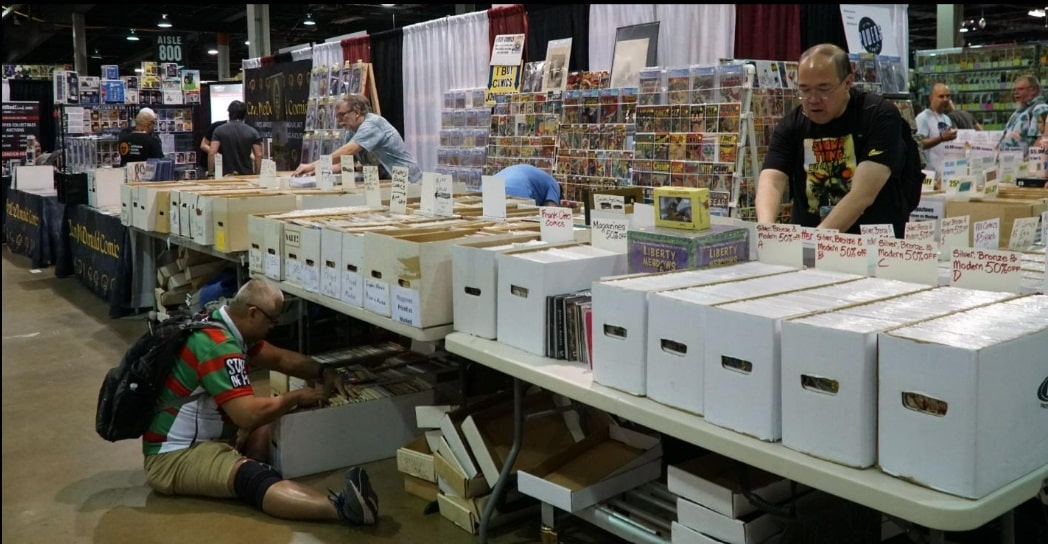 All in all, FAN EXPO is very much the same vibe as when it was the Chicago ComicCon, with far more celebrity guests who people really wanted to see, a better flow of crowd traffic and overall more organization. If you have a chance to attend one in a city near you, I definitely recommend you go.