Birthday Reviews: Michael A. Burstein's "Reality Check"
Birthday Reviews: Michael A. Burstein's "Reality Check"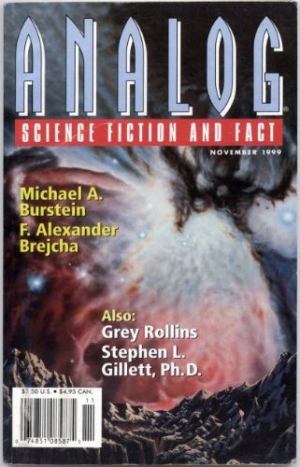 Michael A. Burstein was born on February 27, 1970. Burstein is an Orthodox Jew and many of his stories are informed by this background, from the main character of "Reality Check" to the entire story "Kaddish for the Last Survivor."
Much of his short fiction is gathered in the collection I Remember the Future: The Award-Nominated Stories of Michael A. Burstein. His debut story "TeleAbsence" won the Analog Readers Poll and the Science Fiction Chronicle Readers Poll. His later novella "Sanctuary," also won the Anlab poll. Burstein won the John W. Campbell Award for Best New Writer in 1997.
"Reality Check" was first published in Analog's November 1999 issue, purchased by Stanley Schmidt. It was reprinted in Burstein's collection I Remember the Future and was nominated for the Nebula Award for Best Novella and shortlisted for the Theodore Sturgeon Award.
Michael Burstein's four linked stories, "Broken Symmetry," "Absent Friends," "Reality Check," and "Empty Spaces," deal with parallel universes linked together through a Superconducting Supercollider. Although "Reality Check" is the third in the sequence and refers to the subject of "Absent Friends," it requires no knowledge of the previous story to enjoy it (although the four appear sequentially in I Remember the Future).
David Strock is a theoretical physicist specializing in low energy research. When one of his papers gains the attention of a government facility in Texas, he is invited to see the classified work they are doing. Despite his better judgment, and the desires of his wife, he visits them and decides to take a temporary appointment to work on the secret project, offering him the chance to collaborate with another universe. Strock tries to balance his research and time in Texas with his home life in Boston, although the strife in Boston seems to be worse than Burstein shows.
When Strock meets a woman who reveals that he has a near doppelganger on the other side, his interest is further piqued in the project, although he tries to point out to her that he is not the person she has heard about from the other universe. In the end, Burstein successfully ties together disparate scenes of Strock's home-life, his lunches at MIT with a graduate student, his doppelganger, and the research he was conducting.
Burstein builds a story with a hard science background that appears to be, in part, a response to Larry Niven's "All the Myriad Ways," in which a person comes to terms with the multitude of versions of himself across different universes. Burstein does so in a manner which builds on what Niven did and isn't beholden to Niven.
Reviewed in its original appearance in Analog, edited by Stanley Schmidt, November 1999.
---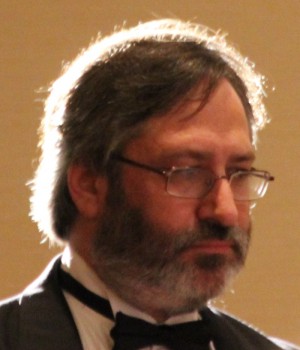 Steven H Silver is a fifteen-time Hugo Award nominee and was the publisher of the Hugo-nominated fanzine Argentus as well as the editor and publisher of ISFiC Press for 8 years. He has also edited books for DAW and NESFA Press. He began publishing short fiction in 2008 and his most recently published story is "Big White Men—Attack!" in Little Green Men—Attack! Steven has chaired the first Midwest Construction, Windycon three times, and the SFWA Nebula Conference 5 times, as well as serving as the Event Coordinator for SFWA. He was programming chair for Chicon 2000 and Vice Chair of Chicon 7. He has been the news editor for SF Site since 2002.