Vintage Treasures: Frontier of the Dark by A. Bertram Chandler
Vintage Treasures: Frontier of the Dark by A. Bertram Chandler

Frontier of the Dark (Ace Books, January 1984). Cover by Attila Hejja
A. Bertram Chandler was an enormously prolific science fiction author whom we haven't covered much at Black Gate. He wrote some 200 short stories and over 40 novels, and is chiefly remembered today for his popular tales of the pioneer Rim Worlds, especially the adventures of John Grimes.
Chandler began his career as a merchant marine officer in the UK, eventually commanding ships in the Australian and New Zealand merchant navies, including the Australian aircraft carrier HMAS Melbourne. He drew heavily from his long career sailing everything from tramp steamers to troop ships to infuse his fiction with a distinctly naval flavor.
His 1984 novel Frontier of the Dark, published the year he died, is a significant departure. A science fiction horror tale featuring werewolves in space, it bears the dedication, "For Harlan Ellison, who made me do it."
[Click the images to howl at larger versions.]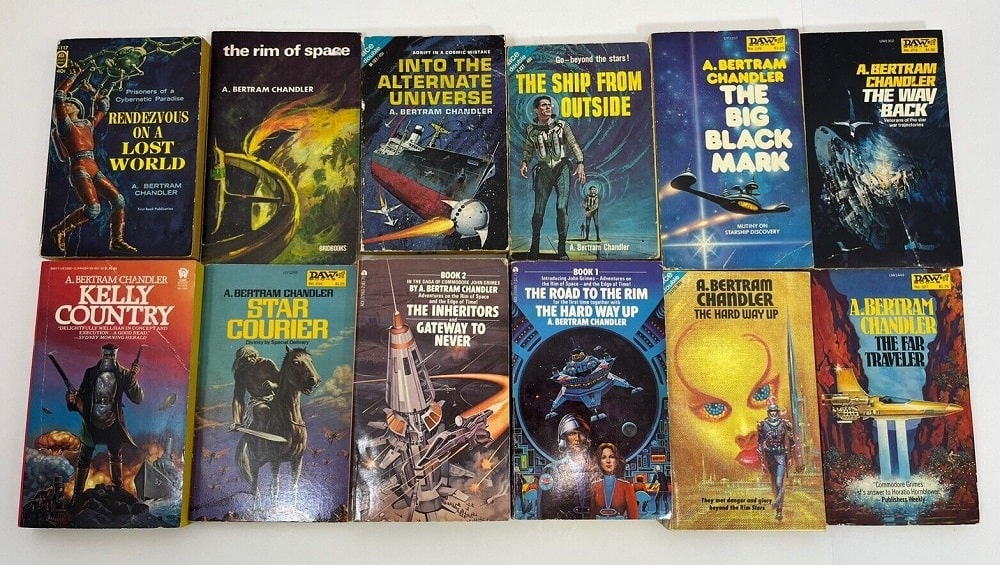 A dozen A. Bertram Chandler paperbacks from a long and fertile career
There are a number of adequate bios bouncing around on the internet, but the most useful is John Clute's thoughtful summary from the Science Fiction Encyclopedia. Here's a snippet:
UK-born author who served in the Merchant Navy from 1928, and who emigrated to Australia in 1956, where he commanded merchant ships under Australian and New Zealand flags until his retirement in 1975. This long professional experience permeated his writing, and many of his novels feature Spaceships and flotillas whose command structures are decidedly naval… For some time Chandler was known mainly as the author of "Giant Killer" (October 1945 Astounding), a Pocket-Universe tale…

Most of [his novels] are set in and/or deal, directly or indirectly, with his central venue, the various Rim Worlds set like isolated islands along the edge of the Galaxy during a period of human expansion… John Grimes dominates two main sequences. The first in terms of internal chronology traces his career in the Federation Survey Service up to and beyond the point that he shifts loyalties to the Rim…

The first sequence begins with The Road to the Rim, continuing with To Prime the Pump, The Hard Way Up, False Fatherland, The Inheritors… The second sequence advances Grimes further into his second career with the Rim Runners and the Rim Worlds Naval Reserve…

The Grimes/Rim World sequence is very clearly a Hornblower in Space transposition – much more directly than is usually the case – of the maritime world into a dream of interstellar commerce: ships into Spaceships, seas into the blackness between the stars, seaports into starports, hinterlands into planets, the South Sea Islands into constellations. Much of the warmth and detail of Chandler's work derives from this direct translation of venues, and Grimes himself establishes a loyalty in his readers rather similar to that felt by readers of Hornblower. Indeed, Chandler's Space Operas are among the most likeable and well constructed in the genre, and his vision of the Rim Worlds – cold, poor, at the antipodean edge of intergalactic darkness, but full of all the pioneer virtues – are the genre's homiest characterization of that corner of Space Opera's galactic arena.
The John Grimes and Rim Worlds novels occupied much of Chandler's (highly productive) literary career. So much so, in fact, that he wrote scarcely half a dozen novels set outside that milieu, including The Coils of Time, Frontier of the Dark, and Kelly Country.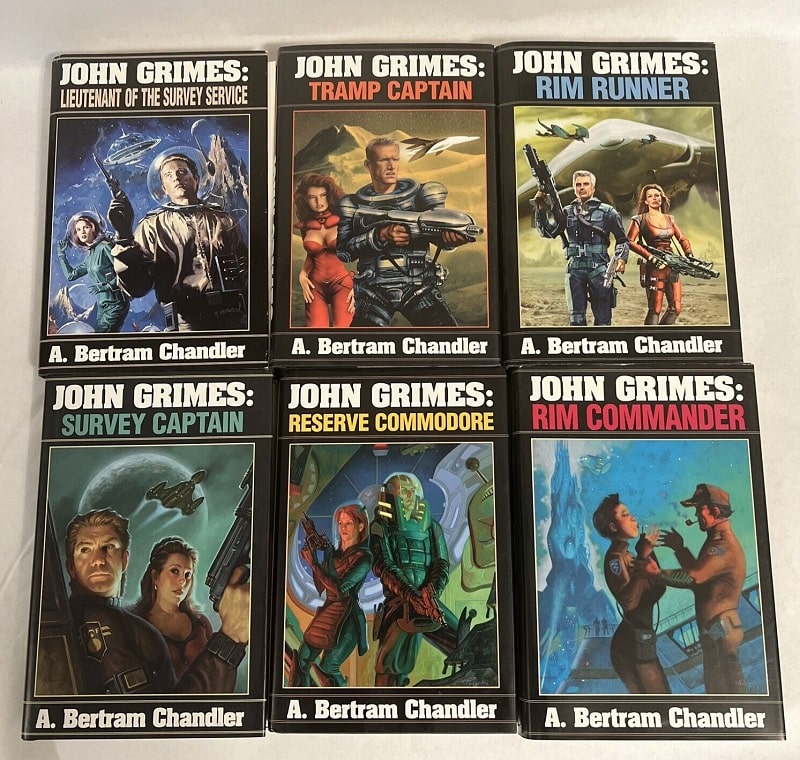 The John Grimes omnibus editions from the Science Fiction Book Club,
collecting 21 novels, two collections, and 13 short stories and novellas. Covers by
Vincent Di Fate, Matt Stawicki, Jim Burns, Alan Pollack, Paul Youll, and A. C. Farley
Frontier of the Dark was not one of Chandler's more popular efforts, and in fact has been out of print since 1984 (although Prologue Books did release a digital edition in 2012). In fact, it's something of an oddball book, neither pure science fiction or horror, with a premise that sounds almost likely comedy. The Amazon listing has one of the more entertaining one-line summaries I've seen for a science fiction novel.
Nick Falsen is horrified to discover that the spaceship's new powerful engine system accidentally turns the crew into werewolves.
Norman Howe at Goodreads categorizes it as noir:
In one of his final novels, Chandler has written a space opera horror story. The ending is a bit predictable, in a Twilight Zone fashion, and I think the author missed a chance. Given the nature of the protagonists and antagonists, I was certain a particular fairy tale would come into play. I have classified this as a horror story as well as science fiction, but the Noir genre definitely applies to this.
This one has been sitting on my TBR pile on my bedside for more than 18 months, and as fall approaches, I think it's finally time to try the only space opera werewolf novel I have in my collection.
Our previous coverage of A. Bertram Chandler includes:
Birthday Reviews: A. Bertram Chandler's "Planet of Ill Repute" by Steven H Silver
Frank Kelly Freas Illustrates A. Bertram Chandler's "The Far Traveller" by Doug Ellis
Vintage Treasures: The Trouble With Tycho by Clifford D. Simak / Bring Back Yesterday by A. Bertram Chandler
Frontier of the Dark was published by Ace Books in January 1984. It is 233 pages, priced at $2.75. The moody and effective cover is by Attila Hejja.
See all our recent Vintage Treasures here.