Frank Kelly Freas Illustrates A. Bertram Chandler's "The Far Traveller"
Frank Kelly Freas Illustrates A. Bertram Chandler's "The Far Traveller"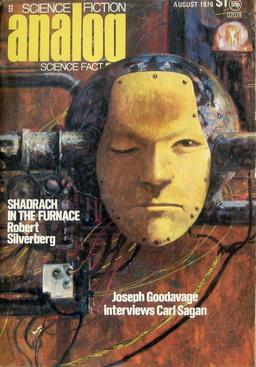 I thought I'd go back to Frank Kelly Freas today, and post one that most folks won't be familiar with, at least as it looks in the original. This was an interior illustration by Freas for the August 1976 issue of Analog, illustrating A. Bertram Chandler's "The Far Traveller" (click on the images above for full-size versions). This was one of the tales in Chandler's Commander Grimes series. The Analog cover, by John Schoenherr, is at right.
Since it was an interior, it was printed in black and white (which you can see above), but the original was in color. I assume Freas did that for the shading effects he'd get when it was reproduced in black and white, but perhaps one of my artist friends can chime in with their thoughts on that.
Art from the SF digests during that period holds a special place for me. This was the summer when, as a 12 year old, I discovered that SF digests were still being published. A few months earlier, I'd found my first SF digests (primarily F&SF from the 1950's and early 1960's) at a garage sale in a large barn. But in May 1976, I was spending the day at my dad's office, and after lunch I went to the drugstore across the street.
There I found the June 1976 issues of both F&SF and Analog, and snapped them up in a heartbeat. After that, I bought them and the other couple of digests then being published religiously. I was fortunate enough many years ago to acquire the cover to that June 1976 Analog (which I'll post at some point), but the cover for the June 1976 F&SF continues to elude me. But one day!