"You're the second guy I've met within hours who seems to think a gat in the hand means a world by the tail." – Phillip Marlowe in Raymond Chandlers' The Big Sleep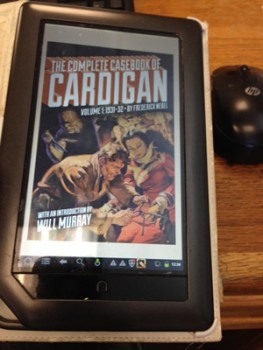 (Gat — Prohibition Era term for a gun. Shortened version of Gatling Gun)
Over on Facebook, I frequently post tidbits related to my research for this column. There's usually a picture included, and all of this happens on my back deck. So, I call it Back Deck Pulp! Well, there's a lot of stuff coming out of Back Deck Pulp. So, last month, I collected a bunch of those FB posts and Back Deck Pulp #1 appeared here at Black Gate. Well, there have been a LOT more of them, so here's Back Deck Pulp #2. I've already got #3 ready to go! Friend me on Facebook and see the posts as they go up. This is a collection of posts over time, so it doesn't necessarily flow perfectly. Live with it…
FREDERICK NEBEL – CARDIGAN
And it's another Office Desk Pulp. Last week, A (Black) Gat in the Hand was about Donahue of the Interstate Agency. That series was written by Frederick Nebel for Black Mask.
Nebel is one of my favorite pulpsters and I'm a huge fan of his Cardigan of the Cosmos Agency stories.
Cardigan appeared 44 times in Dime Detective – more than any other character.
Altus Press has issued the whole series in four volumes. And only $4.99 per ebook! With a great intro by Will Murray. I'll be doing a post on this series. Highly recommended!
HORACE MCCOY
This Saturday's back deck pulpster is Horace McCoy, best known for They Shoot Horses, Don't They?
A WW I pilot, he wrote a series of air adventures featuring Jerry Frost of The Texas Air Rangers. The group, known as Hell's Stepsons, were a Texas Rangers special ops aerial team. And Frost was hard boiled.
---