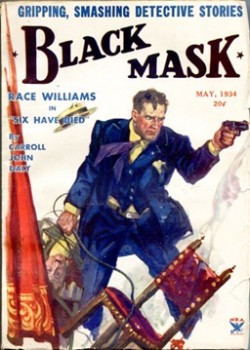 "You're the second guy I've met within hours who seems to think a gat in the hand means a world by the tail." – Phillip Marlowe in Raymond Chandler's The Big Sleep
(Gat — Prohibition Era term for a gun. Shortened version of Gatling Gun)
Last week, we looked at an article on writing from famed Black Mask editor, Joseph 'Cap' Shaw, which appeared in the May, 1934 issue of Writer's Digest. What? You didn't read that post? Well, click on over, do it, and then come back here and continue! Yeesh..
Done? Okay, let's continue.
May, 1934 featured yet another solid issue of Black Mask under Shaw's direction. The cover art was by J.W. Schlaiker, who had about fifty covers from 1929 to 1934. I don't know why he abruptly stopped drawing for Black Mask. He served in France during World War I and was the War Department artist during World War II. He did portraits of Eisenhower, MacArthur and Patton.
Carroll John Daly carried the cover with Race Williams' "Six Have Died," which became part of the novel, Murder in the East. There were two more stories in this serial, which featured  The Flame. There would be one more story ("The Eyes Have It") in November, and then Race Williams was no more in Black Mask. Williams would appear twenty-one times in Dime Detective but his successful career was in decline by May of 1934.
George Harmon Coxe's Flashgun Casey was the subject our the very first post in this column. The hardboiled newspaper photographer was in the midst of appearing in seven consecutive issues; this story being "Two Man Job." I like Casey, who was replaced by the more genteel Kent Murdoch.
From 1927 to 1934, Horace McCoy wrote thirteen stories about Captain Jerry Frost, leader of a group of Air Texas Rangers nicknamed 'Hell's Stepsons.' They were basically a special ops team and Frost was a hardboiled problem solver. "Flight at Sunrise" was the second-to-last Frost story. I don't believe that McCoy's air tales have every been collected.
Of all the pulpsters, none may have had greater pretensions to greatness than McCoy. He's best remembered for his novel, They Shoot Horses, Don't They?, which became a successful film after his death. McCoy was a member of 'The Fictioneers,' which was an informal social club consisting of southern California pulpsters, including, at various times, Raymond Chandler, Norbert Davis, William Campbell Gault and W.T Ballard.
---