Lin Carter's Imaginary Worlds #1 History of Fantasy
Lin Carter's Imaginary Worlds #1 History of Fantasy
Imaginary Worlds (Ballantine Books, June 1973). Cover by Gervasio Gallardo
I'm the age Proust was when he died, and Lin Carter books are my Madeleine cake.
The covers transport me to the sunny afternoon garage sales of my teens. Picking up one — they're tiny compared to today's paperbacks — and riffling the yellowing pages, and I'm thirteen years old, on a hill-walking holiday in Wales, rummaging in a small town charity shop while the rain rattles the dirty glass window. And later, playing Dungeons and Dragons (AD&D was my edition!) in a stuffy teenage bedroom in a Victorian house where the hundred-year-old window slammed down and nearly took off the DM's leg as he was smoking a roll-up while perched on the ledge…
And like the D&D games of my mid teens, Lin Carter's books never quite lived up to the potential of the promised exoticism. In our case, we were teenagers with limited life experience. We did very well, as far as it went, and our DMs were patient and I argued too much. Lin Carter, several times married, a Korean war veteran — the Vietnam sequence that kicks off the Callisto books reads very authentically — cosmopolitan New Yorker, experienced editor, has less excuse.
There are good reasons for liking Lin Carter. He's a master of the exotic. For all that he deals in stock types, he has an exhilarating freedom of invention, cheerfully mixing swords and nuclear powered sentient ships.
The Young Magicians (Ballantine Books, October 1969). Cover by Sheryl Slavitt
However, his books fall merely into the category of "nice comfort read"; they don't quite take you into the exotic worlds he weaves. He prefers storytelling to drama — leans heavily on narrative summary — has neither dark undertow of Le Guin's Wizard of Earthsea, nor the humor of Fritz Lieber's Fafhrd and Grey Mouser tales. His touch is often light — he likes his cinematic and Olympian points of view — but with neither the archness of Vance nor the humor of Pratchett. His characters are larger than life, and yet strangely unmemorable, perhaps because he does not ground them Marvel-movie style in sweat and blood, which is odd for somebody that will at least have gone through basic infantry training.
Perhaps it's because he so often strives for retro literary effects out of kilter with the grittier subject matter. I suspect he's emulating the stylists of yore — Dunsany, Edison, and Cabal — who were themselves emulating styles of yore. The end result is Hendrix riffs played expertly, but on a harpsichord.
Wild Man Lin Carter
And, I wager, underlying all of that was that he was alternately overthinking and not thinking enough… because his most significant professional hat was that of editor and critic.
In truth, we still know who Carter was because he was supremely good at making anthologies of the good stuff. His The Young Magicians is where I first met Fafhrd and Grey Mouser, and his other anthologies sent me off to explore the sometimes turgid roots of the genre.
All this and more is why — on landing a contract to write a LitRPG — I went to my own heroic efforts to get hold of a copy of his Imaginary Worlds, a history of Fantasy as it stood in the early 1970s, plus his thoughts on worldbuilding. I was prompted in part by James McGlothlin's excellent review of the book for Black Gate back in 2013.
I wanted to understand the thinking of this editor whose tastes influenced mine, and — without falling into the trap of emulating the emulator of emulators — learn how he created such exotic places. Unfortunately, the world has turned. People of my demographic who remember Lin Carter seem bizarrely happy to hurl money at his old books. I was fortunate that the local university had a copy in its library.
So, what's in this book?
Good writing.
When he's not writing fiction, Lin Carter turns out to be a supremely smooth and entertaining read. Better yet, he's writing at a time before the classics of Fantasy had become sanctified. Robert E Howard is only a generation dead, Tolkien still lives.
Carter kicks off by claiming Fantasy as plausibly the oldest genre going back to the Epic of Gilgamesh (I disagree; a Neanderthal banging rocks together in 8:8 time isn't the same thing as Rock and Roll.) However, he's going to focus on the central tradition of Fantasy, this being — to paraphrase — "Adult stories set in new imaginary worlds where magic works." T.H. White, Ariosto and Malory, for example, all belong on the periphery because they borrowed existing worlds. William "Really Messed Up Love Life" Morris, however, invented the tradition when, inspired by the German Sintram stories, he wrote the Wood Beyond the World. Burne-Jones, the great Pre-Raphaelite artist, did the illustrations — our genre is respectable!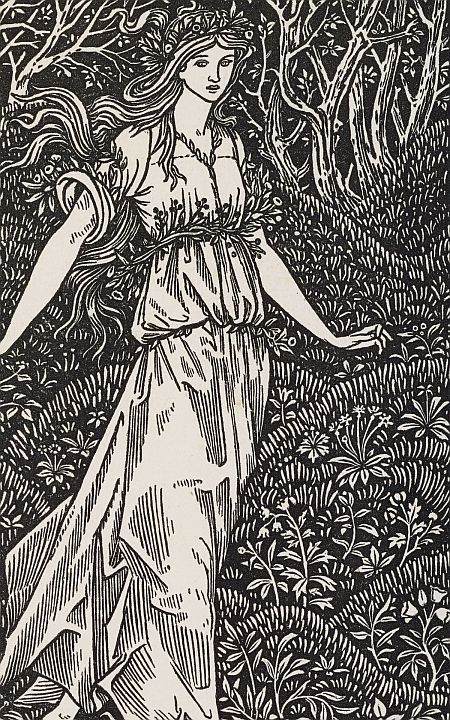 Burne-Jones illustration from The Wood Beyond The World by William Morris.
Then follow six chapters of enthusiastic and gossipy literary history tracing influence and innovation through to Tolkien. He's identifying a tradition, but also — I suspect — fixing it for all time. This book is probably the ultimate source of the imperative to explore the roots of the genre through reading Cabell, Dunsany and Edison. Carter is an honest Virgil, directing us to The Worm Orbourous, but rightly away from the lethargic Memison trilogy. He loves the Gormenghast books, but not the last. He enthuses us about the Islandia series, but admits modern readers may find them dull. We pass through the Pulp era — the names as familiar as those of the rock stars of a Woodstock line up — then learn about the British authors Hope Hodgson, TH White, and CS Lewis… all good stuff.
(But, is it good stuff? All this dusty old fiction evicted, often or not, from a dead man's library to languish in the shoe boxes of used bookstores and the donated shelves of charity shops? That's worth an article in its own right — but let me know what you think in the comments.)
Then we come to Tolkien.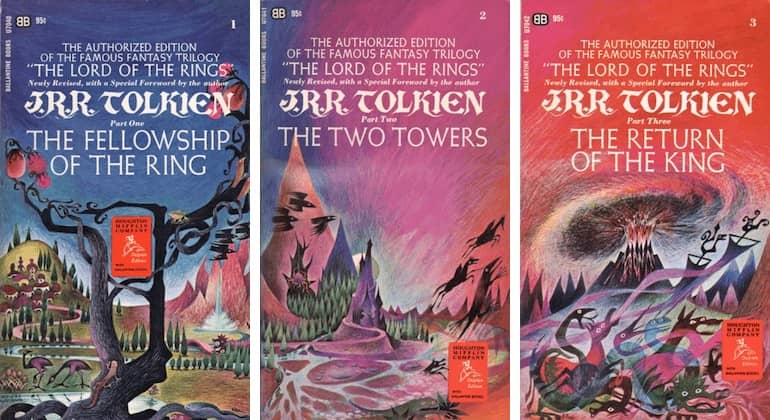 Covers by Barbara Remington
Lin Carter is not really a fan of Tolkien.
He's read the The Lord of the Rings three times, and loves one or two passages, but isn't in love with the whole.
It's tempting to dismiss his criticisms the way you would those of a lead guitarist in a student pub Blues band laying into BB King, especially when he calls Tolkien's prose pedestrian and his characters derivative. (Pot, Kettle…) However, if we grant him his editor hat, then he's worth listening to, particularly when he's agreeing with Fritz Leiber:
…The Lord of the Rings breaks down into certain favorite scenes and beloved characters, rather than lingering in the memory as a coherent whole.
Essentially, what my old English teacher used to say about Dickens: "Nice gargoyles, shame about the architecture."
For Lin Carter, part of the trouble is the "essential shallowness": for him, Tolkien's villains are either local and petty — Leiber calls them "miserable sneaks, bullies and cowards"– or else godlike and cardboard, but still as undramatically knocked over. Overall, he sees no attempt to explore the nature of evil. (Me? I think it's through the petty villains that Tolkien does explore evil; had Lin Carter been European and thus closer to the totalitarian regimes of the mid-20th century, he might have seen that.)
He praises Tolkien's worldbuilding, to which we can attribute the impact and longevity of LOTR. However, he points out the elephant in the tower: What? No organized religion? No temples. No swearing by this or that god's anatomy? How odd.
From there, via Erol Gardner's Weirdstone of Brisingamen and Lloyd Alexander's Prydain, we come up-to-date to the 70s and the LARPish Sword and Sorcerers Guild of America — SAGA — , dressing up and giving each other funny names. The real names are familiar enough to us: Le Sprague De Camp, Poul Anderson, Michael Moorcock… I'd love to have had a beer with them, perhaps they would have made me "the Marshal"?
It's at this point that, from a writerly point of view, things get interesting, because now Carter turns to his thoughts about creating Fantasy, specifically on "world-making", including advanced techniques, and on crafting fantasy names — I'll talk about them next time.
---
M Harold Page is the sword-swinging author of Swords Versus Tanks. Go take a look at his latest novel, The Flying Tooth Garden Volume 1: The Jungle Tomb of the Ice Queen (A Reincarnation LitRPG)!