Nero Wolfe's Brownstone: Stay at Home – Days 50 & 52
Nero Wolfe's Brownstone: Stay at Home – Days 50 & 52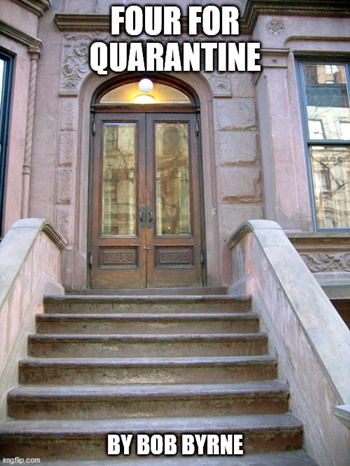 So, in 2020, as the Pandemic settled in like an unwanted relative who just came for a week and is still tying up the bathroom, I did a series of posts for the FB Page of the Nero Wolfe fan club, The Wolfe Pack. I speculated on what Stay at Home would be like for Archie, living in the Brownstone with Nero Wolfe, Fritz Brenner, and Theodore Horstmann. I have already re-posted days one through thirty-nine. Here are days fifty (May 10) and fifty-two (May 12). It helps if you read the series in order, so I've included links to the earlier entries.
Day Fifty – 2020 Stay at Home
No surprise that it's been quiet here in the brownstone. Getting out to investigate a crime at Lewis Hewitt's place was a flurry of activity during the lock down. With so many cases of the virus still being discovered daily, I've resisted the urge to call Bascom for a new assignment. Though, I may soon.
At lunch, Wolfe talked about the recovery of the American economy from the Pandemic. Supply chains, consumer fears of infection, strained cash reserves of businesses, social distancing and other health guidelines; It will be a slow return towards normal. Fortunately for him, and also for my paycheck, he expects clients to return. He was suitably grumpy at the prospect, of course. Work remains something to only undertake when forced by circumstances.
But crimes continue. And there will be more crimes of the type clients bring to him, as activity 'out in the world' increases. Which will keep him in beer, books, food, and flowers. I may have to practice badgering him into taking on jobs. I've gotten out of the habit.
*******
Nathaniel Parker, the only lawyer Wolfe uses, called after lunch. He said that he would have stopped by, but, not these days. I asked him what we could do for him. Parker had gotten me bailed out of the city jail more than once, and I would stretch a favor for him.
"I know that Wolfe doesn't take this kind of thing on at all, and you don't do it, either." He cleared his throat apologetically. "A, ahem, friend of mine posted bail for a relative."
"And he skipped?"
"Yes. She's rather a good friend of mine. And if she were to lose the money she put up, it would cause her significant financial difficulties. I offered to assist, her but she wouldn't hear of it."
"And you want me to find this relative and bring him in?"
"Well, yes. That's it. I would pay whatever fee you would charge, of course."
I thought about it. I didn't want to make a practice of asking Wolfe to take on solo jobs. Of course, if Parker framed it as a favor, Wolfe would agree. It wouldn't hurt that I should be able to solve it without his help, so he wouldn't be adding any unpleasant work into his day. But I hated bounty hunting jobs. There wasn't anything good about them. Then I had an idea.
"You know Fred Durkin. He's pretty good at this kind of job. Why don't I have him call you? I can help if it turns out to be too big, but that seems unlikely."
"I suppose…you say that Durkin would do well with this?" He sounded doubtful.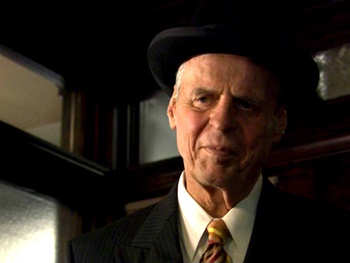 "He most certainly would. And you've got me as an ace in the hole. What could be better?"
"If you say so, I guess that could work."
"Relax. I know for a fact that Fred is ready to get out there and work. He'll give you all he's got. Expect a call today."
He rang off. Fred would owe me one for throwing some money his way; and getting him out of the house.
*******
I showed Fritz a classic last night. Mister Roberts takes place on a US Navy cargo ship in the Pacific during World War II, but it's not really a war movie. And it's loaded with humor, but it's not really a comedy. What it is, from start to finish, is a great movie.
James Cagney got to revive his tough-guy gangster persona, but it's not parody at all. He's a tyrannical captain and perfect for the part. Henry Fonda is the title character, trying to blunt the captain's cruelty, while also trying to get reassigned to a combat posting before the war is over. And a young Jack Lemmon, playing Ensign Pulver, provides the comic relief.
And for a movie that takes place entirely aboard ship (even the port scenes take place at ship side) it's got brilliant use of a palm tree!
Day Fift-Two – 2020 Stay at Home
The Coronavirus may cause the impossible to happen. Yes, the National League may adopt the designated hitter for this season. I used to consider the DH an abomination, as it takes away from strategy and decision making. But over the years, I got tired of watching pitchers bat. And when managers started bringing lefties in to face one batter, and using three pitchers in the same inning, the pinch hitting aspect became almost irrelevant. I wouldn't start a petition to add the DH to the National League, but I wouldn't quit watching if it happened.
It would only be for this season, and only for 82 games, if they go with the shortened season. Playing in empty stadiums, with no fans. It's not the baseball I want, but we're going to be living in a different world than before, for some time. If I have to watch a game on television, or listen to the radio broadcast, it's still the Mets playing baseball. Given that the alternative is the Korean League, I'll take what I can get. Of course, the owners and the players have to agree on a deal, and I'm sure that greed will cause a fight. But hopefully, come July, the National Pastime will resume.
*******
Fred called before dinner. He was having a hard time running down that bail jumper. Sources of information were harder to come by in the Pandemic world we're living in. He did tell me that Parker's friend was a widow named Evelyn Lanham. The bail jumper was her step-son, who seemed to have a problem behaving. Which included losing all of the money his father, her husband, had left her upon his death. Which wasn't a barrel full to begin with.
I asked Fred if he needed my help, but he declined. I think he was enjoying his time out of the house. He would work a full day, coming home some time after dinner, and tell Franny that he was trying his best (which he would be), but it was a tough one, with people not around, and no one wanting to talk to strangers. Frazzled from a day home alone with the kids, she would be skeptical.
I'd put in a little shoe leather if he didn't make some progress in the next day or two. We were doing this for Nathaniel Parker, after all.
*******
And Wolfe blew up at dinner. Apparently, meatless lasagna wasn't a viable option. Fritz explained that there would be a beef delivery tomorrow, and we did have some chicken, but he didn't feel that was appropriate for tonight's lasagna. Wolfe was beyond churlish – that's a word I learned working for him; And which I saw in action more than once – and refused to eat it. He insisted on two hard boiled eggs and toast. I had three servings, along with Fritz's jalapeno cornbread, and savory asparagus. I made sure to compliment him profusely as Wolfe ate his toast. He was so irritated that he didn't even hold forth and lecture on some topic. I quite enjoyed a quiet meal.
*******
With Wolfe grumpy, I watched a movie in the front room with Fritz, as soon as he was finished cleaning up after dinner. Fritz doesn't let it show, but sometimes when Wolfe attacks his cooking, after he's done being mad about it, he's sad. He doesn't like Wolfe's disapproval. Even though I try to convince him the problem is Wolfe, not him. I knew he wasn't happy about tonight. So, I pulled a classic comedy out for him: A Day at the Races.
He said he had seen it before, but he's seen most of the The Marx Brothers movies, and he wanted to see it again. Who can't laugh at Dr. Hackenbush? Or 'tootsie fruitsie'? We had ice cream with hot, crushed blueberries. It was an enjoyable evening. More so knowing the Wolfe was still sulking in the office.
Stay at Home
Nero Wolfe's Brownstone: Stay at Home – Days 1 and 2
Nero Wolfe's Brownstone: Stay at Home- Days 3 and 4
Nero Wolfe's Brownstone: Stay at Home- Days 5, 6, and 7
Nero Wolfe's Brownstone: Stay at Home- Days 8, 9, and 10
Nero Wolfe's Brownstone: Stay at Home- Days 11, 12, and 13
Nero Wolfe's Brownstone: Stay at Home Days 14 and 15
Nero Wolfe's Brownstone: Stay at Home Days 16 and 17
Nero Wolfe's Browsnstone: Stay at Home – Days 18 and 19
Nero Wolfe's Brownstone: Stay at Home – Days 20 and 21
Nero Wolfe's Brownstone: Stay at Home – Days 22 and 23
Nero Wolfe's Brownstone: Stay at Home – Days 24 and 25
Nero Wolfe's Brownstone: Stay at Home – Day 26
Nero Wolfe's Brownstone: Stay at Home – Day 27
Nero Wolfe's Brownstone: Stay at Home – Days 28 and 29
Nero Wolfe's Brownstone: Stay at Home – Day 30
Nero Wolfe's Brownstone: Stay at Home – Day 31
Nero Wolfe's Brownstone: Stay at Home – Days 32 and 33
Nero Wolfe's Brownstone: Stay at Home – Days 34 and 35
Nero Wolfe's Brownstone: Stay at Home – Day 36
Nero Wolfe's Brownstone: Stay at Home – Day 37
Nero Wolfe's Brownstone: Stay at Home – Day 38
Nero Wolfe's Brownstone: Stay at Home – Day 39
Nero Wolfe's Brownstone: Stay at Home – Days 40 & 41
Nero Wolfe's Brownstone: Stay at Home – Days 42 & 43
Nero Wolfe's Brownstone: Stay at Home – Days 45 & 46
Nero Wolfe's Brownstone
Meet Nero Wolfe
The R-Rated Nero Wolfe
Radio & Screen Wolfe
A&E's 'A Nero Wolfe Mystery'
The Lost 1959 Pilot
The Mets in "Please Pass the Guilt"
A Matter of Identity (original story)
3 Good Reasons
3 Good Reasons – 'Not Quite Dead Enough'
3 Good Reasons – 'Murder is Corny'
3 Good Reasons – 'Immune to Murder'
3 Good Reason – 'Booby Trap'
The Greenstreet Chronicles (Pastiches based on the Radio Show)
The Careworn Cuff – Part One
The Careworn Cuff – Part Two
The Careworn Cuff – Part Three
---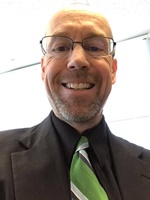 Bob Byrne's 'A (Black) Gat in the Hand' made its Black Gate debut in the summer of 2018 and will be back yet again in 2022.
His 'The Public Life of Sherlock Holmes' column ran every Monday morning at Black Gate from March, 2014 through March, 2017. And he irregularly posts on Rex Stout's gargantuan detective in 'Nero Wolfe's Brownstone.' He is a member of the Praed Street Irregulars, founded www.SolarPons.com (the only website dedicated to the 'Sherlock Holmes of Praed Street') and blogs about Holmes and other mystery matters at Almost Holmes.
He organized Black Gate's award-nominated 'Discovering Robert E. Howard' series, as well as the award-winning 'Hither Came Conan' series.
He has contributed stories to The MX Book of New Sherlock Holmes Stories – Parts III, IV, V, VI and XXI.
He has written introductions for Steeger Books, and appeared in several magazines, including Black Mask, Sherlock Holmes Mystery Magazine, The Strand Magazine, and Sherlock Magazine.