Nero Wolfe's Brownstone: Stay at Home – Day 55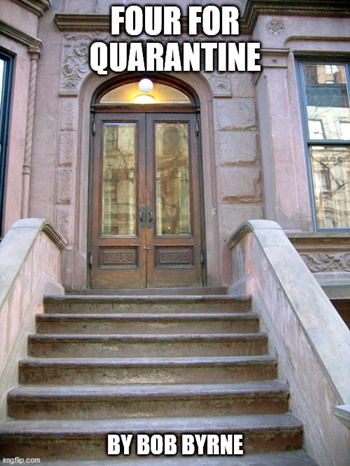 So, in 2020, as the Pandemic settled in like an unwanted relative who just came for a week and is still tying up the bathroom, I did a series of posts for the FB Page of the Nero Wolfe fan club, The Wolfe Pack. I speculated on what Stay at Home would be like for Archie, living in the Brownstone with Nero Wolfe, Fritz Brenner, and Theodore Horstmann. I have already re-posted days one through fifty-two. Here is day fifty five (May 15). It helps if you read the series in order, so I've included links to the earlier entries.
Day Fifty Five – 2020 Stay at Home
I had to step out and help Fred find Evelyn Lanham's step-son, Jason. Apparently not satisfied with wasting all of his late father's money, he wanted to break her; thus the bail-jump. He was hiding out in a rented room above a bar down near the docks. Since the bar wasn't doing much business, it wasn't a bad spot. Fred got the initial lead but ended up stuck and I got him the rest of the way. The guy got loose from Fred and dashed through the kitchen and then out the back door, which was where I, ever the good operative, happened to be standing. I lent our quarry a hand. Or rather, a foot. He didn't seem to appreciate the gesture. Parker was happy with us, and since it was a favor, no payment was necessary.