Nero Wolfe's Brownstone: I Know That Actor!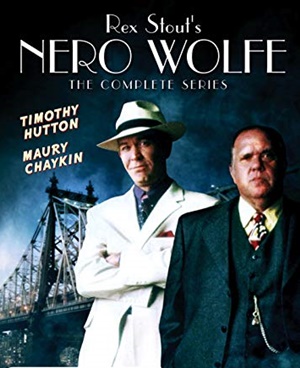 If you're a FB friend of mine (and why wouldn't you be?), you are aware that I like to play 'I Know that Actor' there. I even wrote this post about it for Black Gate. It started with my love of Columbo. I would snap a screenshot of a guest star, and talk about that character, and other roles I liked them in.
Other folks would often leave a comment about that actor. I've 'played the game' with many other shows I watch/re-watch, such as Monk, Psych, White Collar, Burn Notice, The Rookie; lots of shows have familiar faces pop in.
If you know me at all, you know that Rex Stout's Nero Wolfe is my favorite mystery series. And I LOVE A&E's too-short TV series. Which I wrote about here. That show had a repertory cast. It was a Canadian production, and I often see folks on other shows (especially Murdoch Mysteries, and Hallmark Christmas flicks). So, I often do a variation of the actor game, over on the Wolfe Pack FB page. I gathered up the posts I could reasonably find and made today's post!
As the pic to the left shows, Maury Chaykin and Timothy Hutton were the co-stars. I have posted Chaykin in Powers Boothe's terrific Philip Marlowe series. I think that he's best-known as the 'No Southern gentleman' testimony on instant grits in My Cousin Vinnie.
Hutton most notably (for me) starred in the terrific USA Network show, Leverage. Due to a rape allegation made 25 years after the alleged incident (the complaint was dismissed) he was left out of the reboot, Leverage: Redemption.  Season one of the reboot was good. Season two was a disappointment, as they turned Parker into comic relief. She was as big a doofus as Nigel Bruce's Dr. Watson. Ruined the reboot for me.
But below are spottings of quite a few other faces from the show.