Nero Wolfe's Brownstone: A Nero Wolfe Mystery
Nero Wolfe's Brownstone: A Nero Wolfe Mystery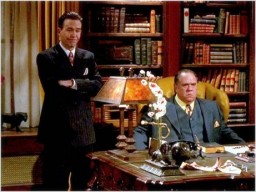 We're in to March and The Public Life of Sherlock Holmes has made it to three years here at Black Gate. Every Monday morning, I've written about a thousand words about some topic I hoped would be interesting, without missing a deadline. I've thoroughly enjoyed this column and very thankful that Black Gate was willing to let me ramble on about a wide range of topics. For I certainly did that!
But I'm having trouble keeping up with the demands of weekly blogging (I know it appears I just slap these things together, but I actually do a lot of reading and research) and there are a couple of writing projects I want to tackle in 2017, and for me as it is for most folks, time is a scarce commodity. So, I'll be wrapping up The Public Life of Sherlock Holmes with the March 20th post. I convinced the powers that be here not to put a restraining order on me at Black Gate World Headquarters (in large part by signing over all future post royalties…) and I'll be allowed to post something once in a while. And I'm going to continue contributing to the Modular column. This is a great blog to write for and I'm pleased to still be part of the family. If still the odd cousin that doesn't get talked about at the reunions.
One of my two major writing projects for the year involves my favorite mystery series, Rex Stout's Nero Wolfe.
In early 2000, A&E aired a one-off movie, The Golden Spiders. It starred Canadian Maury Chaykin as Rex Stout's famous detective, Nero Wolfe, and Timothy Hutton as his man Friday, Archie Goodwin. Reviews were positive and a year later, the first of an eleven-episode series aired, The Doorbell Rang.
Sixteen more episodes came in 2002, of which four were two-parters (there had been three long-players the prior year). The show was independently produced and partially subsidized by A&E. But reportedly costs rose to a million dollars an episode and the show was, sadly, nay, tragically, cancelled after the second season.
First off – if you are unfamiliar with Nero Wolfe, I've written a few posts here at Black Gate about my favorite detective series. Such as this one and this one. And I even wrote a pastiche based on an old Wolfe radio play. It's my favorite mystery series and I have no qualms about re-reading the stories over and over.
I remember the late Maury Chaykin (he passed away in 2010) as the self-respecting southerner who didn't use instant grits in My Cousin Vinny. But he was a very good Wolfe. Large but not obese, he had Wolfe's command of words and inflection. He seemed to yell more than the Wolfe of the books, but that's not really a flaw in a television portrayal of the detective. I've seen interviews that indicate he didn't particularly enjoy playing the character, but that certainly doesn't come through. I think he's easily the best Wolfe I've seen so far.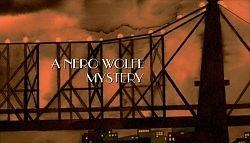 Timothy Hutton brought the star power to the show as the wise-cracking Archie Goodwin and he later directed and produced. His New York accent isn't quite right for the Ohio native, but he plays the part well. I think I actually prefer Lee Horsely in the seventies series starring William Conrad as Wolfe, but Hutton still delivers a fine performance. And most fans I know think he was right on the money, so it's minor quibbling.
The relationship between Wolfe and Archie is, to me, the heart of the series. And Chaykin and Hutton do a superb job of pulling it off. When Archie tears up his paycheck after a snippy comment from Wolfe in Prisoner's Base, it's exactly how I read it. The way the two actors play their characters and interact is one of the foundations of the show's success and it never falters.
Bill Smitrovich is THE Inspector Cramer. When I'm writing Wolfe stories, it's Smitrovich I see and hear as the words go down on the page. His scenes are usually among my favorites in an episode. Colin Fox is a solid Fritz, though his scenes are usually quite short. Saul Rubinek played Saul Panzer in The Golden Spiders but switched to Lon Cohen for the rest of the series, to good effect.
Conrad Dunn (Saul Panzer), Trent McMullen (Orrie Cather), Fulvio Cecere (Fred Durkin) and R.D. Reid (Purley Stebbins) all made frequent appearances. I mention them separately because this show featured an ensemble cast. A regular group of actors played different roles throughout the series. You might see George Plimpton (always fun to watch) as lawyer Nathaniel Parker one week and as the client the next. Kari Matchett, who played Lily Rowan (surprisingly, only twice), played eleven different characters: appearing as two different ones in a single episode. That's the only time I know of an actor with two roles in the same show.
But the rotating cast does a fine job and I don't mind the approach, though I have a few friends who didn't like these repeat performances. You'll see many faces that look familiar and send you scurrying to IMDB.com to see where you know them from, such as Debra Monk.
Visually, the show is a treat. Most of the episodes are set in the forties and they did a first-rate job in recreating the era. Archie's outfits are fun to see and both exteriors and interiors bring back the past. I would assume that the cost of designing and constructing these sets and filming the outdoor scenes played a significant part in the final decision to cancel the series.
Every episode was based on one of Stout's original stories and significant amounts of dialogue were left in, verbatim. I've watched several episodes immediately after reading the stories they were based on and while there are, of course, variations, it's hard to imagine a successful series being much truer to the source material than A Nero Wolfe Mystery is.
And the often-jazzy soundtrack, with music from Michael Small, is outstanding. I love the intro song, and they would often do a variation on it for other episodes – usually with neat graphics playing on screen. Throughout an episode, the music strengthens the show and I wish somebody would put out an official soundtrack release. Here's the intro to Murder Is Corny.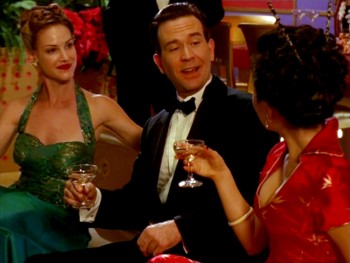 Somewhere on the Internet (but unfindable by me: some mystery blogger I am) is a good essay about this show and how it got cancelled in part due to the cost, but also because A&E had new leadership and was making its transition from a good network to the trashy, reality show-based one that it is now. And Nero Wolfe went on the chopping block because quality, well-made dramas didn't have a place at A&E anymore. They still don't.
Jeremy Brett's Sherlock Holmes series for Granada TV is the standard for the great detective (BBC Sherlock newcomers – sorry). And David Suchet's brilliant performance in making every Hercule Poriot episode that Agatha Christie wrote is unlikely to be surpassed. I am convinced that if A Nero Wolfe Mystery had been given two more seasons and about another two dozen episodes, it would have achieved the same level of recognition and praise. As it is, I have a hard time envisioning a better Wolfe adaptation coming. Heck – I don't see any Wolfe tv show on the horizon.
After the series was cancelled, a few principals, including Timothy Hutton, hoped to produce another television movie (presumably a two hour episode), but it never happened and with Maury Chaykin's passing, it's unlikely this group will be the ones to continue the Wolfe saga.
I have the box set of the entire series and it's in my DVD player right now, as I'm re-watching Prisoner's Base, having just finished re-reading the story. Several, if not all, of the episodes can be found on YouTube. If you like the Wolfe stories and haven't seen this show, you are really missing out. In fact, I watched a couple episodes and liked them so much, that's what impelled me to go buy my first Wolfe book and read it (I'm late to the Corpus party).
And even if you've never read any Wolfe, it's a pretty good period detective series and you should give it a try.
---
You can read Bob Byrne's 'The Public Life of Sherlock Holmes' column here at Black Gate every Monday morning.
He founded www.SolarPons.com, the only website dedicated to the 'Sherlock Holmes of Praed Street' and blogs about Holmes and other mystery matters at Almost Holmes.
He has contributed stories to The MX Book of New Sherlock Holmes Stories – Parts III, IV and V (and the upcoming VI).