Looking for a Heist Show? Lemme Tell You About 'Leverage'
Looking for a Heist Show? Lemme Tell You About 'Leverage'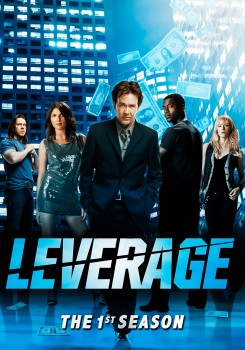 I recently rewatched most of the episodes of Leverage, which streams 24/7 on a Pluto TV channel. I had watched every episode during the initial run on TNT, from 2008 through 2012. It's said to bear a strong similarity to a British show called Hustle, which aired from 2004 through 2012, though I've not seen the latter. Leverage is a throwback to the classic caper/heist movies of the sixties and seventies. If you like Mission Impossible, or Ocean's Eleven – or even The Rockford Files, for a feel good tone – this is your kind of show, developed by Dean Devlin. Devlin wrote the screenplay for the Will Smith smash, Independence Day.
Timothy Hutton, who I've written about as Archie Goodwin in A&E's A Nero Wolfe Mystery, is the show's star, though it's as ensemble-centric as you're likely to find. Nathan Ford had been the best insurance investigator in the business (maybe Johnny Dollar trained him), but then the mega-company he worked for refused experimental treatment for his critically ill son. When the son died, Nate went off the rails. Job, marriage, everything: he becomes an unemployed alcoholic.
In The Nigerian Job (the pilot), the chance to get back at his former employer draws Nate to team up with three thieves he had pursued before. They form a team to retrieve some stolen airplane plans which had been stolen in the first place. The con goes awry when the client, played by the excellent Saul Rubinek (another Nero Wolfe regular), double crosses the team. Nate adds a fourth member to the team, plans a new con, and they take down the client, for a satisfactory ending. In episode two, The Homecoming Job, a soldier wounded in Iraq comes to Nate for help. Nate summons the team from around the world for another job, and Leverage Consulting & Associates is born.
Nathan is represented as an honest man, who knows all the ins and outs of thieves. Which makes him the perfect head for the team. Dungeons and Dragons players know that a well-rounded party is of great benefit. Computer-generated parties often give you a fighter, a thief, a magic user and a cleric of some sort. That's so the party has the myriad of skills required for different demands. The Leverage team is built on the same principle.
Sophie Deveraux, played by Gina Bellman, is a grifter. She was the late addition to the team. As an attractive female who is also an actress (in the role), she is an asset to any con. She also has the strongest emotional ties to Nate as the series progresses, and is the only one who can get through to him when despair and his recurring alcoholism come into play. She becomes Nate's voice of reason, though she's often unsuccessful at it. Bellman had starred in the British show, Coupling.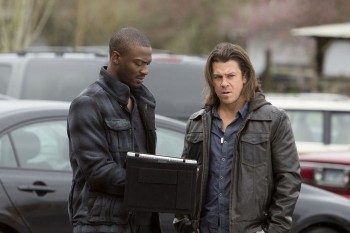 Alec Hardison, played by Aldis Hodge, is the hacker. His catch phrase becomes, "Age of the Geek, baby." Eliot (and others poke fun at his online RPGing. He can hack anything, anywhere, anytime. Within HQ and in his command center on a con, he is well-equipped. But even when he has to improvise in the field, he always comes up with the needed hacks. And he does some extremely intricate stuff. He also plays an under cover character in many, if not most episodes, letting Hodge show off his acting skills. He forms a friendship with Eliot. Hodge had been Ray 'Voodoo' Tatum on Friday Night Lights.
Christian Kane is Eliot Spencer. He's the muscle. He is by no means dumb; and he has other skills, including being a chef, which results in one of my favorite episodes, The French Connection Job. In the first episode, Hardison is boasting to Eliot about what he has done for the con, and he taunts Eliot for not doing anything. Then, confronted by armed thugs, Eliot very impressively disposes of them and says, "That's what I do." It's an excellent way of showing what he brings to the group. He is fierce, committed to the job, has a soft heart for victims (especially abused children) and is willing to take serious beatings. planned and not, for the job. The episode where he is an MMA fighter is as brutal as the show gets. When Nate is off the rails, he sometimes reaches out, but with a measured, tough-love approach. Kane went on to star in Devlin's next two series', The Librarians, and Almost Paradise.
Beth Reisgraf is Parker, a thief and a cat burglar. An orphan, she isn't good at emotional attachments. She is fearless, gets a rush from dangerous stunts – like jumping down an elevator shaft – and enjoys the game of the con more than the others. She develops a closeness with Hardison, during the series.
All of the characters have emotional arcs during the series, which gives them depth. All of them were loners, but they learn the benefits of team work. Their frames of reference shift to being the good guys, rather than just criminals (Nate excluded). There's a fully developed aspect to each character individually, and as a team. So, there's more going on than just the con each episode.
And the cons are elaborate. Once the show settles in during episode three, the premise is that sometimes, the system fails innocent people. And the normal structures can't help them. Bad guys get away with bad stuff and good people suffer. Nate's team provides, 'leverage. Reminds me a little of The Equalizer, but without all the dark aspects.
So, with a few exceptions, somebody who has been wronged, be it a crooked contractor stole their home, or a corporation stole an idea, or a music label steals from its artists (The Studio Job is another fun episode), et al, comes (usually to Nate) to ask for help. And the team sets up an ELABORATE con job to take down the bad guys. With each member of the team making a significant contribution. Though circumstances usually require a major change in plans, they always win, and the criminal pays a price. Though, there are a few recurring bad guys.
The plots are convoluted, but make sense. There are flashbacks that show what happened, to explain how things happened the way they did; often showing actions by the team that were key steps in the con. They almost always relate back to a scene already shown, so you get a deeper understanding of that scene.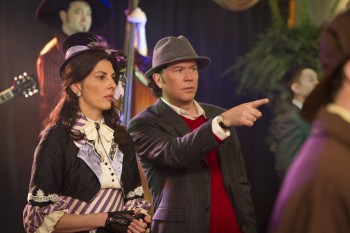 Quite simply, this is a clever, well-written show. It's smart, and never condescending or self-congratulatory (I say that as a former fan of BBC Sherlock, a once-great show which became both of those things). It continually comes up with con variations, even though it follows the same basic plot each week. There are a few ongoing story lines spaced throughout the seasons, and a couple two-parters. But you get new twist on the same theme each week, with the character development added in. It's a winning formula.
Nate's ex-wife is played by Kari Matchett, another A Nero Wolfe Mysteries veteran. She appears in four episodes and is a part of his character arc. When Gina Bellman got pregnant in real life, Jeri Ryan of Star Trek:Voyager fame (and the under-appreciated Body of Evidence) joined the team as a replacement grifter. Among the other guest stars was Will Wheaton as an unlikable hacker, and Hardison's nemesis.
The show ran for seventy-seven episodes, and they got to wrap it up properly in The Long Good-bye Job (tip of the hat to Raymond Chandler there). The final scene even showed how the revamped Leverage team would be operating, going forward. It was a satisfying finale.
I can honestly say that I'd have to quibble to find a bad episode. There are a couple during the re-watch that didn't grab me, but they were still okay. And I can point to a couple favorite episodes every season. The show never even came close to jumping the shark.
It was recently announced that IMDBtv is rebooting the show, with Eliot, Parker, and Sophie as regulars. Aldis Hodge is currently co-starring in City on a Hill, so Hardison will only be a recurring character. Noah Wylie, who worked with Dean Devlin in The Librarians, is replacing Timothy Hutton. Hutton was charged early this year with the alleged rape of a minor, thirty-seven years ago. He has denied the charge, but it's likely the reboot left him out because of it. I'm assuming they'll write Nate Ford off the show, and Wylie will be a different kind of leader. He certainly is good at the breezy-type of character. Someone else may have to step in and play the 'stay on task' type of role.
You can catch Leverage on PlutoTv, where it runs through every season, nonstop, in less than a week. And I believe it's free on IMDBtv as well. You don't have to start at the beginning, though it's easy to do so, and the ones with recurring plot points will make more sense. Definitely don't watch the final episode first! It's got action, character, good scripts, and it's not dark. I can't think of a better caper/heist show to recommend.
---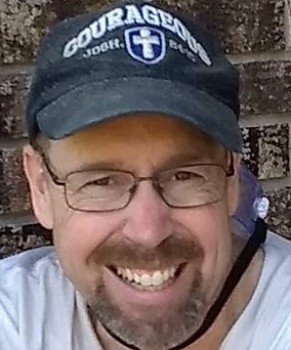 Bob Byrne's 'A (Black) Gat in the Hand' was a regular Monday morning hardboiled pulp column from May through December, 2018 and again from August through December, 2019. 
His 'The Public Life of Sherlock Holmes' column ran every Monday morning at Black Gate  from March, 2014 through March, 2017 (still making an occasional return appearance!).
He organized 'Hither Came Conan,' as well as Black Gate's award-nominated 'Discovering Robert E. Howard' series.
He is a member of the Praed Street Irregulars, founded www.SolarPons.com (the only website dedicated to the 'Sherlock Holmes of Praed Street') and blogs about Holmes and other mystery matters at Almost Holmes.
He has contributed stories to The MX Book of New Sherlock Holmes Stories – Parts III, IV,  V, VI and XXI.