Adventure and Tragedy on a Far Future Earth: Keith West on Zothique by Clark Ashton Smith
Adventure and Tragedy on a Far Future Earth: Keith West on Zothique by Clark Ashton Smith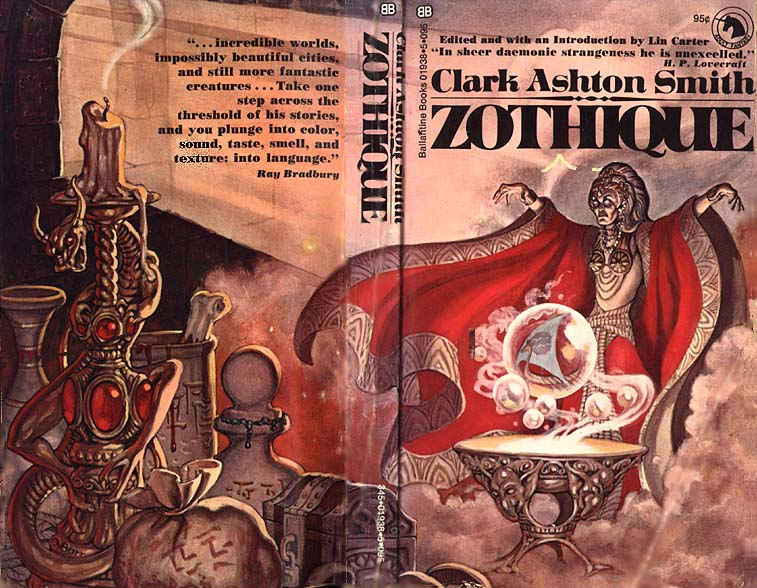 Zothique by Clark Ashton Smith. Ballantine Adult Fantasy #16, 1976. Cover by George Barr
Some years back Keith West wrote a series of articles for Black Gate on the legendary Ballantine Adult Fantasy series edited by Lin Carter. In fifteen pieces between 2013-2015 Keith covered the first fourteen or so titles, including The Blue Star by Fletcher Pratt, The King of Elfland's Daughter by Lord Dunsany, and The Doom that Came to Sarnath by H. P. Lovecraft. Yesterday I was delighted to see that Keith picked up the reins again at his own blog, Adventures Fantastic, to review the 16th book in the series: Zothique by Clark Ashton Smith. Here's a taste.
Zothique was the first of four collections of Clark Ashton Smith's short fiction that appeared in the BAF series. The wrap-around cover is by George Barr. (One of the best things about this line of books was their covers.)… Zothique is the last continent on a far future Earth in which much science and history has been forgotten, and magic has returned. If this reminds you of Jack Vance's Dying Earth, keep in mind Smith did it first. Some of the stories are better than others, but all are well-done. Here are a few of my favorites.

"Xeethra" tells the tale of a young man who wanders into a magical vale, and when he returns he travels to the far side of the continent, where he makes a bargain that ultimately brings him sorrow.
In "The Isle of the Necromancers," a man is searching for his lover, who has been kidnapped by slave traders. When his ship is caught in a current, he finds himself on an island of necromancers. And then things get interesting…
"The Dark Eidolon" tells the story of an abused beggar who returns years later to seek revenge on the prince who injured him. This is a close second for my favorite story in the book. There are passing references to Hyperborea and Poseidonis, two other story cycles Smith wrote that were collected in the second and third volumes of Smith's stories in the BAF series. Shucky darn, I guess I'm going to have to read those, too. How awful.
Check out the whole thing here, and Keith's previous articles for BG here. While you're at his website, leave a comment encouraging Keith to keep going! I'd love to read his thoughts on all 65 books in the set.