An Ignored 1952 Science Fiction Film
An Ignored 1952 Science Fiction Film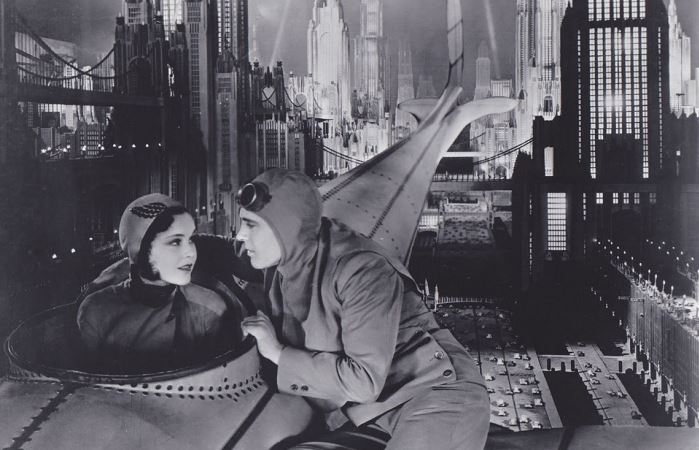 Just Imagine (Maureen O'Sullivan, John Garrick)
The history of science fiction cinematic musicals may not be broad, but it has depth, dating back to the very first science fiction "talkie." Just Imagine was made in 1930 and starred John Garrick, El Brendel, Frank Albertson, and Maureen O'Sullivan. Today, O'Sullivan may be the best remembered for her portrayals of Jane Parker opposite Johnny Weismuller in six Tarzan films beginning with Tarzan the Ape Man in 1932 and ending with Tarzan's New York Adventure a decade later. Unfortunately, Just Imagine doesn't work as a musical, as a science fiction film, or as a comedy. Its place in history is assured simply by the fact that it got there first.
One of the most success science fiction films is one that many, perhaps most, of the people who have seen it don't realize, or consider, to be a science fiction film. Released in 1952, it would have been eligible for a Hugo Award at the 11th Worldcon in Philadelphia where they were first given out, had there been a Dramatic Presentation Award, along with films such as Zombies of the Stratosphere, Radar Men from the Moon, Red Planet Mars, April 1, 2000, and Jack and the Beanstalk.
The film is Singin' in the Rain, starring Gene Kelly, Debbie Reynolds, Donald O'Connor, and Jean Hagen.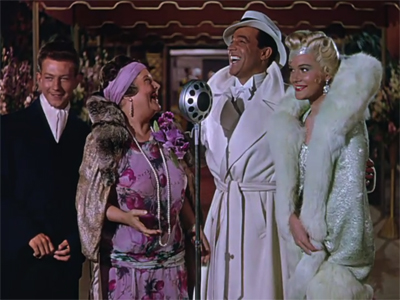 I know what you're thinking.  Singin' in the Rain is a love story between Debbie Reynolds and Gene Kelly set against the backdrop of 1920s Hollywood.  There are no spaceships, aliens, rayguns, or any of the other trappings of science fiction.  The closest anyone comes to being a mad scientist is Julius Tannen explaining what a talking picture is in the short film screened at the Hollywood party earlier in the movie.  And you're right, the film is lacking in all the traditional science fictional tropes, but Tannen's role provides the key to understanding the film is science fiction.
In the April 1975 issue of Natural History, Isaac Asimov wrote, "Science fiction can be defined as that branch of literature which deals with the reaction of human beings to changes in science and technology."
Tannen's appearance in the film kicks of its science fictional aspect.  Initially dismissed as "vulgar" and a party trick that "will never amount to a thing," by those who watched it, it isn't long before studio chief R.F. Simpson (Millard Mitchell) realizes it is the way of the future and he shuts down production until they can figure out how to handle the new technology.  Lives are about to be changed by the technological innovation.
Cosmo Brown (O'Connor), who had been providing mood music on a piano or violin for the actors, has suddenly been catapulted to lead the studio's now more important music department to provide music for the films.  Director Roscoe Dexter (Douglas Fowley) has to figure out how to film the actors without ambient sounds. Former silent film heartthrob Don Lockwood (Kelly) discovers he actually must learn lines and not just mouth platitudes. Perhaps the biggest and most disastrous personal change comes for Lina Lamont (Hagen), who can no longer get by on her looks alone, but must now speak when her natural voice does not lend itself to talking pictures and threatens the entire operation.
As the characters begin to deal with each issue raised by the new technology, new and unforeseen problems arise.  The sound needs to be synchronized, microphones need to be hidden in the set in ways that the wires are not visible or dangerous, and scripts need to be written and memorized.  New industries, such as dialogue coaches, based on the new technology spring up in the course of the film.
On March 14, 1953, only a year after Singin' in the Rain appeared in theatres, mystery author Raymond Chandler wrote a letter to H.N. Swanson in which he mocked the need of science fiction to explain the "science" behind everything. Although Chandler took his satire to extremes, he did have a point about much golden age science fiction (and much modern science fiction for that matter).
Singin' in the Rain is in a unique position as a work of science fiction.  Because it explores an historical era, screenwriters Betty Comden and Adolph Green did not have to explain the technology to an audience who could understand it, focusing instead on the way the new technology impacted the lives of those who were living through the change and their culture. Perhaps because they didn't have to resort to science fiction clichés in this examination, it continues to be overlooked as an exemplar of what science fiction can be.
---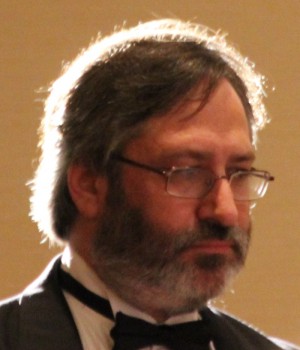 Steven H Silver is a seventeen-time Hugo Award nominee and was the publisher of the Hugo-nominated fanzine Argentus as well as the editor and publisher of ISFiC Press for 8 years. He has also edited books for DAW, NESFA Press, and ZNB. He began publishing short fiction in 2008 and his most recently published story is "Webinar: Web Sites" in The Tangled Web. His most recent anthology, Alternate Peace was published in June. His first novel, After Hastings, will be published by Eric Flint's Ring of Fire Press later this year. Steven has chaired the first Midwest Construction, Windycon three times, and the SFWA Nebula Conference 6 times, as well as serving as the Event Coordinator for SFWA. He was programming chair for Chicon 2000 and Vice Chair of Chicon 7.