Stories That Work: "Selfless" by James Patrick Kelly, and "I Met a Traveler In an Antique Land" by Connie Willis
Stories That Work: "Selfless" by James Patrick Kelly, and "I Met a Traveler In an Antique Land" by Connie Willis
Covers by Eldar Zakirov and Donato Giancola
Do you remember a German pop band called Nena and their single big song, "99 Luftballons"? No? Well, they were a one-hit wonder. How amazing is it, to be a one-hit wonder? Think of all the bands, playing in garages, trying their hardest to line up gigs, who never make the charts, whose songs are never heard by anyone other than family and friends. What do you think the ratio of unheard bands to one-hit wonders is?
Hard to calculate, but I'll bet it's huge.
Consider all the factors that have to come together for a song to rise to the prominence of "99 Luftballons," and then imagine how all the other bands vying for attention would give almost anything to have that single moment of success that Nena enjoyed.
Just one hit.
And then think of Linda Ronstadt or Bruce Springsteen and their numerous triumphs.
[Click the images for one-hit-wonder versions.]
Writing can be a lot like popular music. There are so many people doing everything they can to break into publishing, to "make the charts" as it were, and they haven't done it. I see hopeful authors at writing workshops and listening to writing panels at conventions and standing wistfully in front of the "how to write" section of the bookstore. I'm not talking about the self-published (there's a music equivalent of that now too), but the writers who would give anything for an appearance in Asimov's or Tor.com or Analog or The Magazine of Fantasy and Science Fiction or to score an advance for their novel from a legitimate publisher.
For them, a single sale to one of the major markets would be the equivalent of hitting the top 100 playlist for a musician. And winning a Hugo or Nebula or World Fantasy award? Well, that would be their "99 Luftballons."
Just one time.
What I want to look at today are a pair of authors who are the chart-toppings equivalents of Linda Ronstadt and Bruce Springsteen. Writers with not just one #1 hit, but ones who appear in the magazines and award lists over and over and over again. How do writers who achieve numerous times what can only be hoped for by so many even once make stories that work?
James Patrick Kelly is a good place to start. Jim's bibliography shows his first story publication in The Magazine of Fantasy and Science Fiction with a piece called "Death Therapy" in 1978 when he was twenty-seven (first sale in '75). Since then, he's sold over a hundred short stories, written and/or edited nearly twenty books, and published non-fiction and plays.
In short, he's "hit the charts" regularly, and he's won two Hugos, a Nebula and been a finalist for both numerous times, along with his other nominations and awards.
James Patrick Kelly cover stories in Asimov's Science Fiction. Clockwise from top left:
June 1986 (cover by J. K. Potter), June 1990 (A. C. Farley), December 2010 (John Picacio),
and the famous June 1995 issue, with "Think Like a Dinosaur" (Todd Lockwood)
His latest story, "Selfless," appeared in the Nov/Dec 2019 Asimov's. The main character, Joseph, was turned into a kind of sociopath by his mother when he was young. She did it to save him from the pain of self-doubt and loneliness, but it has left him as a person without an integrated sense of self. Since Joseph narrates the story without a belief in "I," the tale mostly looks like it's done in second person, which in another writer's hands often sounds too precious by half and can be difficult to maintain. That's why you don't see second person narration all that often.
Still, James manages to pull off this technical linguistic trick convincingly as we watch Joseph rotate through the different roles he now assumes: commuter, boss, son, father, etc. What he struggles with is his "hunter" self, the one that, like his mother, can take someone else's sense of self from them. In that role, Joseph becomes a kind of vampire of selfhood, except he doesn't get anything from the taking.
As you can tell, "Selfless" is a complicated story conceptually. Difficult to tell. It reminded me of Daryl Gregory's "Second Person Present Tense" or Alfred Bester's "Fondly Fahrenheit," which also explore the thorny question of what constitutes self, and what is the difference (if any) between being a person and playing the part of a person. How James makes the story work is a wonder and well worth your time.
A discussion of contemporary chart-topping authors would be laughably incomplete without talking about a grand master (literally) of science fiction, Connie Willis. With eleven Hugos, seven Nebulas, and a plethora of other awards since her fiction debut in 1970. Connie habitually achieves what others strive for just once.
A look at her 2017 novella, "I Met a Traveller in an Antique Land," shows some of the many ways she makes fiction work.
The opening plot device is recognizable. Her protagonist, Jim, a writer doing business in New York, chances upon a hole-in-the-wall bookstore while caught in a rainstorm. Of course, the bookstore is more than it appears, and as the story unfolds, Jim finds himself both deeper and deeper into the physical set-up of the shop and its true function.
I love magical shop stories. So do others, evidently. Tvtropes.org calls the subgenre "the little shop that wasn't there yesterday." What makes Connie's version successful and pushes the story beyond a simple reveal that the book store has unusual qualities is in her evocation of the wonder of New York City itself, and what it really means to love books as valuable, vulnerable, irreplaceable artifacts.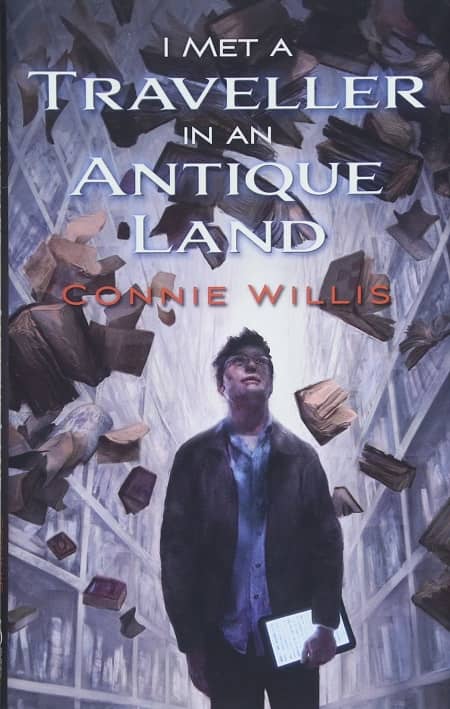 I Met a Traveller in an Antique Land by Connie Willis (Subterranean
Press deluxe hardcover edition, April 2018). Cover by Jon Foster
She also is an artist of the long scene. A considerable amount of the story is spent in Jim's exploration of the shop. Connie doesn't break this immersive sequence into bits by cutting away to flashbacks or jumping to other locations or points of view. She stays confidently with Jim, insisting the reader experience the discoveries and rising tension with Jim, as Jim, so the story can't be put down. Even a fairly jaded reader like myself found that I'd read several pages and forgotten I was reading. Instead, I was between bookshelves, scanning titles, opening doors, overhearing conversation, trekking down stairs, being the character. I laughed when I realized she'd achieved what the novelist John Gardner called "the uninterrupted fictional dream."
Connie reveres books, which comes through "I Met a Traveller in an Antique Land." Like Ray Bradbury, she champions books, imagination and reading. Her story would be right at home with Bradbury's "Usher II," "The Exiles," and Fahrenheit 451.
The danger for new writers when they look at James Patrick Kelly's and Connie Willis' long line of successful stories is to view them as unclimbable mountains. "I can't do this," they might say as they look at their first (or latest) rejection. I've talked to both writers about their beginnings. Of course, both were unpublished at first. Both faced the blank page with insecurities.
Along the way they learned how to make their unique voices and visions work for them. I heard that Stephen King was asked, "How can I become a writing success?" He said, "The secret is to be in the right place at the right time. Since you can't know when the right time will come along, you just need to get to the right place and stay there."
James Patrick Kelly and Connie Willis clearly have found the right place for them, at the top of the charts.
Some useful links:
James Patrick Kelly has an audio version of "Selfless" anyone can listen to here.
James Patrick Kelly's ridiculously long list of awards can be seen at here.
Connie Willis' also unbelievably long list of awards can be seen at here.
---
James Van Pelt lives in western Colorado. He has published five collections of short fiction — including Strangers and Beggars (2002), The Last of the O-Forms & Other Stories (2005), and The Experience Arcade and Other Stories (2017) — and two novels, Summer of the Apocalypse (2006) and Pandora's Gun (2015), all with Fairwood Press. His last Stories That Work article for us looked at stories from Dominica Phetteplace and Barbara Krasnoff.