19 Movies Looks at Mexican Horror Films of the 1950's-1960's
19 Movies Looks at Mexican Horror Films of the 1950's-1960's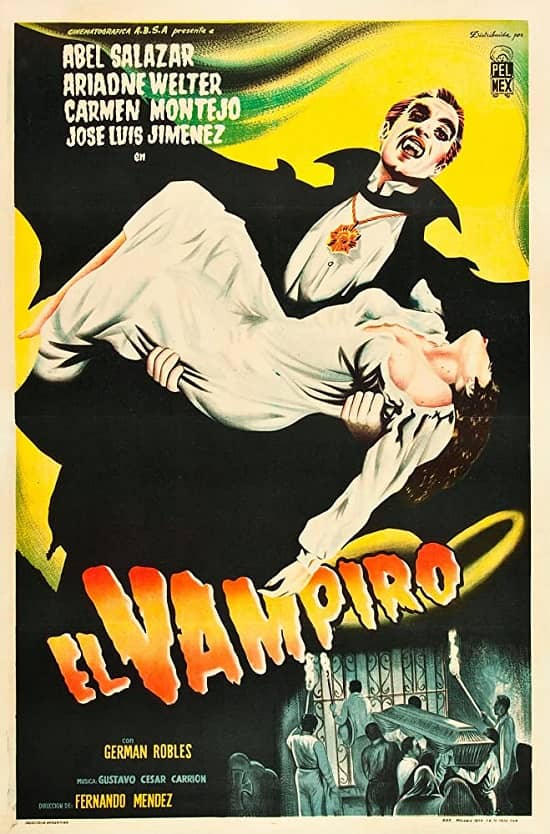 The Mexican horror film is definitely an under-served genre when it comes to availability in the U.S. market. Many of these movies are hard to impossible to find subtitled (my preferred format) or even dubbed, which I usually find more problematical than subtitling. This is by no means a comprehensive list, but I thought it might be useful to briefly cover a few titles you might not be familiar with. The following films are grouped chronologically rather than by quality.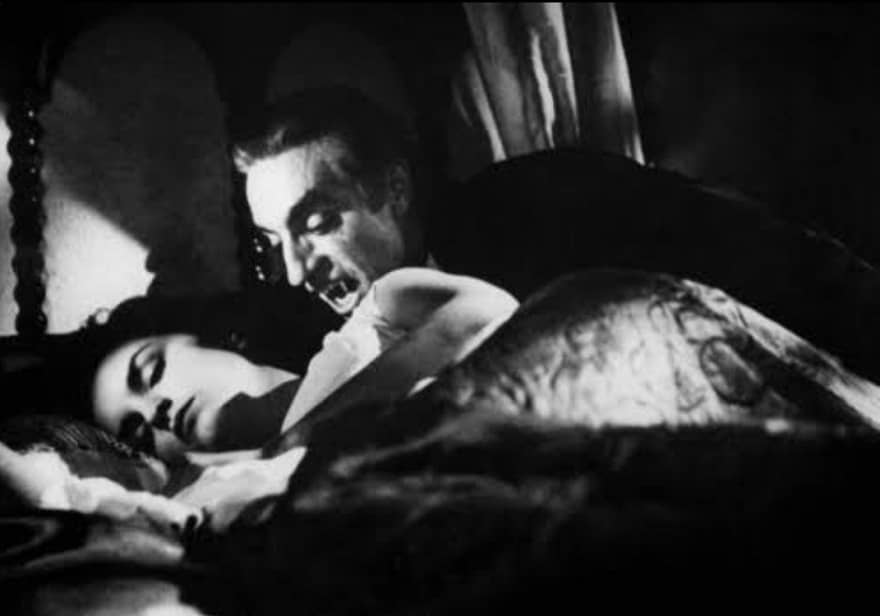 The Vampire (1957) (El Vampiro) — 9
Not that there weren't Mexican horror films prior to this, but The Vampire did unarguably start a boom that popularized the genre. Abel Salazar (he starred in and produced this and several others discussed below) plays an amiable doctor called upon to treat an ailing older women who, alas, has already succumbed before he arrives at her isolated country hacienda. Or has she? The Vampire is often compared to Universal's Dracula, and for good reason. It has a similar brooding atmosphere and utilizes many of the same vampire tropes. At the same time, many have also commented that it provides an interesting bridge between the Universal and Hammer Dracula films. The Casa Negra DVD (which also contains the sequel, The Coffin of the Vampire) is available on eBay, but is scarce and pricey.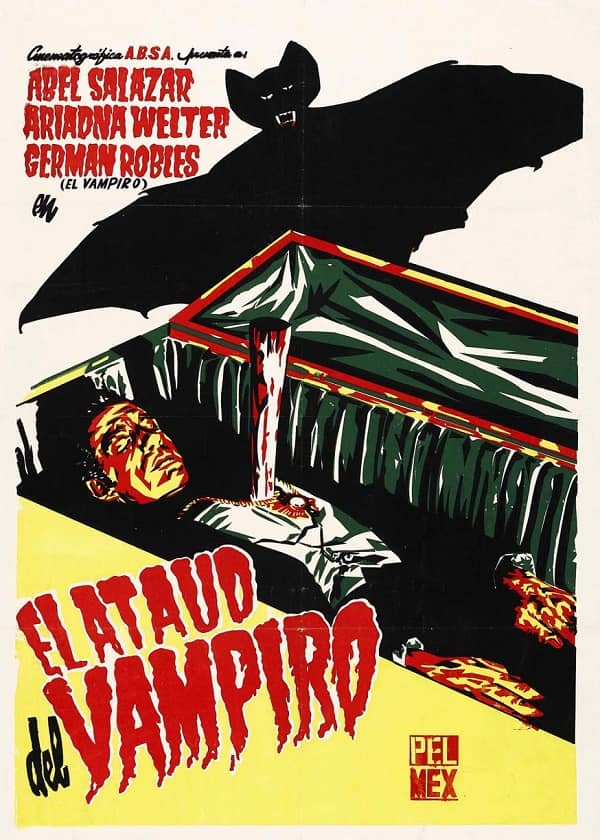 Coffin of the Vampire (1958) (El ataúd del Vampiro) — 8
The main characters from The Vampire reprise their roles, including protagonist Abel Salazar and German Robles as the good Count, in this direct sequel to. The setting moves from the countryside to an urban environment and loses some of the brooding atmosphere that drenched the original, otherwise it holds up pretty well, ending in a rather unique confrontation between Salazar and Robles.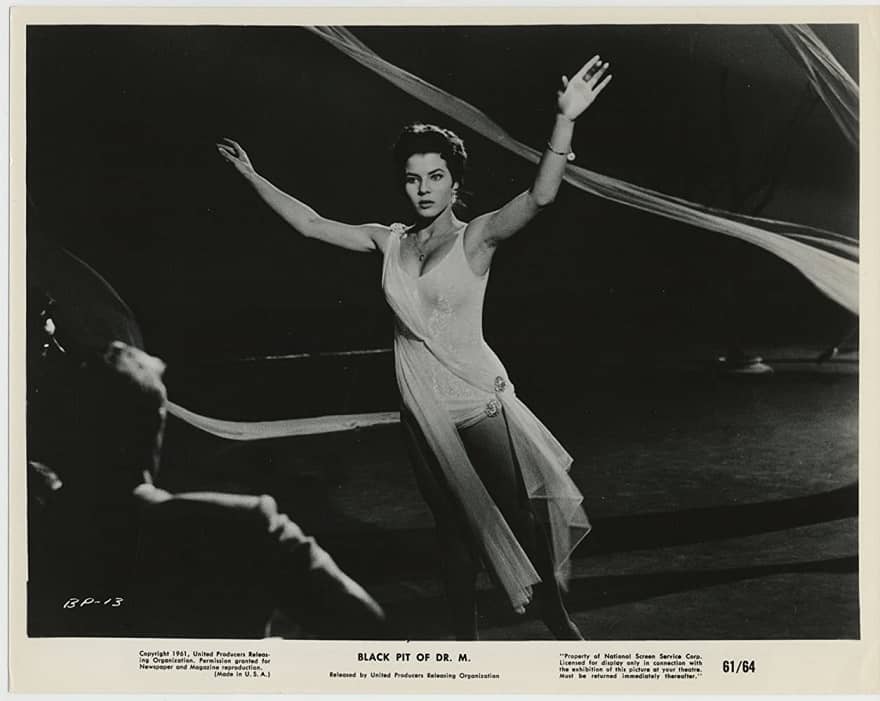 The Black Pit of Doctor M (1959) (Misterios de ultratumba: Mysteries From Beyond the Grave) — 8
I've got to say that I don't know quite where they got the English title, but it does sound rather more horrific. A somewhat confusing plot involving spiritualism which morphs into return from the dead (maybe) to deformed killer stalking asylum stocked with homicidal maniacs to wrongful conviction for murder and you've got a lot on your viewing plate. An overly melodramatic love triangle goos things up a bit, but this is still an entertaining ride. Needed Abel Salazar, somewhere. The Casa Negra release is moderately pricey but readily available on eBay.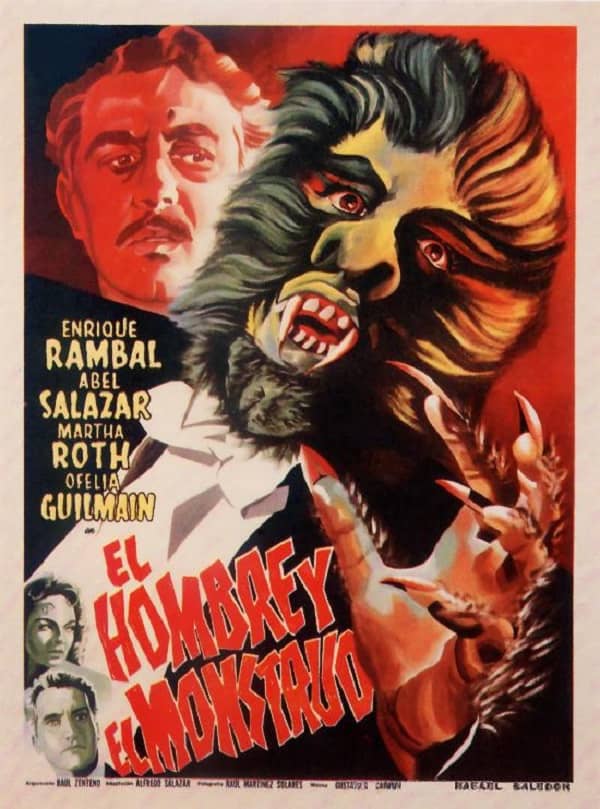 The Man and the Monster (1959) (El Hombre y el Monstruo) — 8
Combine Jekyll and Hyde with the Faust legend and you get The Man and the Monster, as a pianist plays a terrible price for the fame he so desperately seeks. Abel Salazar again stars as the everyman hero, this time as a music promoter searching for a vanished pianist who instead discovers a world of desiccated corpses, transmogrified maestros and satanic sonatas. The make-up effects are primitive by today's standards, but then this film wasn't made today. M'n'M is as moody and atmospheric as the best of the Mexican terror-fests. Several versions of this film are available on Ebay, but the Casa Negra release is, again, first rate.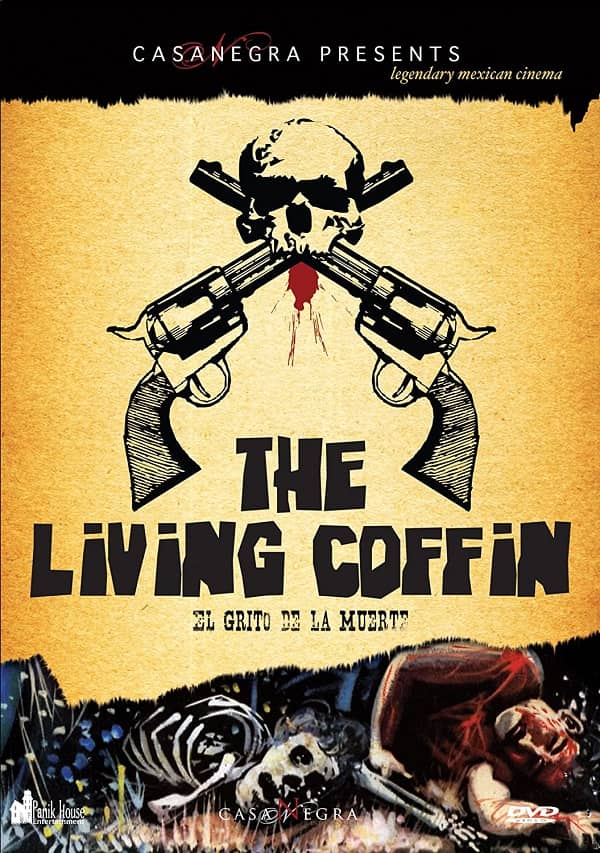 The Living Coffin (1959) (El grito de la muerte: The Scream of Death) — 6+
This film is a western/horror hybrid that was ultimately disappointing in that (spoilers) it turned out to be a Scooby Doo movie. It was filmed in color (unusual for these early Mexican horror or quasi horror films) which muted the atmospheric elements which I find so appealing. There are some horror tropes (premature burial, the legend of La Llorona or the Crying Woman, which was used to much greater effect in a film I'll cover in another installment) but these are all red herrings or out-right hoaxes as the plot turns upon much more mundane matters. The Casa Negra release is common and quite inexpensive on eBay.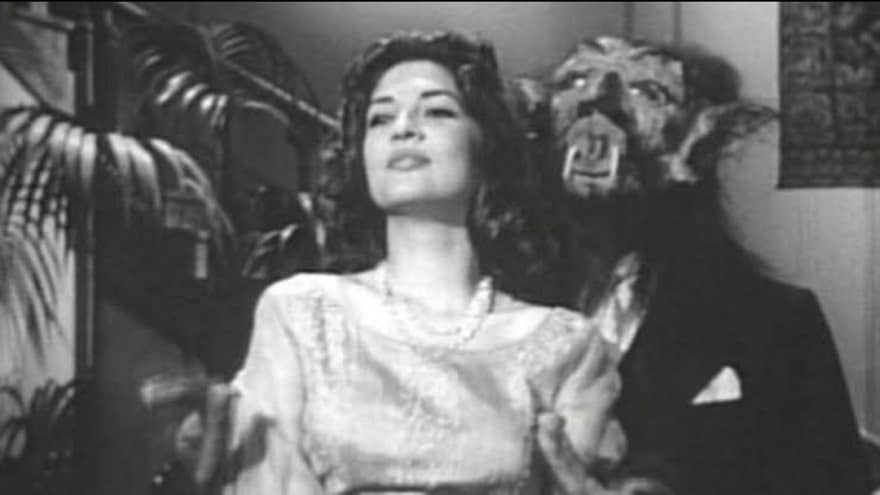 The Brainiac (1962) (El Barón del Terror) — 8+
The almost always affable Abel Salazar plays the villain in this one which ranks among my favorite Mexican horror fests due to its off the charts weirdness factor. The story begins in 1661 with the Inquisition burning a sorcerer at the stake for crimes too numerous to mention. As the flames consume him he vows revenge on the descendants of those who'd condemned him. Fast forward three hundred years and a comet (shades of Mario Bava's 1950's film Caltiki, which, while not actually a Mexican film, was filmed in Mexico) returns the Baron to the Earth as a brain sucking monster. There was a Casa Negra release, but it seems pretty scarce. Some lesser quality versions are available via eBay.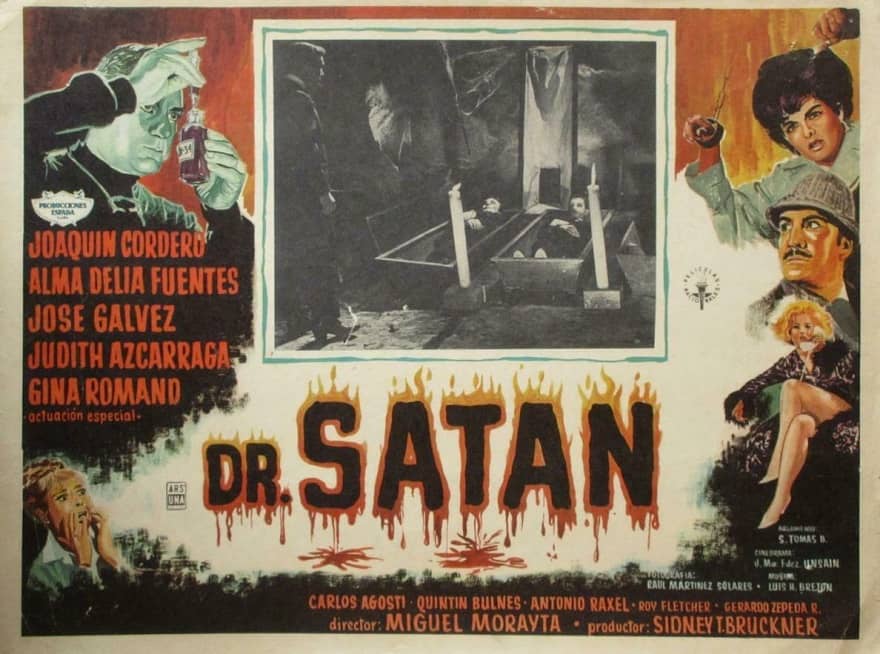 Dr. Satan (1966) — 7+
So there's this guy who goes by the name of Dr. Arozomena but for some reason is also known as Plutarco Satan who develops this serum that turn men into zombies, but just, I guess, to be double sure that it'll work, he also makes a deal with the devil to control his zombie slaves. Also, on the side he dabbles in passing counterfeit money. This brings him afoul of chubby Interpol officer Mateos and his assistant Nora. All of this is presented in a totally deadpan manner like, yeah, some guy who makes deals with the devil would ALSO be passing counterfeit bills on the side. Like so many of these Mexican movies, its highly atmospheric and spooky, especially the scenes where Dr. Satan dials up Satan. Dr. Satan is played by Joaquin Cordero, who was one of Mexico's greatest movie stars with an IMDB credit list of over two hundred titles. A nicely subtitled version of this film is available through Trash Palace. I've never seen it elsewhere.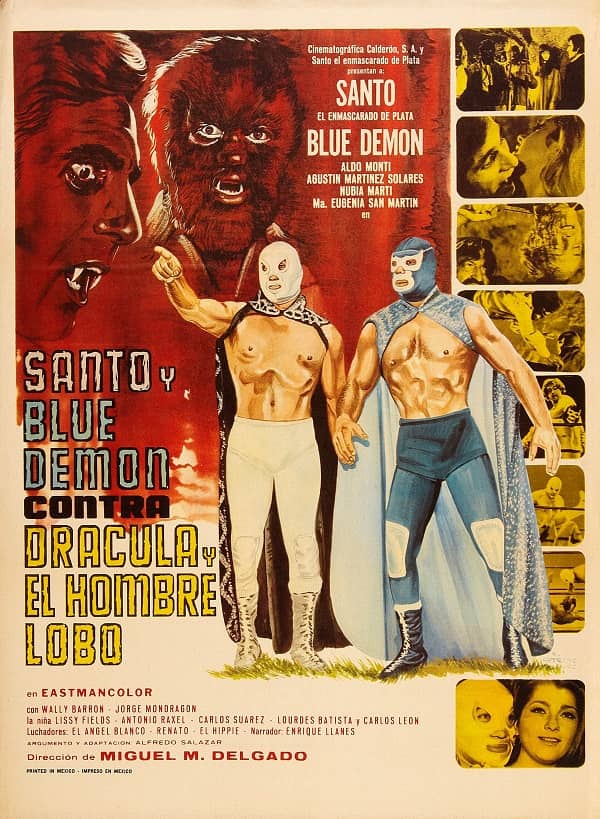 Santo and the Blue Demon vs Dracula and the Wolfman (1973) — 7
I couldn't leave this topic without mentioning a Santo movie (after all, he appeared in fifty-two of them). In this one Prof. Cristaldi (uncle of Santo's girlfriend), whose ancestor defeated Count Dracula some centuries ago, gets entangled with a revived Count and his hirsute sidekick, the Wolfman (who goes by the name of Rufus Rex) and a score or so of their henchmen, so the man in the silver mask enlists the help of fellow wrestler Blue Demon to even the odds. Though these guys look like they train on beans and beer I wouldn't get into the ring with them.  This being a classic Lucha Libre film, you get to view Santo and Blue Demon take time off from fighting evil to wrestle the White Angel and Renalto the Hippie in a surreal stadium setting. In fact, in classic Lucha Libre fashion, the entire movie has a surreal feel to it as Santo and Blue Demon never break character, even when lounging around playing chess or hanging with their girlfriends. This film, which delivers more weirdness than chills, is available subtitled on Ebay, pricey to ridiculous. If you'd like to sample Santo but not in that price range, I'll mention a few more titles in the next installment. Sadly, only a fraction of the Santo oeuvre is available in English.
I've fallen well-short of the usual 19 movies in this post and I'm feeling a little guilty for that, so here's some BONUS CONTENT.
Back in the day, not so long ago, actually, when I was blogging for CHEESE MAGNET (most of which, by the way, is still available on-line if you'd care to check it out) one of my semi-regular category of posts was something I called "Fun With My Ipod" wherein I discussed some music I particularly enjoy and wanted to share. Well, as a technology Ipods are as dead as the computer which I had to bury last week, but I thought I might revive and revise this as "Fun With You Tube," where I would post some fairly obscure song for your enjoyment.
Here's the first. The group is Pentangle (4/5 of them, anyway). That's the incomparable Jackie McShee on vocals, two of the finest guitarists I have ever seen in concert John Renbourn and Bert Jansch (both gone now), and Danny Thompson on double bass. The song is "Willie of Winsbury" and it can be found on their album Solomon's Seal. I bought that album (remember them?) my freshman year in college. "Willie of Winsbury" is Childe Ballad #100.
I hope you like it. If you'd like more of these, let me know.
Other posts in this series:
19 1950's SF Movies To Help Get You Through the Next Few Weeks
Son of 19 Movies: The Good, the Bad, and the Weird Edition
19 Movies Visits the Land of the Rising Sun
19 Movies Goes to the Movies with Perry Rhodan
---
John Jos. Miller's latest publication is: "An Annotated Long Night at the Palmer House." Next up: Death Draws Five (Tor, November 2021). See: www.facebook.com/john.j.miller .9883