Letters to Black Gate: iPads and Submission Windows
Letters to Black Gate: iPads and Submission Windows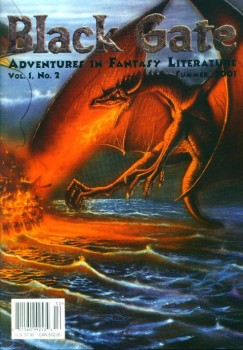 Matthew Maestri writes:
I'm a new writer looking for open markets, especially in the fantasy/science fiction genre. I'm very impressed and intrigued by Black Gate, which I stumbled upon a couple months ago. I will be the first to admit that I tend to hover near the longer side of fiction, and it was very appealing to me that your magazine is one of the few remaining that actually prefers to publish longer stories. I have some brewing and I was just wondering when you might be accepting submissions again? Thanks for your time.
Glad to hear you're interested in Black Gate, Matthew. Unfortunately, we're still digging through the pile of submissions we received during the brief period we opened last year. 
We were deluged with submissions, far more than we expected, and just as we were making progress, I was waylaid by an 8-month project that demanded all my time (my company was bought by Microsoft).
After dropping everything else to get Black Gate 14 out the door this spring, I've started a fresh reading period, returning to reading submissions for the first time since last summer. 
I hope to have all submissions returned by the end of the summer, and then we'll re-assess when we can realistically open to submissions again.  At the earliest, that will be some time next year.
Sorry to disappoint you. Keep your eye on our Submission Guidelines, and the Black Gate blog, for up-to-date news.
Marilyn Ponty writes:
What are your art submission guidelines?
Great question. We're looking for dynamic, attention-getting black & white art to illustrate original fiction appearing in Black Gate.  You can see some representative samples of the art we've published here and here.
Please don't send us art illustrating existing or upcoming stories in Black Gate.  All our illustrations are private commissions.  If you have small-sized (50k or less) samples of your work, we're happy to look at 2-3 black & white samples.  E-mail them to us at submissions@blackgate.com.
I hope that helps.  And good luck!
Brent Knowles from Brentknowles.com tells of us experiencing the PDF version of Black Gate on the iPad:
I haven't finished reading the electronic version of Black Gate 14 (when I do I'll post a review on my blog) but I've done some quick experimenting with the PDF. So far things look good, thought I'd let you know.

Viewing on PC worked great of course;
iPad – On the iPad it is (almost) as good as reading the print version and looks slick, handling all the images (so far) correctly. If it's okay with you when I do post the review I was going to take a couple pictures (of the table of contents of BG on the iPad) and post them to my blog.

Anyways just thought I'd let you know it does work well. Now I'm going to take the iPad into the backyard and get back to reading Black Gate!
Thanks Brent — we don't get enough feedback on the PDF. And certainly, please feel free to use 1-2 images from the magazine as part of your review of the issue.  Looking forward to seeing it!
See previous letters to Black Gate here.