It Droppeth as a Heavy Metal Unto The Place Beneath: Exploring Fantasy in Metal
It Droppeth as a Heavy Metal Unto The Place Beneath: Exploring Fantasy in Metal
Part One: The Adventure Begins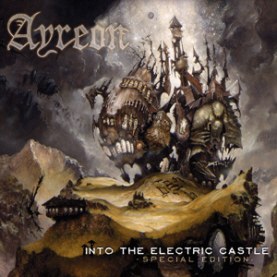 There's this thing I do when I know a given task will be difficult. I announce my intentions. Loudly, casually, on Facebook, in blogs, emails, telephone conversations.
I talk about my task (usually self-appointed and with no particular due-date) blithely, in capital letters, as if the execution thereof were going to be the easiest thing in the world, done up all djinn-like, in the twinkling of an eye.
Then comes an indeterminate period of time wherein I do nuthin' at all.
So a while ago – I won't say how long – I mentioned somewhere that I wanted to write a blogicle about Metal and Fantasy.
I said it once. I repeated it often. I went about soliciting interviews on the subject. I coaxed tutorials in remedial Metal out of long-suffering friends. I spent endless midnight hours with a notebook in my lap and a double bass beat booming from my speakers.
"Why," you ask, "did you do this to yourself?"
Oh, I don't know. Because I'd never done it before?
Or, maybe because until recently I neither knew (nor cared) very much about Metal as a genre of music, but that, having once flung myself like Odysseus into this siren's nest of myth and reverb, I cried, "Tie me to the mast, boys; I'll hear this stuff if it kills me!"
Or maybe because although I know Metal will never be my favorite music, will never rest easy in my ear, although I came to Metal as a stranger in a strange land, I have grown utterly fascinated by its whimsy, its theatricality, its sprawling subgenres, its deceptive intricacy, and its (forgive me) epic ties to the Fantasy genre I so love.
To give you an idea of the scope of what I'm dealing with, I will quote you my friend Pete. In a letter responding to my insouciant claim that I would soon undertake to blog about this Metallic subject, he wrote:
You have probably by now realized that Metal consists of a myriad of genres, perhaps more so than any other music. Off the top of my head, I can think of speed metal, thrash metal (my fave), power metal, black metal, death metal, doom metal, gore metal, pagan metal, folk metal, gothic metal, grunge metal, progressive metal (another fave) industrial metal, sludge metal, hardcore, metalcore, deathcore, and grindcore… And I forgot the best metal of all. The Scottish pirate metal of the band Alestorm.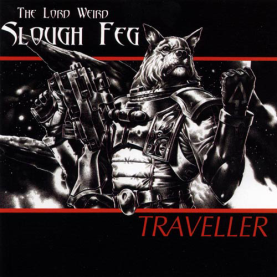 Look at that list, ye Fantasy readers! Gothic. Folk. Pirate. Pagan. Doom.
Sounds like a story in Black Gate, doesn't it?
Now, no way in one short (ha!) blog can I conceivably cover all of Metal – or even the portion of it as pertains to the Fantasy genre. n00b that I am, I even knew that going in. So I thought (I had help thinking this) that I'd split this whole idea into three separate blogs, and I'd start out the first with Sam.
Sam is a musician, currently attaining his Masters in Business Administration, after undergrad work in Music Business. He has been a journalist for The Gauntlet and is part owner of the website Maximum Metal. He can speak German, wears a brass mermaid for a belt buckle, and has an encyclopedic knowledge of all things Metallic.
"Sam," I said, plucking at the sleeve of his black Converge hoodie, "I need your help. I need you to bring me four albums of Metal that, in your opinion, draw from fantastical or mythic literature. Now," I hastened to add, "you are not to bring me more than four, Sam. I can't handle more than four, Sam."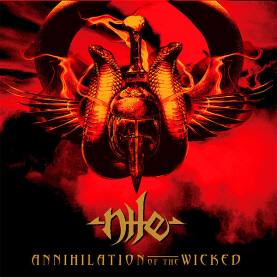 Sam that he is, he promptly showed up with six CDs in a plastic Reckless Records bag. He could not, he explained when I glowered, have brought fewer.
(Even now, he warns me that truculent readers will call me a poser and threaten me with battleaxes because I did not mention Nile's "Von Unaussprechlichen Kulten," from their album Annihilation of the Wicked, or (The Lord Weird) Slough Feg. Nor even nodded in acknowledgement of the existence of such bands as The Sword, Bal-Sagoth and Blind Guardian. Y'all will just have to forgive me, please, and bury your battleaxes in someone else's skull. I'm just a lowly beginner.)
The six CDs were:
For three months that Reckless Records bag sat malevolently on my desk. I could feel it staring at me.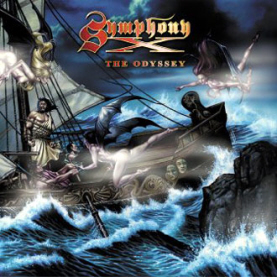 So one night I rang up Sam's cell phone and left him a long obnoxious message.
"Sam. I'm totally intimidated here. You have to come over and listen to these things with me. I'll never do it on my own. I'll just end up putting on Jane Eyre the Musical for the 20th time this week and never grow as a person."
Intractable in most circumstances, Sam is but putty in the mighty hands of Metal. He obliged by showing up at my apartment one dark and cold winter's night.
The adventure began.
Continued in Part II.