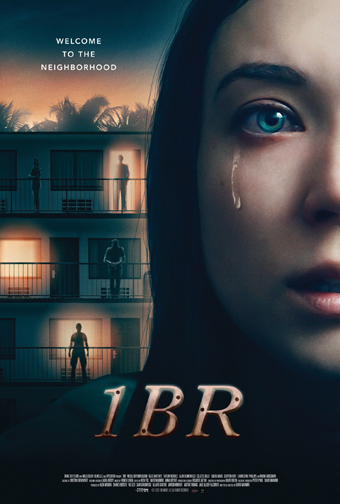 Last year I almost reviewed a movie at Fantasia called 1BR. But exhaustion got to me as the festival wore on, and I passed on the film. I'm never happy about having to compromise with fatigue, though, and since 1BR recently came to Netflix — where for a while it was among their 10 most-streamed movies, at one point even reaching the top 5 — I decided to rectify last year's omission and take a look at it now.
Written and directed by David Marmor, his first feature film, it follows Sarah (Nicole Brydon Bloom), a young woman who feels estranged from her father (Alan Blumenfeld). Working in Los Angeles as a temp with aspirations to become a costume designer, she finds her first apartment as the film opens. Though the plumbing makes strange noises, her neighbours seem nice and Sarah befriends an old former actress named Edie (Susan Davis) while being drawn to the handsome Brian (Giles Matthey). But creepy one-eyed Lester (Clayton Hoff) keeps trying to push a weird old book about community. And Sarah's got a secret: she moved in with her cat, Giles, even though building manager Jerry (Taylor Nichols) told her there were no pets allowed.
In fact things are worse than Sarah imagines. It turns out the book about community's a bible for the apartment block — and that all the residents are part of a cult-like group prepared to force Sarah to join them. Acts of physical and psychological torture follow. Sarah is broken down and slowly builds herself back up, and it all builds remorselessly to a powerfully symbolic final shot.
The movie works because it pays so much attention to Sarah's character, as well as the people around her. Bloom brings out Sarah's flaws as well as her strengths. She is thoughtless enough to sneak the cat into a pet-free building without thinking about other people's allergies. And she is weak-willed, unformed in certain ways as the film starts. The story has a strong subtext investigating her feelings about her father and unconscious search for replacement father figures; it's a horror-thriller as bildungsroman, building to an overtly Freudian choice with an icepick.
The movie's tone and visuals bring this out quite nicely. The film's drenched with warm sunlight in its exterior shots, presenting a kind of warmth that echoes the self-image of the residents of the apartment block. Interiors of Sarah's apartment emphasise bare white walls and wooden floors, the unyielding emptiness of unfurnished rooms. There's a lovely moment early on as Sarah tries to sleep in her new apartment, which I think captures the dislocation of the experience of the first night in a new home. Conversely, later in the film all the homier scenes become unreal, as the rules and philosophy of the community become more detailed. The imagery of the building interiors ironically underscore the extreme rejection of the outer world and the unreality of the residents' world-view, the willed aversion to external fact they push on Sarah.