Fantasia 2021, Part XV: Brain Freeze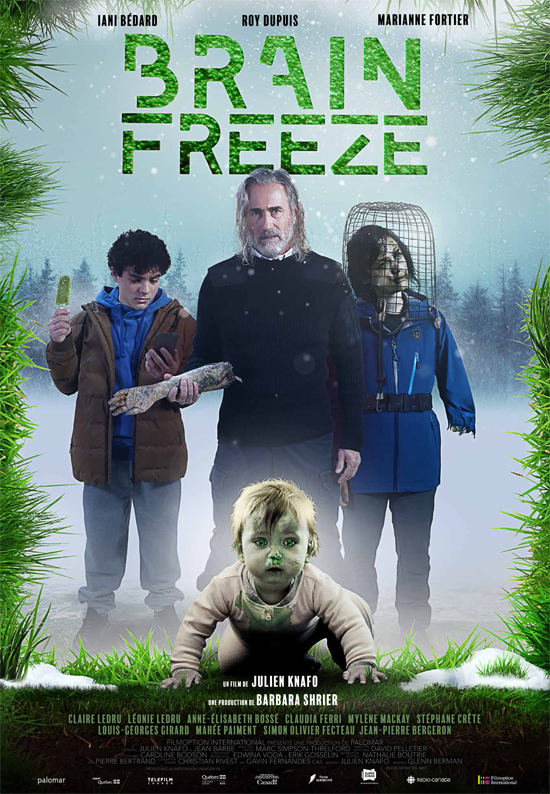 The official opening film of Fantasia 2021 was Brain Freeze, a Québecois zombie movie which played at Montreal's Cinéma Impérial, a classic movie palace dating back to 1913. For a variety of reasons I wasn't able to attend, but the film streamed on Fantasia's servers on August 9, and that showing I decided to check out.
Bundled with the feature was a short, "No Title." The 9-minute animated film's written and directed by Alexandra Myotte, and it's about a UFO chaser in 1990 who goes to a small town in Québec following reports of an alien abduction. He finds a blind sculptress, and an unexpected story. This is an extremely well-made movie, with a sharply written and performed voice-over from the always-faceless UFOlogist (Jean-Sébastien Hamel, also the sound designer), and excellent 2D animation that finds very strong images and brings out some of the cosmic implications of the tale. It's also got some very down-to-earth themes, about art and love, and a killer line about revenge at the end. Add to that, it ties into some actual local history in the town of Saint-Amable, and nicely evokes the pre-internet feel of 30 years ago. It's a very good piece, clever, distinctive, and funny.
Then came Brain Freeze, directed by Julien Knafo, who co-wrote with Jean Barbe. Near a major Québec city there's a small island suburb where the ultra-rich are scheming to use chemicals to grow grass in the middle of the winter so they can play golf year-round. The good news for them is that they're about to succeed. The bad news is that there will be side effects, in the form of zombies.